Low Fat Carrot Dog Treats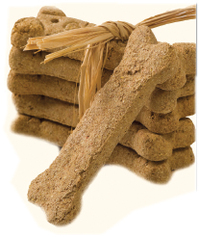 Ingredients:
1 med. banana (ripe, please)
1 cup shredded carrots*
1/4 cup unsweetened applesauce
1/8 cup water (maybe more, as needed)
1 1/2 c. whole wheat flour (keep some handy for rolling)
1 cup rolled oats
Directions:
Start off by preheating your oven to 350 degrees, lightly spraying a baking sheet with nonstick cooking spray and sprinkling a little flour onto the surface your're planning to use to roll out the dough.
In a medium bowl, mash up the banana and mix in the shredded carrots. To the carrot and banana, add the water and applesauce.
Stir. Next, add the water and applesauce. Stir all of the ingredients together until they are thoroughly combined.
Using your hands, knead the mixture until a dough forms. Dump the dough onto the lightly floured surface that you prepared earlier.
Roll it out until it's about a half inch thick. Using a cookie cutter (bone shapes are fun!) or the rim of a small glass, cut into 3 pieces.
Place the pieces onto your lightly sprayed baking sheet.
Bake the dog treats for 25 minutes.
Before "serving," let them cool completely. Here's a tip that you may find useful: If your dog likes a little more crunch to his treats, turn off the oven and let the treats cool there overnight.
This recipe makes about 24 low fat, healthy dog treats. They'll last about 3 weeks, if stored in the fridge and up to 6 months, if you decide to freeze them.
*About the shredded carrots… If you do the shredding yourself, you should keep the skin on. That'll add an extra nutritional punch to the recipe. Regardless of whether or not you buy them shredded or do them yourself, give the shredded carrots a rough chop before adding them to the recipe. The treats will come out better if they're a little bit smaller.