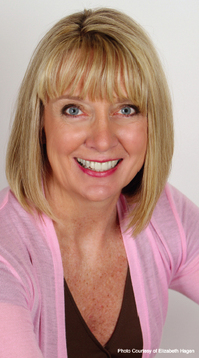 Has disorganization ever caused you to be late for an appointment, miss an important event in your children's lives, or lost you a client in your career?
Everyone has moments where clutter takes over and threatens the peace and tranquility of life, but author, motivational speaker, small business coach, mother and wife Elizabeth Hagen has the answers and she's coming to Yankton to share.
Hagen will present "Now Is Your Time: The Steps to Be Fearless and Extraordinary," during the 2012 Her Voice magazine's Celebrate Women April 26.
In 1985 Hagen and her husband, Bruce, were raising four children, all under 5 years old. Organization wasn't a choice, it was necessary for survival, Hagen said.
"I wasn't born organized," she said. "But I gained a lot of confidence from having control of my home as much as I could.
Having things put away where they belonged and having all the soccer and doctor's appointments in my DayPlanner helped."
By 1992, when the fifth and final child arrived, Hagen had developed a new way of living for her and her family and eventually she decided it was something she wanted to share.
"I loved to share my tips and methods," she said. "In 2000, I started a business working with women in their homes and offices."
College degrees in both business and family and consumer science have provided a solid foundation for Hagen to share her talents and advice. Eventually, she began speaking to audiences as a motivational speaker and organizational expert.
"Speaking absolutely terrified me when I first started, but more and more I have developed a passion for women and helping them boost their self-esteem through taking control of their lives," she said.
Hagen's keynote address at the Yankton event will be comprised of seven stories from her life, which are part of the 31 stories/lessons in her newest book, "Confidence: Now Is Your Time 31 Days to a More Extraordinary You."
"They are all lessons I learned the hard way, so other women can learn from those and stop waiting and stop settling and have the best life they can," she said.
"Now" is emphasized by Hagen who says women tend to plan too far out and put other people's happiness or expectations before their own.
"In my talk, I say if it's something you want, do it now, not 10 pounds from now or when the kids are grown up or when you get another degree," she said.
Being a stay-at-home mom for 19 years, Hagen noticed how clutter in her home was directly connected to her self-esteem.
"The biggest issue for most women is paper piles," she said. "They are so darn overwhelming and feel out of control.
That leads to missing things and forgetting things, and that makes a person feel out of control."
The kitchen and closet are two areas that bring women down the most, Hagen said.
"A woman's closet is the first place she looks right away in the morning. If it's a disaster, she'll start the day off feeling bad," she said. "The kitchen is a big one, too. Women, even without realizing it, put a lot of their self-worth into how their house looks and runs. If it's going good, you feel good, and if it isn't, you don't."
The same principles apply to business, except the paper piles and e-mail inbox are the big clutter monsters there.
"If you have 8,000 e-mails in your inbox you will start out feeling helpless and unproductive," she said. "It's all about learning systems that work for you and then using them. Once you get a handle on the clutter you will feel better, get more work done and have more focus and momentum and be more productive at work and at home."
Hagen admits organization is in the eye of the beholder. If your system looks strange to others but works for you, don't throw it out.
"My definition of being organized is getting things done when they're due," she said. "For me, an organized environment is clutter-free, but some people can reach the definition in a cluttered environment. It's all about how you feel about it. If you're getting things done but feeling stressed out all the time, maybe it's time for a change."
A good measure of whether clutter has taken over your home is the doorbell test.
"If you shudder when your doorbell rings, then it's time to do something about it," she said. "If it's gotten to that point it's probably affecting your husband and children, too. We don't live in a vacuum."
In her newest book that she will have available for purchase at Celebrate Women, Hagen tells 31 personal stories that are meant to be read one each day, but in no particular order.
"You can bop in and bop out anywhere, and after every chapter is a journal page so you can jot down your thoughts," she said.
To download a preview of the first chapter of "Confidence: Now Is Your Time 31 Days to a More Extraordinary You," visit http://elizabethhagen.com/book/.
In addition to "Confidence: Now Is Your Time," Hagen is the author of "Organize with Confidence," co-author of "Focus, Organization and Productivity," and creator of the "Speak Now and Forever Get New Clients Home Study Program."
She is a Certified Professional Organizer, on the National Association of Professional Organizers (NAPO) Board of Directors, Golden Circle member of NAPO, member of the MNNAPO chapter, recipient of the 2010 Los Angeles Organizing Awards Best Organizer as Coach or Mentor Award, member of the National Speakers Association (NSA) and a Certified Personality Trainer through CLASS (Christian Leaders, Authors, and Speaker Services).
For more information about Elizabeth Hagen visit elizabethhagen.com, elizabethhageninspires.com and elizabethhagenspeaks.com.