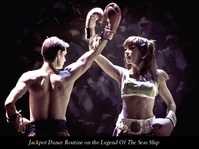 Timera Cunningham, and her fiancé Rob Massey, both fell in love with dance at young ages. Although they grew up in different areas — Timera in Kentucky and Rob in England — their desires to dance led them both to the same career as professional dancers on cruise ships for Royal Caribbean Cruises. During their years of dancing on the ships, they also fell in love with each other.
And now their love story is continuing in Yankton, as the couple has bought Judi's Dance Studio in an effort to share their dance experience with a new generation of dancers.
Timera started dancing when she was 5. When she was in her junior year of high school, she attended a Governor's School for the Arts camp.
"It was there that I realized that dance really was my thing, and I decided to pursue a career in dance," she said.
After looking at several colleges with strong dance programs, Timera chose Oklahoma City University, which is one of the top three dance schools in America, she said.
"I went there for four years and earned a Bachelor's of Fine Arts degree in dance performance," she said. "I graduated with honors and was a member of the Alpha Phi Fraternity where I was treasurer and Vice President of Chapter Operations where I got a lot of business experience."
Timera said her education was intense dance training, but it also focused on surviving as a dancer.
"We were taught about the aspects of business and how to manage our money and how to present ourselves at auditions, even how to find auditions," she said.
The Royal Caribbean came to campus and held private auditions her senior year. Timera was chosen and given a seven-month contract.
"It was my first gig out of college. Three weeks later, in rehearsal on the Majesty of the Seas, I met Rob," she said.
Rob grew up in Sheffield, England and starting dancing when he was three. At the age of 16, he received a full scholarship to study ballet at the Northern Ballet School in Manchester, England.
"My schooling was much different than Timera's," he said. "I focused on ballet, but it was purely dance from 9 a.m. to 7 p.m. each day."
Royal Caribbean also held private auditions at Northern Ballet School, and Rob did a seven-month contract on the Sovereign before signing up to perform on the Majesty of the Seas, where he met Timera.
During their first contract together, Timera and Rob said they were just friends, but by the end of the next contract they had started to fall in love.
"I was thinking I was done with cruise ships and had actually decided not to renew my contract," Rob said.
"Eventually, he had to talk to our bosses and ask if he could continue his contract so we could stay on together," Timera added.
Timera and Rob said the cruise ship commitment has its pros and cons, but they both enjoyed their time on the ships. Rob completed nine contracts and Timera did eight before they finally decided to settle on land.
"The cruises offer something that's not really heard of in the life of a professional dancer — job security," Timera said.
"Although it is hard to get out of (the cruise ship work) because you can't really go out and audition for other jobs when you're on a ship in the middle of the ocean. It is nice to sign those contracts, though, and know you have so many more months of a steady paycheck."
Another advantage of life on the cruise circuit is travel.
"You get to see the world," Timera said. "We've been to more than 50 countries and to every continent, except for Antarctica.
Someday I'd like to go to Antarctica just so I can say I was on every continent."
Timera said seeing other parts of the world has made her more appreciative of what she has and has made her work harder.
"I love to travel and experience other cultures, but it has made me realize how fortunate we are," she said.
During their time on the cruise ships, Timera and Rob got to visit a lot of interesting places, but they also had to work hard.
"We did shows twice a night, back-to-back," Timera said. "We were on the ships for seven months straight, but the guests changed every few days. We did a lot of production shows in all kinds of different styles from country western to ballroom and musicals to pop revues."
Timera learned and performed in 21 shows, and Rob did 23 shows on cruise ships. Timera said it was also fun to help out with other kinds of shows.
"We would have guest entertainment, also. When it was a magician, I would volunteer to be a part of their show," Timera said. "It was fun to do something different and entertain people in a different way."
During a break from the cruises, Timera also studied aerial work, static rope and silks and trapeze dance at Circus Space in London, while Rob played Peter Pan and Snow White's Prince at Tokyo Disneyland — the world's largest grossing theme park.
"When you think of theme parks you think of kids but in Tokyo, adults just love it," Rob said. "We did five shows a day and we would be playing to a packed crowd of adult, Japanese women."
Timera and Rob finally decided they were ready to settle on land.
"We really wanted to be together on land and were excited for a little bit of a more normal life," Timera said. "I really wanted to get a dog, a couch and a car."
"We couldn't wait to have a place to live that was bigger than a shoe box," Rob said. "We knew that we didn't want to live in a big city. Big cities are good for visiting, but they aren't a place to make a home."
"The ships are really like small communities, and we were looking for something like that," Timera said. "In the spring or summer of 2011, I came to Yankton to do a workshop at Judi's and fell in love with the area. A year later, we are taking over Judi's Dance Studio. We're very excited to settle down and have our own life here and bring excellent dance education to the kids of this town."
Rob said the world is full of nice towns, but none are quite like Yankton.
"When you are a visitor and you get to the tourist stops they all seem nice at first, we've seen a lot of towns," he said. "After you go again you realized it's nice for tourist attraction things but you start to see the flaws in the actual community. Yankton is great because it really is a nice town, it has a beautiful river and parks and great schools."
"People are very friendly here, too," Timera added. "You can go to the store and see someone you know. It's a great place to raise kids. It's nice to visit other places, but you want to have some place that is peaceful and happy and familiar to call home."
As artists, Timera and Rob, said they were also impressed with the amount of arts opportunities in a community the size of Yankton.
"The arts are very prominent here," Timera said. "For a town this size to have two dance schools with substantial enrollment, an arts museum, a thriving community theatre and a college with all sorts of arts opportunities, it is very refreshing."
As Timera and Rob get settled in their studio, they are finding it very nice to have friendships and relationships with people in the community.
"It's nice to have friends that you don't have to Skype or figure out what time zone they are in before you call," Rob said.
"It will be great to put roots down here and be close to the same people for more than seven months," Timera said.
And their love story continues as they hope to foster a love of dance in Yankton's youth and adults.
"We have a lot of plans but we don't want to change things all at once," Rob said. "It will be a more gradual change."
Timera and Rob realize that not every dance student will grow up to be a dancer like them, but they want to stress the importance of a healthy lifestyle, fitness and the benefits of dance that can be applied to other areas of your life.
"When you study dance, you learn self-discipline and how to strive to reach a goal, and those are things that can be applied to other careers and other areas of your life," Timera said.
The couple is currently teaching 60 classes a week with the help of Judi O'Connell, Kristi O'Connell-Ekroth and a few other teachers.
Their students are age 3 and older, and they currently offer an adult class.
"Teaching on this level is a new experience for us and we are already finding the joys of it," Timera said. "We are looking forward to teaching some of the same children year after year and watching them progress. We've already seen things that thrill us, like when a child goes home after getting some instruction and comes back and you can tell that they've practiced and really thought about what we've told them.
"We are just really excited to be together on land and have this fantastic opportunity to have a business and bring our experience and our joy of dancing to Yankton."