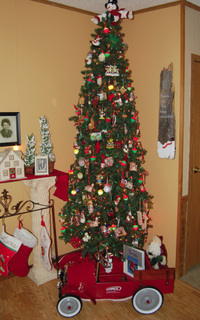 Sonnie LaCombe grew up in Grandy, Va., as part of a large family that never fails to celebrate the holidays together. Since Sonnie moved to Yankton she hasn't been able to attend every of those family get-togethers but her and her husband, Dave, celebrate the holiday season to the max by decking their halls — ALL their halls — with festive Christmas decorations, many of which, remind Sonnie of her family and the friends she has made over the years.
"I decorate pretty much every room," she said. "Even the bathrooms. Each room has a theme."
The master bath is decorated in snowflakes and gold, the master bedroom is hearts, the living room has Jim Shore collectibles and Santa and snowmen and the kitchen is gingerbread men and cookie cutters. Every room has a Christmas tree decorated in the theme of the corresponding room.
"I start the week before Thanksgiving and just work on one room at a time," Sonnie said. "The front room is the last to be finished, because that is the room with the real Christmas tree.
My husband and I have started a tradition of going to the tree farm and picking out a fresh tree each year."
Sonnie's massive Christmas collection has been added to each year, but many of the decorations are ones she and her sons, Clay and Lucas, made when they were young.
"I started a tradition of making decorations with them when they were boys," she said. "They would each make one and I would make one that way when they grew up they could take their decorations to their homes and I would have the ones I made to remember those times."
The importance of family is repeated again and again as Sonnie tells the story of each item she has collected through the years. She has many gifts from her husband, such as a room full of Christmas bears and an entire Christmas village that has been added to each year. She has tree ornaments adorned with her sons' childhood pictures and a nut bowl that reminds her of her father.
"The nut bowl was always out at Christmastime," she said. "When I see it out in my home, I always think of my dad. I don't have a lot of his things so it's very special to me to see it and remember him."
The bubble lights on one of her trees always remind Sonnie of her grandmother who also adorned a tree with bubble lights.
"Being so far from home a lot of holidays is really hard for me," Sonnie said. "It's nice to have reminders from home. I have seven brothers and one living sister and one deceased sister. We are a very close family, so it's very hard knowing that each year they are getting together and having a lot of fun."
Sonnie also has a snowman garland that was made by the staff of a flower shop, she worked at in Augusta, Ga. Each snowman represents a coworker at the shop.
"They made that as a going away present and it is very special to me," she said.
The LaCombes have a very special tree with an ornament for each and every one of the members of each of their families on it.
Another bathroom in the house is decorated in sock monkeys and Dave's office is decorated with a sports theme. In the entryway of the home, Sonnie has a tree with a tag saying "Merry Christmas" in different languages on them.
Sonnie loves the "12 Days of Christmas," and she has three or four sets of 12 days plates and a plethora of 12 days ornaments.
In the kitchen, the Christmas village spreads out above the cabinets and a tree with kitchen utensils and cookie cutters and gingerbread men are everywhere.
Above the door to the kitchen Sonnie has another very special item that reminds her of her family and her hometown — fresh mistletoe.
"When we were growing up that was my brothers' responsibility, they had to go out each year and shoot some fresh mistletoe out of the tree. My brother sends me a fresh bunch each year from Virginia and I make a kissing ball out it," she said.
She also has a floral arrangement and crocheted snowflakes.
"They are over 20 years old," Sonnie said. "I used to decorate a woman's house each year for Christmas and one year she crocheted the snowflakes for me."
Although Sonnie loves Christmas she said the real joy of decorating her house is sharing it with her husband.
"He really is the perpetrator by buying me so many of the things we have," she said. "He has all the lights set on timers and it is really very nice to come home to a house that is all lit up with Christmas cheer and so festive.
He really enjoys it as much as I do. It's a wonderful joint effort."