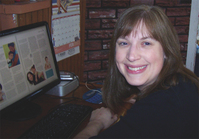 Like many first-time mothers, Amy Nelson was excited to meet her daughter after nine months of pregnancy but she wasn't especially thinking about specific parenting choices, like how to feed her baby or what type of discipline would eventually work best—perhaps even less so, as she was nearing her college graduation.
"We didn't have many friends with children at that point, so raising children wasn't much of a focus of conversation," she said. "It wasn't until I had my first child, bonded with her, and felt my mothering instincts kick in that I began to develop ideas about raising children."
Nelson and her husband, Cory, were married the summer before her junior year, as she transferred from South Dakota State University to the University of South Dakota. Cory had just graduated with his master's degree, and the couple chose to settle down in Yankton within driving distance of Cory's job and Nelson's studies at Vermillion, in history with a minor in mass communications.
Nelson always had a passion for journalism, working for the student newspapers at both universities as well as the Brookings Register and the Yankton Daily Press & Dakotan. And for a time after her oldest daughter, Accalia, was born in 1999—just one month after her graduation from USD—Nelson continued to write for the P&D.
"One of my favorite memories of that time is going on an interview and having Accalia in a backpack carrier while I did the interview," she said.
But then, after a year of freelance, Nelson put away her notepad as she focused fully on her family and a new interest: providing mother-to-mother support in breastfeeding.
That is, until 2009, when she took on the magazine of one of the most influential parenting organizations in the world.
Happy Happenstance
Not having any certain views on parenting allowed Nelson to follow her instincts when it came to caring for her baby, and those instincts led her to breastfeed.
"Breastfeeding is not something I gave much thought to before I was pregnant with my first or even during my pregnancy. I don't remember spending time around breastfeeding women as I was growing up," Nelson said. "During my first pregnancy, I didn't buy bottles or formula but I also didn't attend any breastfeeding classes or seek out breastfeeding information. I think I just assumed that I would try to breastfeed."
When Accalia was born, a friend who had given birth to her own first child a few months earlier gave her a copy of La Leche League's bible, The Womanly Art of Breastfeeding, which helped Nelson navigate newborn care.
"I'm very grateful that I had an easy start to breastfeeding and never experienced any major problems," she said. "I'm not sure what I would have done if I ran into any roadblocks."
But there were times in the coming months when Nelson secondguessed herself. When Accalia was four months old, Nelson's friend invited her to a local LLL group in Vermillion. The mother-to-mother support she found there was so helpful that she rarely missed a monthly meeting after that.
"When I was pregnant, I remember reading that babies should eat every three hours. What a shock when my baby wanted to eat every hour, at times!" Nelson said. "I started to wonder what I was doing wrong. When I started attending LLL meetings, I found out that every baby has a different nursing personality—some babies are content to nurse every few hours and some are much more frequent eaters. And this wasn't necessarily a sign that I wasn't making enough milk for my baby. As my comfort level grew and I gained confidence, I found that I really knew my child best and that I needed to let her show me what she needed."
Through LLL, Nelson learned about infant care and human lactation, about growth spurts and the digestibility of breast milk, and so much more. Nelson also learned that there was more to breastfeeding than providing baby's first nutrition, that it's the blueprint for a parenting approach that follows a child's normal development without sacrificing either the child's budding independence and need for security nor the mother's sanity.
"I became passionate about breastfeeding and had a desire to support other breastfeeding mothers after I was successfully nursing my oldest and experienced breastfeeding not just as a way to feed my child but also as a way to bond with, comfort, and nurture her," Nelson said. "Early on, breastfeeding became an integral part of my mothering."
From Mother to Leader
An avid supporter of breastfeeding, Nelson was asked by the Vermillion LLL group leader to consider LLL leadership accreditation.
Nelson didn't hesitate to put in her application.
"I thought this would be a wonderful opportunity to give back to an organization that had provided so much information and support to me during my first year of motherhood," she said.
LLL is an international nonprofit organization with local breastfeeding support groups and accredited leaders all over the world. It was founded by seven mothers at a church picnic with the first group meeting held in one of their homes in Franklin Park, Ill. in 1956, at a time when U.S. breastfeeding rates were at an all-time low—fewer than 20 percent of women breastfed at that time. LLL grew quickly, becoming not only a leader in parent support but an internationally respected authority on breastfeeding.
LLL leadership accreditation trains mothers who have successfully breastfed at least one child to provide volunteer mother-to-mother support.
Accreditation is not a quick process, especially for mothers who must fit in time to read textbooks and practice providing breastfeeding education through role-playing. In addition, the educational material is rigorous enough to provide women a pathway to becoming an International Board Certified Lactation Consultant without the need for a medical degree, if they were to so choose. But LLL leadership is about more than providing breastfeeding education to mothers—it's about offering peer support.
"Being able to talk with other mothers who have been through similar experiences and hearing what worked for their families is such a powerful means of support when you are new to breastfeeding and mothering," Nelson said. "You feel less alone and see that someone else has been through the same thing and has made it through to the other side."
Nelson received her accreditation in 2002, shortly before her second child, son Cole, was born. They were living in Mitchell at the time, waiting to move back to Yankton, so instead of starting a LLL group there, she began providing online support to mothers through the LLL International website.
The Vermillion LLL group disbanded at about the time that Nelson moved back to Yankton, so Nelson started the Yankton LLL group in 2003 and led the group until 2008 when she disbanded it due to lack of interest, finding that she could provide support to more mothers online and over the telephone, which she continues to do so today.
"I loved being a part of these mothers' lives during the time they attended meetings," Nelson said. "There were some mothers who would start attending meetings with their first child, stop once their child had weaned, and return when their second baby was born. It was such a joy for me to see how confident and comfortable they were as mothers and how they were now reaching out to the new and expectant mothers and sharing their experiences. I've stayed in touch with several of these mothers and am so happy to watch their families grow and thrive."
Over the years, Nelson has volunteered in additional roles through LLL on both area and regional levels in leader accreditation. She is now serving as a District Advisor in the Leader Department of LLL of Minnesota, North Dakota, and South Dakota.
"Because there are no local groups or even many nearby groups, working with the different departments allows me to stay connected with other leaders," Nelson said. "Most of my work with LLL is accomplished online and it's easy to feel isolated. When I'm involved with different areas of LLL, I definitely feel more connected with fellow leaders and with LLL in general."
Mother-to-Mother Support Evolving
Many people wonder if local parenting groups are becoming obsolete with online forums and information just a click away on the Internet, but Nelson upholds that in-person support is as relevant today as it was half a century ago.
"Breastfeeding mothers need information and support," she said.
"When they have proper information and support, they're much more likely to be successful breastfeeding and to successfully breastfeed for longer periods of time. La Leche League has always strived to meet and support mothers where mothers are in their breastfeeding relationship, and that will never change."
What is changing is how breastfeeding is viewed in the public dialogue.
Hospitals are increasingly making changes to become breastfeeding promoters. Federal law through the Fair Labor Standards Act now states that workplaces must provide breastfeeding women reasonable break time and a private, non-bathroom location to express breast milk during the day. And legislation through the Affordable Care Act is now allowing women access to breastfeeding supplies and support not previously included in insurance plans.
"Today's breastfeeding mothers usually have more questions about breastfeeding and working outside of the home," Nelson said. "They wonder about how to make the transition from maternity leave back to work as easy as possible for themselves and their baby. They have questions about pumping, milk storage, and working with their childcare provider."
Yet, despite the atmosphere shifting around breastfeeding and working mothers, many of the questions that expectant and new mothers have about breastfeeding are timeless.
"Many of the challenges that breastfeeding mothers face today are no different from the challenges breastfeeding mothers have faced over the years," Nelson said. "Is my baby nursing too often? Is she getting enough milk? Is this soreness or discomfort normal?
When will my baby sleep for longer periods of time? Is something I'm eating affecting my baby? When should I introduce solid foods? These are just a few of the subjects mothers bring up on a regular basis."
Journalism Revisited
In 2009, LLL International formed LLL USA while restructuring the organization. At this time, LLL USA opened up the paid position of Managing Editor for LLL's magazine, New Beginnings, which delivers breastfeeding information to parents and professionals around the world. The free publication can be accessed at www.lllusa.org/lllusanewbeginnings.php; the latest edition at http://viewer.zmags.com/publication/c477ae6e#/c477ae6e/1.
"When I saw this opportunity, I jumped at the chance to put my journalism background to use in an organization that is so near and dear to me," Nelson said. "I was thrilled when I was hired for the position."
This position allows her to work with both mothers writing about their breastfeeding experiences and the world's top experts in breastfeeding medicine and parenting education, providing the most up-todate, research-backed information on infant care. She manages writers, editors, an Editorial Review Board, a design team, an advertising team, and marketing specialists located throughout the United States.
This position also lets her work from anywhere in the world as long as she has a computer with Internet access and a phone—permitting her to remain in Yankton, within a few miles from where Cory works as the Clinical Supervisor of Correctional Behavioral Health at the Mike Durfee State Prison in Springfield and where their four children—Accalia, now 13; Cole, 10; Ella, 7; and Tylan, 4—call home.
A New Yankton LLL Group?
Nelson maintains hope that the Yankton LLL group could be reformed if there was enough interest from local mothers.
"Reading information in a book or online can be extremely helpful, but there's nothing that matches the power of being with other mothers and watching them in action," she said. "Breastfeeding may be a natural act, but being able to breastfeed successfully is not something that always comes naturally to women."