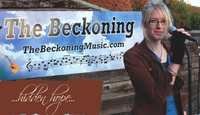 The Beckoning's debut Christian rock album, "Hidden Hope," is the culmination of a 19-year-old Yankton woman's lifelong love for music and the beginning of her career as a musician.
Beka Stibral recently released "Hidden Hope," a collection of six original songs, and is working hard to promote the album and start a tour to build her fan base and share her message.
Beka is on a mission to share God's love and His message to as many people as possible.
As she states on her website under the heading "Why do I sing?": "To put it simply, everyone needs God. I want to help direct as many people to Christ as I can, and encourage those who already know Him to continue walking in Him. Music is a way of doing that which can easily be shared and spread to the majority of people," she states. "
Through my music, I want to share Christ and help show how we can live life to its beautiful full potential. My prayer is that I can share what I have learned through my own experiences, or through those of people around me. I want to encourage you, or give you a tool to encourage someone else. I want to do it in a way which is honest and real, and that's how my songs are written."
Beka, the fifth oldest child of 12 children and the daughter of Chuck and Kristi Stibral, grew up in a musical household.
"My mom taught us all piano," Beka said. "She wanted us to at least learn the basics, and if we decided to stick with it, that was good; if not that was fine, too."
Beka loved the piano and actually started playing the guitar only to give it up to focus on piano.
"I have enjoyed music my whole life," she said. "We did concerts at different churches and youth groups as a family. We needed to do a song on a particular topic for a show, and we couldn't find a song about it. No one had written a song on that topic. So I picked up the guitar and tried to write one. I found out that writing music with the guitar was much easier than with the piano. I had never written a song before, but I did, and we used it. I've been writing songs on guitar ever since.
Songwriting has really become my life. It's very cool how it all worked out."
Although Beka has been performing as a solo act under the name "The Beckoning" for a few years, she still has the support of her family.
"It just works out that a couple of my sisters and a couple of my brothers play the right instruments. When I need a backup band, depending on who's schedule works, I usually have my siblings as backup," she said. "I love that my family is there supporting me with music and moral support. It's very cool that my family is who they are, because I didn't have to go out and find them — they were already there."
Beka started recording her album in October 2011, and it was released in October 2012.
"I have a friend in Montana who is a music producer, and so I spent six weeks in the studio recording the album," Beka said. "It was the most incredible experience ever."
Recording turned out to be more work than Beka realized.
"You sing each song eight different times, and then you listen to each track and pick the best notes and the best sounds to actually use on the CD. I really wanted it to sound the best that it could. It's a lot of tedious work, but the finished product is so worth it. It was definitely a really inspiring process."
Since its release, "Hidden Hope" has been selling steadily. You can buy the CD for $10 from Beka's website www.thebeckoningmusic.com or locally at the Christian bookstore, The Carpenter Shop.
"It started out really good and has been slowed a bit since October, but I didn't expect it to just blow up and sell like crazy," Beka said. "I realize it's a process and you have to start out slow."
Beka said her favorite song on the CD is one that she wrote during the recording process.
"My favorite is probably 'So Cool,'" she said. "I had written another song that I was going to use on the CD. But during recording, I realized it just didn't jive with the rest of the CD.
"I had actually been to the top of a mountain and wrote a song about how awesome and cool it was that God made the mountains and landscapes as gifts for us. As glorious and overwhelming and mighty this Earth is to us, we're so much greater in the eyes of God. We are the peak of His creation, and when you look at the beauty he gave us, that's a pretty cool feeling," she said. "The song speaks of the awe of knowing that. We added it to the CD at the last minute, and it's my favorite."
One of Beka's greatest joys is hearing from her fans.
"I love hearing about how my songs have reached someone, and something that I wrote about how I was feeling on the inside touched someone else," she said. "I've had people ask me, 'How did you know exactly how I'm feeling?' That's so powerful to realize that other people have the same struggles and joys as you, to realize that we can all connect through music and faith. To know that God is working through what I've been saying is a really good feeling."
Beka is currently working on getting the word out about her CD and is practicing and putting together a set to start a tour.
"Hopefully, I'll get a tour started and sell more CDs, which will allow me to write more songs which will turn into another CD and another tour," she said. "(My plans) are for just more, really."
While Beka says her music genre is typically focused to the teen/young, she said it is suitable for all ages.
"I hope to do a tour of coffeehouses, youth groups and Sunday church services," she said. "The first tour will probably be in the Midwest and be short-term, but I'd love it to get bigger and bigger. For now, it will probably be limited to where I know people."
Beka said her favorite Bible verse, Psalm 33:3, "Sing to Him a new song, play skillfully with a shout of joy," is her musical motto.
"It pushes me to improve my skills as a singer/songwriter and musician and to remember God is my inspiration and that I should do everything with joy and be happy," she said.