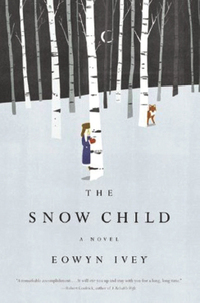 By March, most Midwesterners will cringe at the mention of snow, but The Snow Child is a book that could be welcomed into a reader's repertoire at any time of the year.
The Snow Child by Eowyn Ivey is a magical story roughly based on a Russian fairy tale called The Snow Maiden. In the fairy tale, an old couple is saddened by the fact that they were never able to have children. One night they build a child out of snow. Their longing for a child of their own is so strong that the snow child becomes a real girl. Though there are many versions of this fairy tale, the story usually ends sadly when someone tries to force the girl to be something she is not.
In the book, Mabel and Jack, a middle-aged couple, make the decision to move to the Alaskan wilderness to live off the land after their dream of becoming parents has not become a reality. Though it is obvious that the couple still has a special love and tenderness for each other, their heartbreak has caused a distance and loneliness between them. On their new homestead, they face even more challenges in trying to claim some of the wild land as their own and surviving the harsh lonely winters. One night in a moment of lightness, the couple builds a snowman together, tenderly giving the child delicate feminine features, straw for her hair, and dressing it in a hand knit scarf and mittens that were meant for the child they never had. The next morning all that is left of their creation is a small pile of snow and a set of delicate footprints leading from where the snow child had sat and into the forest.
As the days go by, they begin to catch glimpses of a beautiful young girl running through the trees. With time and patience they draw the child into their lives, earning her trust, and they begin to develop a great affection for her. The young girl brightens their lives, filling their hearts with love and wonder, strengthening their relationship with one another and their love for the land.
The girl is clearly most comfortable and capable outdoors and seems "both powerful and delicate, like a wild thing that thrives in its place but withers when stolen away."
Though Mabel truly believes that she is a winter sprite that has come to them from the snow, Jack takes a more practical approach and is worried for this little girl being in the wilderness alone. They are so desperate to keep this miracle in their lives that they are willing to accept all the mystery surrounding her. They do not pressure her for details about her past or where she disappears to each night and where she goes when she leaves them each spring. They learn to love and cherish every moment they have with her.
The Snow Child is a very well-written, captivating novel. There is a sense of magic that runs throughout the book. The characters are extremely relatable and you find yourself hoping that this fairy tale will have a happy ending for all. As the author describes a scene in the book she says, "It wasn't sorrow or love, disappointment or knowledge; it was everything at once."
This is a good way to describe the emotions of this novel.
The Snow Child is Eowyn (pronounced A-o-win) Ivey's debut novel. She was born and raised in Alaska and continues to live there today. She began her career as a reporter for an Alaskan newspaper and currently works as a bookseller at an independent bookstore. She claims to love playing "matchmaker between readers and books."