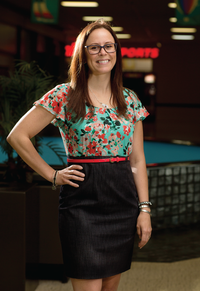 The Yankton Mall has seen many changes over the years; from stores changing, to a few renovations. This year has seen Dunham's moving to its new location at the west end of the mall and to welcoming Kasi Haberman as the new marketing director. Kasi (Schmidt) Haberman is a Crofton native who graduated from Crofton High School in 1997. She married a fellow Crofton native, Josh Haberman and the pair have two sons, Lane and Ian. In 2004 when Josh detached from the Navy, they decided to move back to the area and settled in Omaha where Josh had landed a job with Diebold, Inc. Omaha offered them a lot; jobs, culture, and it was a short distance from their family. They both loved Omaha and all that it had to offer them and their family. Kasi quickly found a job with General Growth Properties – Westroads Mall, which is the nation's second largest Retail Investment Trust, as their administrative assistant. For over eleven years Kasi worked for them in numerous positions, each of them providing her with new skills and knowledge in the shopping center industry. These positions include administrative/business development assistant, administrative/marketing assistant, common area coordinator, marketing coordinator, marketing manager, and property management associate. Kasi was also an integral contributor to the $12M renovation of Westroads Mall in 2013. And for about three years she was responsible for the marketing programs for both Westroads Mall and Oak View Malls which totaled over 220 retailers.
Even though Omaha had a lot to offer, Kasi and Josh both longed to "move home." "We truly love this area.
It is a great place to raise a family; there are fantastic schools. We love the recreational aspect of the lake; boating, camping, hunting, and fishing. And most importantly both of our families are rooted here." So when the position at Yankton Mall opened up, Kasi was "over-the-moon excited" about the opportunity to do what she loves professionally in her home-town area. Besides the amazing opportunity, she is most excited about the parallels culturally between Omaha and Yankton. Yankton and Omaha both have festivals, lakes and the river, numerous community organizations, and the ambiance of the downtown area. "So I think when Yankton, as a whole, can get its retail and dining game pumping on all cylinders it will definitely be a force to be reckoned with in the Southeast South Dakota/Northeast Nebraska retail landscape." Although Yankton and Omaha are similar, Kasi said there still is a difference between them market wise. One of the biggest differences Kasi notices is the sense of community within Yankton. "I have received such a wonderfully warm welcome from everyone I've met so far and these connections allow me to market the shopping center much more effectively."
When shopping at a mall or shopping center, most people aren't thinking about all the background work that takes place to keep the place running and keep us interested in shopping. Most people don't think about the marketing director of the mall. As the marketing director, Kasi works with the mall manager, Gary Sudbeck. Gary is based out of Sunset Plaza Mall in Norfolk, so on a day-to-day basis Kasi is the main one at the mall. Kasi's job duties cover a wide range of tasks; such as driving sales for retailers, driving visits to the mall, facilitating a positive relationship with the community, visual merchandising of the property, advertising, supporting leasing efforts, day-to-day tasks, and reporting any urgent matters that may pose a risk to shoppers or the mall in general. The creative aspect is Kasi's favorite and most exciting part of the job. She loves forging community partnerships and creating exciting events for people to enjoy. She also gets to think outside-the-box and create surprises for the customers and retailers to enjoy. Kasi really loves the satisfaction of bringing a new retailer to the market and enjoying all the excitement that surrounds a new store opening. One of the more challenging aspects of the job is attracting new retailers. Leasing reps in a larger market have an easier time attracting new retail to their markets. However, Kasi believes in her team with Dial and is impressed so far with the dedication and commitment.
Kasi views her time in Omaha as a bonus to what she can bring to Yankton and the Yankton Mall. "Working for the second-largest mall developer in the nation provided me with access to numerous tools and ideas that have been implemented across the country. I understand what shoppers in the larger markets are looking for in a retail destination and I definitely plan to incorporate some of those same ideas here." Growing up in a small town also gave her a unique advantage for working in Omaha and now here. "I think people in small towns have an overwhelming drive to succeed. I think that small towns instill a sense of responsibility because you are not able to hide in the crowd and this too fosters the importance of honesty. I think that growing up in a small town sometimes drives you to think outside-the-box because you don't have as many resources. These qualities are absolutely important in today's business landscape; you have to be self-driven, honest, resourceful, and creative."
Kasi sees exciting opportunities for the Yankton Mall and what lies ahead. She views the mall as a blank slate which gives her a lot of flexibility to make it even better. Right now, Kasi is focusing on the visual standards of the mall; which would not only include the current vacant spaces but to also work with the current retailers individually on their visual merchandising. With the warm welcome and community support, Kasi has already started to make a lot of connections which will allow her to begin reintroducing the mall as a community hub. To do this, she wants to incorporate a lot of community events with local organizations centered at the mall. And she's in talks with several partners about a new bridal show that she hopes to execute this fall. One thing Kasi really hopes to bring to Yankton is a new retail option for all categories; men's, women's, and children. She would also love to see some new home décor, beauty supplies, and sit-down and fast-casual restaurants.
In Kasi's down time from cultivating a new and exciting shopping center for Yankton, she loves to volunteer. In Omaha she served on several different boards and committees in various positions. She was the Vice President of Communications for the Fashion Institute Guild; she served on the Habitat for Humanity Restore Advisory Committee; she served as Operations Chair for the International Council of Shopping Centers-Omaha Chapter; and she also
volunteered her time to the American Cancer Society and Susan G. Komen. Now here in Yankton she has already volunteered to sit on the Yankton Area Convention and Visitor's Bureau Advisory Committee. She's looking forward to finding more organizations that interest her to assist and volunteer for. Other than volunteering, Kasi enjoys gardening, going to her children's sporting events, fishing, spending time on the lake with family and friends, camping, and she is an avid Husker fan – especially football and volleyball.
One of the greatest professional achievements of Kasi's is facilitating the gradual transformation of Westroads Mall. Westroads saw a 28% increase in sales per square foot under her tenure. However; Kasi believes her greatest achievement overall is being a mother and wife. "There has been a lot of hard work, tears, joy, and happiness in our lives and I am so proud of all three of them in different ways. If you asked me what I couldn't live without, it would definitely be the three of them."
Kasi hopes the community knows that she has a 100% open door policy; she will always make time to sit down and chat about new ideas or concerns. She also wants the community to know that she is seeking partnerships with organizations as well as local businesses. There are no foolish ideas and she typically finds a way to make things work, as long as it's a family-friendly initiative.