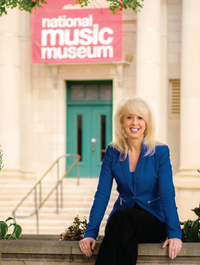 The first time Patricia Bornhofen visited the National Music Museum in Vermillion, it was as a tourist, and she initially couldn't quite believe what she was seeing.
"I'm a museum junkie, and at first I actually thought it was not a museum of real musical instruments. I thought they were facsimiles, because I was so astonished by the level of the collection," she said. "I actually went back to the front desk and asked if that was the case; I asked if the instruments housed here were replicas.
Upon discovering the National Music Museum did indeed display instruments from the Renaissance, crafted by Stradivari and Amati, Patricia said the first thought that entered her mind was, "this (the museum) has got to be put on the map more, figuratively, and literally.
So when the opportunity, by coincidence, of my coming to the area and the museum having a need for a dedicated publicist and communications person happened, I went for it, of course.
Patricia has been the National Music Museum's manager of communications for nearly three years.
"Looking at the museum, I frequently have to say to myself, 'how is this place here in the middle of the United States, and away from some of the more likely urban centers?' At the same time, I'm incredibly delighted and privileged that I can be here, and I'm hoping that I continue to help make the museum be far well more known, and not a surprise to anyone anymore," she said. "I don't want this to be the best kept secret in the region, or anywhere; I want it to be as well known as it deserves to be."
Patricia describes the National Music Museum as "one of the coolest museums that I've been to, because of the magnitude of the collection, and the choice and level of artifacts is unique. This is truly one of the great museums of its kind in the world. It's at the top in its genre. In addition to that, the people who work here are experts, and working with them, for me, is such a great thrill."
Patricia's professional background includes a stint as a literature educator, and work in the field of public relations. She has a PhD in comparative literature.
"I've either done writing or studied writing for most of my career," she said, "whether it was academic, or private sector, or public sector. I love words." Patricia is fluent in German and Spanish, and is working on mastering Mandarin Chinese.
"I went into corporate public relations for a long, long time, and you always hope that wherever you work, you're going to work with really interesting people," she said. "I love to learn from the people I work with, and they have a stellar staff here, with some of the world's authorities on the subjects of musical instruments and music. I learn something new every day – it's no cliché, and I'm humbled by what I don't know. You could never know enough about musical instruments … it's fun every day."
Just before her first visit to the museum, Patricia was concerned that it could be an overblown attraction designed mainly to lure in tourists driving through the state.
"It was the opposite – it exceeded my expectations by so much. The authenticity of the place is 100 percent. You don't have to love music – you just have to be interested and curious in everything from history to art, to science and technology, and popular culture," she said. "Or, you can be a music expert, in which case this place is a necessary pilgrimage. We have people who come here from across the world to pay homage to some of the greatest musical artifacts ever constructed.
"I think almost everybody who comes in here is very surprised," Patricia said. "Part of my job is to mitigate against that possibility that some people may not know this is a truly great museum, that it's not just an attraction along the road."
Patricia is thrilled that the New York Times profiled the National Music Museum last fall. The article describes how the NMM's galleries teem with masterpieces: precious early Italian strings; one of only two surviving bass saxophones made by their inventor, Adolphe Saxe; a portable 17th-century organ with hand-operated bellows; a Gibson Les Paul guitar with a shimmering gold finish; a radiant Javanese gamelan.
"Surrounded by such treasures, a visitor finds it apt that the museum was, from its founding in 1973 until 2002, called the Shrine to Music," Zachary Woolfe wrote in his September 2015 piece for the Times.
Woolfe's article also describes the museum's unique history, telling the story of how it originated with a single man, Arne B. Larson (1904-88), a beloved band director in Brookings, who was also a voracious collector. Looking for a place to deposit the more than 2,500 instruments he had accumulated, he settled on the university in Vermillion. If things had stopped there, the museum -- called the Shrine to Music to complement the Shrine of Democracy, as Mount Rushmore's sculptor, Gutzon Borglum, called his presidential heads -- would be an inviting local institution.
But it became far more than that, Woolfe wrote, describing how Arne's son André, born in 1942, followed in his father's footsteps, earning a doctorate in musicology and inheriting his passion for collecting. He founded the museum and spent his career leading it, diversifying the holdings and adding well over 10,000 instruments by courting donors and fostering relationships with dealers.
In 1984 he persuaded the philanthropists Robert and Marjorie Rawlins to donate $3 million to purchase the Witten Family Collection of early Italian strings, thought to be the largest sum ever paid by a museum for a collection of antique instruments.
Patricia describes Woolfe's article "a wonderful moment of legitimization, recognizing the museum is of the caliber that it is.
"The museum, for much of its history, had to dedicate itself to collecting and curating," she said. "We're more in the moment now of promoting it, and that's partly why my job exists – to make sure that this is not considered simply as a regional museum. The irony is that we have so many international fans,
because they are in the music world, and they know about us."
Social media, Patricia said, has allowed the National Music Museum to spread its stories to the four corners of the world.
"It has its advantages," she said. "But my job is to use all the forms of media and communication possible, and not only have people talking about us on a news show on television, but also to tell their next door neighbor, and spread our story by word of mouth."
One of the latest doses of great publicity for the museum came last spring, when it hosted a display of "The First Folio," a rare 1623 book of William Shakespeare plays. The book was on display next to musical instruments from that era.
"We were really glad to have involvement from the state when we did that," Patricia said, noting that the South Dakota Department of Tourism sent their popular Mount Rushmore mascots to the museum.
Patricia is from the Midwest, having lived in Madison, Wisc. for 20 years. She studied at the University of Wisconsin in Madison, earning a graduate degree there.
"I am very much a Midwestern person, but I hadn't been out here to the center of the United States, to the Midwest plains (before moving here), and I hadn't lived in an area that wasn't as urban as Madison," she said, describing the path that eventually had her settling in Vermillion nearly three years ago.
"That was an interesting change for me, but it's a university town, and, of course, you feel that culture around you, and I've been very pleased about that."
Patricia said she likes to consider herself a citizen of the world.
"I love to travel, and I love to go all over, from the most metropolitan place, to the smallest, least known corner, so it's another big adventure for me to be in this part of the United States.
"I've been fortunate to do a lot of travel internationally, and that's helped me be able to judge the merits of this museum, in part, because of that. It's another reason that I know how great it is," she said.
Being manager of communications for a place with the diversity of the National Music Museum is a challenging role, Patricia said.
"But that's what I'm here for," she said. "I'm very passionate about getting people to know the term National Music Museum in Vermillion, South Dakota. I also want people to know it's an internationally-classed music museum."
Methods Patricia uses to spread the word about the museum in the Vermillion area involve television spots on South Dakota Public Broadcasting. She is also involved with the I-29 Cultural Corridor Project, which has the goal of informing the public of cultural venues located along Interstate 29.
"One of my dreams is that every person who goes through South Dakota will stop by the museum, and they will consider this the Rushmore of musical museums," Patricia said.
Her communications role with the museum also includes publicizing the goal of one day expanding the museum's structural components. The expansion that is currently envisioned will preserve the Vermillion museum's current building, and take over an adjacent one for offices, storage and a new conservation lab. The plans call for the lawn between the two buildings to be filled with an angular, light-filled contemporary-style connecting structure that will house more galleries and a concert hall.
"We're working to have a new building by joining the current building with the building next to us, with a large glass atrium, and making this more of a museum complex not only to show more of our collection, but to also serve the public better," she said. "It will allow us to fully update all of the exhibits, and have more room for performances. That's a huge project that we have underway."
Patricia describes herself as an arts and history fanatic – traits that make her perfectly suited for her role at the museum.
"Every one of these instruments here, and particularly the crown jewels of the museum, has a story," she said, "and it's my job to try to tell some of those stories and speak for those instruments. When I look at them, I see, metaphorically, the ghosts of the people who made them, the people who played them, the people who listened to them, and that's generations of people.
"I feel like it's my job to speak for these instruments," Patricia said.