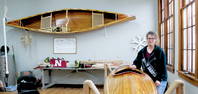 While on a camping trip in Ontario, Canada not too long ago, Dawne Olson dared herself to try something new.
What the rural Vermillion woman didn't realize at the time is that accepting that dare would have a life-changing, redemptive outcome, and lead to the creation of Four Winds Boat Shop and Woodcraft.
Four Winds is headquartered in the former Saginaw Country School building that's been relocated to the farm where Dawne and her husband, Matt, live northeast of Vermillion. The old building, which once served as a tractor shed and was in disrepair – its floor had nearly rotted away – has been restored, and is once again a place of learning.
Four Winds came about after Dawne decided to challenge herself to do something that many would find overwhelming.
She decided to build her own canoe. Out of wood.
"I didn't really have a goal to start woodworking; I just love the outdoors and especially canoeing. I've been doing canoe trips for about 10 years, and I ran across a boat building shop in Ontario one year while I was canoeing up there," she said. "I had never thought it was possible to build a canoe, really, until I saw people doing it in this workshop through a window in a museum.
"I thought, 'wow, that's the coolest thing I've ever seen.' And, I'm thinking that you have to be a rock star woodworker to be able to do that," Dawne said. "As we were leaving the gift shop, I saw a book titled, 'Anyone Can Build a Canoe.'"
She bought the book.
"I didn't really think I could do it, but I had read the book over a weekend, and made up my mind that I have to try this," Dawne said. "I didn't have any tools at all, so I just took the book with me to the hardware store, and just went through a list, asking the guys there, 'what's this saw?' because I didn't know what a table saw was, or a miter saw, or a spokeshave.
"I knew what a hammer and pliers are, and the good thing is you don't need a lot of tools in order to build a canoe," she said. "I bought three basic tools, and I came home and decided to just do this secretly in my basement, where nobody knows that I'm doing this so that if I fail, at least nobody will know."
Despite the personal doubts and lack of experience, she decided to press on.
"I really had no woodworking experience when I started," Dawne said. "I could do basic things, like drill a hole in a board, or hammer a nail … I've told this story so often – I bought my table saw to cut the wooden strips for the boats. I read the manual over the weekend, and I just kept reading it, because I was really scared to turn it on," she said, laughing. "I said to my husband, 'Do you have any advice for me before I go out and start cutting boards?' And he said, 'Just bring a cup of ice with you for when you cut your thumb off.'
"He didn't have any advice, and I think that's what makes me different," she said. "I really read manuals, I read books, I'm self-taught … I've learned everything from reading a lot of books."
The idea of Dawne building her own canoe was a source of levity at first.
"My husband kind of laughed, and everyone just thought it was funny, but then about a month into it, it's starting to look amazing, like a real canoe," she said, "and I finished it up in about five to six months. I got done, and I had such a sense of purpose and fulfillment while I was working on it that I didn't want it to be over."
She had to find something else to build. Dawne loves kayaking, so a kayak was next on her "things to build" list.
"If I'm camping, I take that with me a lot," she said, pointing to the canoe that hangs on the wall of the Four Winds shop. "If I'm just going out for the day, I'll take the kayak."
After she finished the kayak, "I really couldn't justify building another boat, but it just kind of exploded into this thing of what else can I make."
She also couldn't help but notice the positive reaction she received when people saw what she had built – a response that Dawne hoped others could experience.
"I thought of how there are so many things that I'm doing that other people could do if there was just somebody to show them how to do it," Dawne said. "This is more than woodworking for me. It's whatever gets you in touch with the outdoors, and the traditional skills that people used to have that don't get used much anymore, or, if they do, only a few, select people who are older know those skills."
To share those skills, she created Four Winds Boat Shop and Woodcraft.
"I love working with my hands, really, and being able to make something that helps me fulfill a passion for being outdoors," she said. "When you're paddling your own canoe – one that you've built yourself – across a lake, I don't think you can beat that."
Starting Four Winds wasn't so different from her earlier decision to build her own canoe. Familiar aspects – uncertainty, a bit of self-doubt, the bracing for the unknown that comes with any challenge – all appeared once again.
"But I thought this is kind of a niche, I don't know how many people are interested in it, but I'm just going to offer a few of the things that I see other folk art schools offering and see if people are interested, and they were," Dawne said.
Through Four Winds, she's able to offer classes on how to create a variety of things that are challenging, but not as daunting as building a wooden boat. Classes range from how to create baskets, and snowshoes, to making artful wall hangings from wooden pallets.
"I teach how to make coiled pine needle baskets. It's really an ancient art that Native Americans used about 9,000 years ago. I really like to tie into things that are really ancient, like snowshoes, for example," Dawne said. "Native Americans were walking around with those before we ever knew what they were, so I did a class for that this year."
At the same time bigger projects have and will be tackled in her shop.
"I built a kayak last year for a friend, so I've done one since I've started the shop, and I have a lady that is going to start one this spring," she said. "She's going to build one here."
Dawne has discovered that paddling a self-made canoe isn't the only fulfilling endeavor one can experience.
"We were up in Canada over Thanksgiving, and I brought my snowshoes up there," she said. "We were walking around in the snow, and I thought 'this is so cool to make something yourself.'
"It's so easy to go in to store and drop $300 on a pair of aluminum snowshoes, but when you realize the artistry that goes into making them, you can't help but think of the first Native Americans that thought up the pattern for making them," Dawne said. "It's complex and yet it's so simple and basic … just like the shape of a canoe, and the way it functions. To me, it's just amazing. How does this thing work so beautifully? How did they come up with this shape? I marvel at how things that are so aesthetically pleasing can be so functional and bridge the gap between you and nature."
It is Dawne's hope that Four Winds helps people in the Vermillion area get in touch with the world around them.
"Sometimes, people hate to go out in nature, and this gives you a connection to it. When we did the snowshoe workshop,
I took everybody out and showed them an ash tree and told them that this is where we get the wood for the snowshoes, and it has really unique properties," she said.
Many types of wood don't bend easily, Dawne said, because the grain isn't right for that, and it will just snap. Ash will bend, which makes it ideal for making snowshoes.
"I just think it's really great to not only show people a skill that not a lot of people know anymore, but also help them to appreciate the connection to nature that comes from using natural materials," she said. "My initial thinking was I'm just going to build boats … but when you start thinking of things that other people will like, then it becomes easier.
"In the coming year, I'll keep doing the things that I've taught, but I plan to ask guest speakers to come and offer workshops in areas in which I don't have expertise," Dawne said. "One of those things is fly fishing. I have an individual coming in February to offer a workshop on how to tie flies for fly fishing. We'll probably do a follow up in the spring on just basic casting for fly fishing."
She also plans to offer workshops locally this year through OLLI (Osher Lifelong Learning Institute).
"In February I'm going to do an introductory lecture on canoe building, and in March, we're going to do turkey calls," Dawne said. "You can make a turkey call from the bones of their wings, and I actually called in and shot my first turkey this year with a turkey call made out of wing bones. It was really cool."
Dawne grew up in Miller, and when she was a teenager, her parents decided to stop farming, and her mother wanted to go back to college. She and her parents moved to Vermillion.
"That's when I met Matt," she said.
They moved to their farm on 312th Street about four years ago. Part of the move included locating the former Saginaw country school building not far from their house.
"My father-in-law went to school in this when the original Saginaw school burned down," she said, sitting in the brightly lit space. One wall of the former schoolhouse converted to a wood crafting shop contains large windows that let in lots of natural light.
"My grandfather-in-law Elton Larson moved it to his place and they used it as a tractor shed. They changed oil in it and did welding, and the windows were covered with shelves," Dawne said.
Today, the former schoolhouse serves as a place away from the traffic of the farm.
"I just really need a place that's really secluded … when I got down here and we started renovating it, I started to realize that it was going to be a really nice place for people to come and just make things. The dream kind of came together while we were still renovating it," she said.
The improvements included replacing all of the broken windows, and putting in a new wooden floor. More is planned for structure, including a storeroom for lumber and other supplies that she hopes will be completed this year.
Before she began Four Winds and established her own work space on the farm, she discovered that focusing on her canoe project provided refuge at a time that she needed it.
"I was going through a really hard time in my life when I first started with the idea to build that canoe, and I don't know what it was for sure. I don't know what it was that made me feel like there was some kind of healing in doing it," Dawne said. "But, I felt that by the time I was done building the canoe, I had worked through that bad place in my life, and I've heard other people describe that same experience.
" Sometimes people don't take advantage of the ability to work through something like that, because they don't they have the tools, they don't know how, and they don't have a place for it," she said. "So, besides being able to show people skills that are being lost, my hope is that I'm creating a kind of sanctuary or a place where people can come. It is a place to not just get away, but also to absorb yourself in something else and maybe work through something."
Dawne has discovered that the wooden canoe she's built is practically indestructible.
"I don't think people realize how durable and strong they are … I always direct people to a You Tube video of this guy beating on his with a sledge hammer," she said. "I've taken
mine out for six years now on wilderness trips, and just throw stuff in it, and drag it up on shore, and it's still in just wonderful condition."
She built her canoe out of western red cedar, using boards she picked out herself.
"I look for wood that has a nice grain, that I think will look nice, and that doesn't have too many knots," Dawne said.
The canoe building process included cutting the boards into strips that are a quarter inch thick, and adding a small groove on one side of the strips. The strips connect together as they are wrapped around a special form that bends them into the proper shape of a canoe. The wood is coated with fiberglass cloth – Dawne uses four coats – and the final product is very strong, durable and light canoe.
More than just a beautiful wooden product is realized at the completion of a project at Four Winds.
"You never know what's going on in someone's life. When you make something with your hands, no matter how small the thing is, you can take pride in it, and I think that's a great thing to give people – the sense of pride in your work and making something beautiful," Dawne said.
Learn more about Four Winds Boat Shop and Woodcraft at http://4windswoodcraft.wixsite.com/mysite.