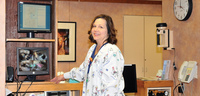 Methodically working during the night, quiet so not to disturb the little ones more than necessary is Shelly Kinsley, a Registered Nurse at Avera Sacred Heart Hospital in Yankton. On her 25th year of nursing with Avera Sacred Heart Hospital, Kinsley has always worked the night shift and has spent most of her nursing career working with children.
Kinsley was born and attended school in Spencer, Iowa. After graduating high school, she attended South Dakota State University in Brookings and obtained her nursing degree. When she began looking for a nursing job in 1984, jobs were difficult to find without having previous nursing experience. She headed to Denver, Colorado to gain some experience in neurotrauma, or head and spinal injuries, for about two years before returning to South Dakota.Landing in Sioux Falls, she worked in the neonatal, or newborn unit and as a flight nurse, flying with other medical personnel to pick up premature babies all over South Dakota. During this five-year time span, she also met her husband, Jon. After she and Jon married, they moved to Kansas City, where she again found herself in the neonatal unit.
Kinsley and her husband settled in Yankton in 1992 and she has been with Avera since then, working a few years in the nursery with most her career spent in the pediatric unit, caring for children ranging from babies to age eighteen.
"I like the variety and by this time I had two kids of my own," she stated, explaining how her job gives her the opportunity to work with a variety of cases and different illnesses.
Kinsley has always worked the night shift, her current twelve-hour shift starting at 7:00 P.M. When she arrives for the evening, the first four hours of her shift are the busiest, one of her first priorities to visit and assess each patient before they go to bed. She also takes patients' vital signs, weighs the babies, gives patients' medicine and any care that is needed, bathe them if needed and gets them ready for bed. During the night, she continues to monitor the patient, takes vital signs, measures intake and outtake of the infants and works with the doctors.
Spending time with and getting to know the patient is crucial. As Kinsley explains, "If you start to work with the child for a few days, and something's changed, you know."
Kinsley said she not only takes care of the patient, but takes care of the whole family, getting them situated in the room and helping to comfort the parents. "Even though their child is sick, we take care of the whole family. Because when (the children) come in, they're pretty sick, and I think the parents are pretty tired. They're pretty tired and they need that comfort that someone's going to take over."
The pediatric unit is made up of a small group of dedicated nurses. "There are six of us," Kinsley explains, "it's a real small unit, but we're really lucky to have four pediatricians in our town that keep us busy." She explained how they also see patients from other towns near Yankton as well.
Though Kinsley's two children are now in their twenties and have ventured out on their own, it worked well for Kinsley to work the night shift while raising her children. She described their regular schedule of having dinner together at home before she helped get them started on homework. She then headed off to work while her husband, who had regular daytime hours, cleaned up after supper with the children and took care of all the evening duties.
Kinsley diligently worked while her family slept. She arrived home in the morning to see her husband and children before they started their day, and then she could rest. Her weeks rotated between double or triple twelve-hour days, so she used her extra days off for shopping or errands.
She doesn't feel like she missed out on anything while her kids were growing up. She even found time to assist as a fill-in nurse for the Yankton schools a couple days per month and volunteered her time to give vaccinations to students at the schools. She was also active with her daughter's dance activities and her son's cross country and track events.
How did she raise a family while working the night shift for so many years? She credits being organized and flexible. "I've never seen nights as being an obstacle," she explained. She would plan the week and fully utilize her days off. "I think it's made my husband have a better relationship with our kids." She explained that he had to take the lead while she was working or resting. Her children saw the teamwork their parents put into running the household.
Kinsley lives by organization, as it's a priority in her job as a nurse. She tries to schedule her duties for each patient when they are awake so not to disturb them. No shift has ever been the same for her and she explains that each task has a priority.
Nursing has its challenges and being flexible is crucial to the constant changes in the medical field and in technology. Kinsley remembers early in her career when nurses charted simply with paper and pencil but have now transitioned to computer charting. Though she initially found that transition very scary, now it's just a normal part of her work life.
Most changes in technology have made nursing jobs much easier. She gave examples of how it's much easier and faster for her to look up the patient's history, IV pumps have been simplified and patients and their medication are scanned with a handheld scanner to assure they are getting the proper medicine.
The advancements in technology don't frighten her. "To me it's reassuring," she stated, explaining it's a checks and balances system for the nurses.
Kinsley didn't always aspire to become a nurse. "I wasn't the kid that grew up thinking 'I wanted to be a nurse,'" she states. She smiled as she told of how her dad once told her at that he thought she would be a good nurse and for some reason that stuck with her. Her dad's prediction was accurate.
Her favorite part of being a nurse? Stated simply with a beaming smile, "It's fun to see the families and see the sick child get better." She talked about how it makes her feel good to see previous patients and their families out in the community doing well.
The pediatric nurses at Avera work together, Kinsley creditstheir teamwork and flexibility. With only six nurses in the unit, there's one nurse per shift. This is possible with their average census of three patients, but because the number of patients admitted can change instantly, the nurses need to always be ready if called in to assist.
She recalls working the holidays when her kids were little.
During Christmas, she would ask the parent of a patient if her child could bring their child a present. She explained how this could help her child focus outside of their selves and instead of focusing on the fact that their mom was working; it gave them the chance to brighten someone's holiday.
Having patience, empathy and being non-judgmental arejust some of Kinsley's top qualities. She listens to the families, helping them through a difficult time and tries to make it a more positive experience for them. She provides reassurance for the parents of the young patients. She has experience not only herself as a mom but with her tenure of seeing other children during their stay at the hospital. As I listen to her, I think about how these are all characteristics that I would seek out in a nurse caring for my child.
Aside from her children, she is most proud her department at Avera. "I'm proud to be a peds (pediatric) nurse. I'm really proud of what we have here in our pediatric unit." She continued, "Taking care of children is a lot different than taking care of an adult. It's a specialty. And having the rapport that we do with the peds doctors."
She is also proud of being with Avera for 25 years andenjoys Yankton. "It's been a really good place to raise kids here." She feels that being a pediatric nurse has made her a better mom because she's become more familiar with illness and she isn't intimidated by illness.
With fantastic nurses like Kinsley taking care of our children, it's reassuring as a parent to know that our child's health and safety during illness is a top priority to those providing care.
Kinsley serves as a prime example that that top-notch care doesn't stop when the sun sets and the world rests, that's when her work for the day is just beginning.