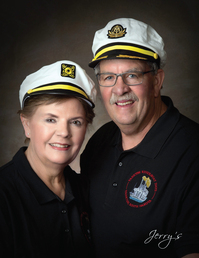 Duke and Peg Ellingson met with me one beautiful, warm summer evening on their open front porch in the center of Yankton and made me immediately feel welcomed and right at home. Though I had never met the couple before, it was instantly apparent to me why they were chosen as this year's Riverboat Days (RBD) Captain & Belle. Deeply flattered by the honors, they still question how they were nominated when they feel that there are others also involved in the community. Listening to their story of how they've touched many groups, committees and people throughout their lives, it's clear why they're a role model to the people in this community.
Captain, Duke, is a lifelong Yankton resident, living just down the street from where he grew up. He's worked with heating and cooling for 50 years, first working for his dad at Broadway Sheet Metal. The business changed names to Broadway Heating & Cooling and later changed hands when Duke bought it from his dad. He later worked for 10 years at Kaiser Heating and Cooling and part-time for the last 2 years at Larry's Heating & Cooling, mainly teaching the younger generation his fabrication and ductwork skills.
The previous long-time City Commissioner spends his free time teaching Sunday school at Yankton's United Church of Christ, reads to children at Beadle Elementary School, serves on a committee for Habitat for Humanity, and serves on the Federal Prison Camp board. He was involved with the Roger Haas Tournament and Swim Team for many years. "I've always liked to volunteer. It's kind of fun," he smiles.
Peg, his accompanying Belle, moved to Yankton from Volin, SD when she was twelve years old. She's a retired special education teacher and taught all but one year with the Yankton School District. Peg volunteers her time with Meals on Wheels, the Sack Pack program, the community banquet, a women's group that helps perform good deeds throughout the community and she serves on several committees at the United Church of Christ. One program she helps head up at her church is the non-profit "U Care Program" where they make batches of casseroles available to those who might need a hot meal. Peg is responsible for shopping for all ingredients and assists several ladies in making the casseroles.
The couple, married 45 years, moved into their current house in the middle of Yankton in 1986. They moved to Omaha, Nebraska for about nine months but moved back to Yankton because of family, friends and the small-town atmosphere. Duke looked up and smiled, "You really appreciate it more here once you move away."
You've probably seen Duke at RBD without realizing it. He had driven the big, black "batmobile" car in the parade for several years. They've both taken in many years of RBD and enjoy going to the event every year. While Peg ponders over her favorite part of the occasion, Duke is quick to respond, "the food!" Peg likes it all, the food, the vendors, the entertainment and the atmosphere.
"It's kind of fun just to sit down there at a picnic table on a day like this. See people that you haven't seen forever," Duke states.
"To relax," Peg adds with a tranquil smile.
Peg remembers going to the very first RBD held more than 30 years ago. Because they had very young children at the time, Duke stayed home with the children and Peg went by herself. She recalls the event being very nice even though there weren't very many vendors. Duke commented about the triathlon included in the earlier years. They went to RBD quite often in the past as they took their young kids down to the weekend events.
"It was just a fun time," Duke says. "It's kind of nice that there's something free like that for everybody. They can just come and go as they want to."
Peg adds, "And they've kept it that way, which is good."
The Ellingson's are very flattered by the RBD nomination. "I was blown away," Peg said upon learning the news, which completely caught them off guard. "We were surprised as it's the last thing we expected it to be. There's so many others that have gotten more involved than we have," Peg continues.
Duke adds, "That's quite an honor, you know."
We reminisced about previous years where rainstorms during RBD would result in straw and boards being placed on the ground for people to walk on to help alleviate the mud. The couple shared stories of their children and their friends as young adults coming back for the event and "camping out" at the Ellingson house.
Duke smiles, "It was fun having all these young kids here, back for Riverboat Days, just hanging out here." Peg recalls how their kids and friends would dress up in costume to match that year's Riverboat Day's theme.
They talked at length about their three children, who are noticeably very dear to the couple. Lindsey lives in Yankton, Cody, who passed away, lives in their hearts and Jamie lives in Alaska and has twin eight-year-old boys. The couple talked about their regular travels to Alaska to see Jamie.
Though the Ellingson's have seen their share of RBD over the years, they wouldn't make any changes to the event. We laughed as Duke pipes up, "If it ain't broke, don't fix it!"
"I think they try to make something for everyone, and they do a good job of that. And they are flexible and yet they bring back what people like. They're smart people, because it just keeps getting better," Peg reflects.
"I wouldn't change anything, they're doing it right!" Duke laughs.
Their Captain & Belle status this year brings some upcoming events for their schedule. They will be attending several events over the Riverboat Days weekend, August 18-20. Until then, they have plans to attend a Mental Wellness Conference taking place at Mount Marty College and take part in various parades in Harrisburg, Menno, Tabor and Scotland.
They have appreciated the warm congratulations from many people in the community while they're out and about. They've also received some nice notes in the mail.
Duke said that it's the friendly people that he likes the most about Yankton. Peg agrees. They also like the lake, as they enjoy kayaking. They explain that they can put their kayaks in their truck and be down to the water in ten minutes.
"It kind of spoils you when you go other places, you know. You think, gosh, we're kind of lucky to have so much here," Peg smiles.
Duke adds, "It's kind of fun to go to the grocery store when you know all these people. It's kind of a social thing going to the grocery store anymore." We branched off topic for a bit to talk about grocery lists and grocery shopping and the couple talked with me like we've always known each other. I was thankful to have gotten the opportunity to meet the wonderful couple, they serve as admirable role models for many. I'm excited to see them represent our community as this year's Riverboat Days Captain and Belle.