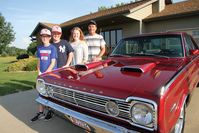 In 1977, Tom Holmstrom bought a car.
It was a Plymouth Satellite. A 1966 model.
"That was the very first car I owned," says Holmstrom, who livesand works in Yankton.
"I had just enough money to buy it, but I couldn't drive it. I parked it in the backyard for the winter."
The thing is, it's not just that Holmstrom remembers the car; he still has it. The Plymouth Satellite, and many others. Nine others, to be exact.
Holmstrom — who has worked for Northwestern Energy for nearly three decades, and who also serves as a volunteer firefighter — owns 10 cars and stores them in and around his garage (which is more like a "shop") next to his home.
He's more than just a collector, he says. Holmstrom does actually work on the cars he buys. He'll work on the interior. He'll work on the motor. He'll make changes to certain things. He'll send parts out to be re-chromed. They're projects for him, he says.
"I like fast cars," Holmstrom says, with a wide smile.
He keeps three cars in particular in his garage (the rest are parked out back near some trees): a silver 1967 Camaro, a blue Dodge Challenger and his beloved red Plymouth Satellite.
Now that he's able to maintain a collection, Holmstrom says he is following through on the dreams he used to have as a child — even long before he bought the Satellite.
"Probably since I was about 15, I started getting into cars," he says."Then I started racing dirt bikes."
It's been a while since Holmstrom has done that, but for eight years, he did drag race his Satellite, he says.
"I've taken the Camaro to Marion to race a couple times, and I might do the same with the red car," Holmstrom says. "Just to see what it could do with the new motor."
After the dirt bike days, Holmstrom started drag racing snowmobiles — for 12 years. "I don't do that anymore," he adds. These days, he keeps busy enough with his full-time job and his car collection, not to mention the work he does to build custom rifles out in his shop — half of which is for his cars and the other half for his other work. Holmstrom purchases blocks of wood that come from all over the world and he fashions them into gun stocks.
All of that work certainly keeps Holmstrom busy, and as he'll tell you, his wife, Kellie, doesn't seem to mind. "She doesn't say much about it," he says, with a smile. "She just shakes her head when I want to buy a different car."
And like any car collector, Holmstrom never stops looking.
He's recently been trying to purchase a 1969 Plymouth Roadrunner. He's been in contact with the owner in Fargo, North Dakota, who has never driven the car. Holmstrom's brother lives in Fargo, and the two of them have purchased cars together in the past, so his brother is always keeping an eye out for the next venture.
"I look for something that's in really nice shape yet," Holmstrom says. "If I like the looks of them, I'll go after it."
As is to be expected, Holmstrom's car collection is the envy of his friends' eyes, he says."I have a couple guys who really want to buy some of the cars," he adds. "They say if I ever decide to sell them, they want the first chance."
It's possible he might sell one, or a couple, he adds.
Not the Plymouth Satellite, though. That one holds a special place in his heart, after all, Holmstrom points out.
"The Challenger I might sell, if I trade up to a new Hellcat or one of those Demons," he says, referring to two of the Dodge Challenger SRT models. "But those are a little spendy."
To that point, yes, Holmstrom does spend quite a bit on his cars and their eventual work, but it's more than a hobby, he says. It's a passion.
"I enjoy just taking people for rides," Holmstrom says.