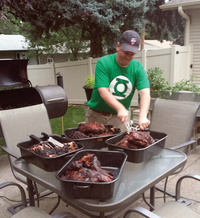 When Steve Huff, local foodie and lawyer with Johnson, Miner, Marlow, Woodward & Huff, Prof. LLC, was reading through his GQ magazine and saw David Chang's recipe for Malaysian-style pulled pork, he knew the epicurean in him had to try it.
"David Chang is an Asian-American chef who was raised in the south," Huff said. "He likes to take traditional southern staples and put an Asian-inspired twist on them. There is a really good book called 'Smoke & Pickles,' and that is how I first began following him. Then I saw him in GQ with a recipe that he claimed was the easiest pork butt in the world, and I decided I was going to make it."
Huff has already made the recipe for his family and determined that it's good enough to share with the public, so he plans on a wide unveiling of his finished product at a fundraiser for the Boys and Girls Club in Yankton.
"It's about the third or fourth year that I have done the cooking for this event," Huff said. "In the years past, Don Kettering brought in his rig and did 400-500 hot dogs on the spot, but we decided that we wanted to cook something that adults might gravitate towards more than hot dogs. The pulled pork has been a better product for the last couple years. It's more filling and economical. You can feed a ton of people with just a few pork butts."
Typically, Huff has used a standard dry rub on the pork butts before placing them in one of his smokers."This time, I'm doing things a little different," he said. "I'm going to follow Chang's recipe for Asian-inspired pulled pork. It's so simple. You take this CJ Bibigo Korean Style Go-Chu-Jang Hot and Sweet Sauce - it's almost like a paste - and you rub it all over the meat. Then you throw on a little black pepper and chili powder or paprika on top of it."
The Go-Chu-Jang sauce that Huff is using for his Asian-inspired pork butt is currently available at local Hy-Vee stores."It used to be the only place I could find that stuff was online, at an ethnic foods store in Sioux City or at Look's Meat Locker in Sioux Falls," Huff said. "It's not an expensive or unique brand. It's just basically red curry and bean paste. It's unusual, but not really hot. It's more of a sweet heat. I think the paste tastes really good and is quite fragrant."
According to Huff, the best part about making pulled pork is its versatility across a wide range of dishes. The leftovers can easily be transformed and used in things like ramen, burritos and enchiladas to stretch out the number of different meals that can be made from a single pork butt.
"There is an excellent hangover sandwich that is easy to make using leftover pulled pork," Huff said. "Not that we ever go excess, but, if you know someone who does, you can make them one. You pile the meat on an English muffin and add hoisin sauce. Then you drop a cooked egg on top with some chives and you're ready to eat."
Huff recommends making pulled pork when you're cooking for a big group of people. He also believes it a great meal for any family that wants to do several iterations of pulled pork in other meals. Once the pulled pork is cooked and shredded, it can be frozen and kept for six months to a year before going bad.
Asian-Inspired Pulled Pork:
Cooking equipment: smoker, roasting pan, shredding utensils, spray bottle (optional).
Ingredients: Pork butt or shoulder, Go-Chu-Jang sauce, black pepper, paprika, Kaiser buns, apple cider vinegar (optional), barbeque sauce (optional), chopped cilantro (optional), chopped onion (optional).
Rinse pork butt and apply Go-Chu-Jang sauce to entire product (approximately one bottle of sauce). After Go-Chu-Jang sauce is applied, cover product thoroughly with black pepper and paprika.
"I always eyeball it, but you want to see about 80 to 90 percent of the meat covered in the Go-Chu-Jang sauce and then hit it with the dry rub ingredients," Huff said. "Basically, you don't want to have any bare spots on the meat. Since you are shredding the meat and combining it all after cooking, it doesn't matter if it isn't perfect. That's the beauty of pulled pork. There is no exact science and that's what makes this so easy to prepare."
After applying the sauce and dry rub to the meat, place the product in the refrigerator overnight for several hours to cure and let the spices absorb in the meat. Once the product has cured, it is ready to be placed inside the smoker for several hours until the internal temperature of the meat is between 160 and 170 degrees Fahrenheit. During the smoking process, it is a good idea to keep the meat moist by occasionally squirting it with a spray bottle filled with apple cider vinegar.
"Moisture is also important," Huff said.
Once the meat reaches a safe internal temperature, the product is ready to be taken out of the smoker and shredded into a roasting pan. The shredded product can then either be frozen for later use or served as a finished product. If the flavor of the meat is lacking, barbecue sauce can be added to the shredded product.
"I always aim a little low on flavor when I'm cooking for a crowd," Huff said. "There is really no reason to overpower it. I'd rather have it sweet and low, and have people add more to it if they want."
Anyone looking to add extra flavor to their pulled pork sandwiches can add chopped cilantro or onions to combine with the finished product.
Side dishes:
"I'm a purest," Huff said. "With these summer/fall type of dishes, I like to do summer salads or slaws and beans."
Coleslaw:
"Coleslaw is a good dish to pair with pulled pork," Huff said. "You can do it like a Carolina slaw with coleslaw, apple cider vinegar, sriracha sauce, salt and pepper, or you can do a mayonnaise-based slaw. You can also do a healthier broccoli slaw, which can be found pre-cut at the grocery store. You take the broccoli slaw base and add mayonnaise, lemon juice, feta or bleu cheese, celery seeds and black pepper."
Baked Beans:
"Baked beans also go very well with pulled pork," Huff said. "Typically, I use black, navy or pinto beans and add chopped bacon, onions and peppers."