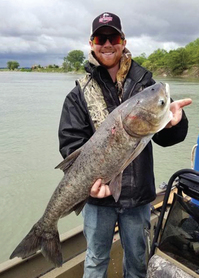 Adam Walter wanted to share his love of bowfishing.
That's why during an economics class a few years ago at Yankton High School he came up with a mock business plan to create his own bowfishing guide service.
It was a natural progression for the business-minded Walter.
"In high school, that's what we did after baseball practice. We would go shoot fish," says Walter, now a student at South Dakota State University.
That mock business plan has blossomed into exactly what he planned: His own guide service.
Walter launched Red Arrow Bowfishing earlier this year and recently completed his first summer as a guide in his hometown and along the Missouri River. Utilizing social media and 'word of mouth' approach to marketing his business, Walter was booked for 25 guided trips this summer.
"That's quite a bit more than I hoped for," he says. "For my first summer, I didn't know how many trips I would be able to do."
It was, Walter says, a busy summer of providing customers with an opportunity to participate in what is becoming one of this area's fastest-growing outdoor activities.
Bowfishing, as the name suggests, combines the sports of archery and fishing, which is why it has become increasingly popular. In South Dakota and Nebraska, specifically, the popularity of a summer (June 1-30) paddlefish season on the Missouri River routinely attracts anglers from all over the region.
And those are the visitors guide services like Walter's hope to attract.
Red Arrow Bowfishing, for example, offers two kinds of all-inclusive trips: A paddlefish trip in June, and a 'rough fish' trip (carp, gar, etc.). Walter's knowledge of the Missouri River helps, he says, provides customers with a successful adventure.
"I don't know the entire river down to Sioux City, but I feel like I know enough about where to fish," Walter says.
Although he doesn't get to shoot as much on his own (maybe 3-4 times a summer), Walter says he finds pleasure in watching his clients shoot fish.
"I find a lot more enjoyment now in watching people take their first fish," Walter says.
When he is alone, Walter — like many experienced anglers — will approach his trips differently. Rather than search for the 'big one,' a guide like Walter will take people to areas where there are groups of fish.
"That's the big thing," Walter says. "If people can see fish, they're happy. I can't make them hit it, but I can get them in a good position."
It's during those outings on the water where anglers can also aid in helping curb the expanding population of invasive species.
The Bowfishing Association of American (BAA) tries to help, according to its website, "reduce the spread of invasive fish species around the country." And some states even encourage bowfishermen to target those kinds of fish.
A good majority of the time, though, a guide service will take out people new to the sport of bowfishing, Walter says.
"I get a lot of people who come down for camping and see a poster somewhere," he says. "This year, I ran into a ton of people in the middle of June who were on vacation, camping, and wanted to go out at the same time."
Also this summer, Walter took four golfers participating in the Hillcrest Invitational Pro-Am out for a bowfishing trip.
With so much river water available to anglers, guide services have become quite popular. And one down in Wynot, Nebraska, is run by a record-holder.
Marlyn Wiebelhaus, who owns Wiebelhaus Guiding (which offers guided bowfishing and turkey hunting trips), boasts seven BAA certified state records in Nebraska and three in South Dakota. And through each state's Division of Wildlife, Wiebelhaus owns six records in South Dakota and three in Nebraska.
Owning such a business isn't easy, as Walter says he discovered in his first year.
"There are a lot of hoops you have to jump through," he says. "But I've learned that you can never expect the amount of expenses you'll have, but you just have to go with the flow.
"It's all part of the business."