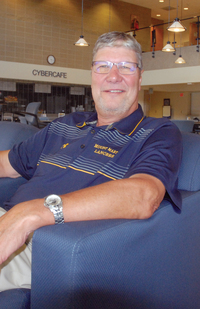 While riding a train, Chuck Iverson awoke with a jolt in the middle of the night.
The University of South Dakota graduate — who had enjoyed a brief stint in pro basketball — was traveling in Europe with South Dakota basketball all-stars. The three-month swing included around six weeks in the former Soviet Union.
The year was 1976 — the United States' bicentennial. But it also marked the depth of Cold War tensions, making the U.S. basketball team's visit to the Soviet Union both historic and chilling.
"We were among the first independent teams to go behind the Iron Curtain," he said. "We played the equivalent of their pro teams."
Iverson, now living in Yankton, vividly recalls the 1976 incident when Soviet authorities halted the train with the U.S. team.
"We were traveling from Finland to Russia, and our train was stopped in the middle of the night," he said. "We looked out, and it was like a lighted football field at the border. We knew we were entering Russia."
While the team thought they knew their location, Iverson said they had no idea what to expect next.
"We sat there for a half-hour or 45 minutes. Then the door opened up, and we had a 65-year-old woman in a military uniform who spoke broken English," he said.
"She was accompanied by two soldiers with rifles, and they went through all our clothes and possessions." The team members had been given a list of forbidden items in the Soviet Union, Iverson said.
"We were told not to take any reading materials, except for maybe sports magazines or books. We weren't allowed to take any news magazines, like Newsweek, with us," he said.
"We had to declare any money on us, and we weren't to have any religious symbols with us (in the officially atheist nation)."
The team members weren't allowed to get dressed during the search, Iverson said.
"We were standing there, in our underwear, while the guards went through all our things," he said. "We didn't know what to expect or what they might do to us."
The train search finally ended and the U.S. team was allowed to proceed into the Soviet Union. The Americans headed to Leningrad — later renamed Stalingrad — for their games.
"We were in the Yuri A. Gagarin tournament, which was named for the cosmonaut that was killed (in a later plane crash)," he said. "It was gray outside, late October or November, and the weather was cloudy. But it wasn't just the weather. Everything seemed really dreary."
Even when they finished the tournament and left the country, the American players remained under the watchful eye of the Soviet authorities.
"We had a lot easier time getting out of Russia than going in," Iverson said. "But for us to get out of the country, the host (nation) had to guarantee the visiting team got back out safely to its home country. That was mainly to see that no defectors stayed behind in the host country."
The American players were not allowed to leave the Aeroflot (Russian airline) flight during a refueling stop in Ireland, Iverson said.
"We had to remain on the plane until we got to New York City," he said. "We heard horror stories about Aeroflot and didn't' feel comfortable until we got to New York."
A couple of passengers managed to disembark the plane in Ireland — for good.
"We had two people get off the plane and take a different plane home," Iverson said.
College BallThe Russian adventure stands as just one of Iverson' lifetime ties to basketball. He has served at Mount Marty College since 1991 in the roles of faculty member, women's basketball coach and athletic director (AD). He announced his retirement in 2018 and currently serves as assistant AD during the transition year.
Iverson's basketball journey began with a crucial decision made before he left grade school. He grew up on a Clay County farm and attended the nearby Meckling elementary school.
When he was in eighth grade, Meckling closed its high school. Students were given the option of attending the neighboring schools of Wakonda, Gayville or Vermillion.Iverson chose Vermillion, one of the largest schools in the state. He tried out for the Tanager basketball team, even though he didn't consider himself extraordinarily tall or talented.
But that all changed in a hurry and didn't stop.
"I wasn't that tall when I started (basketball), but I got my growth spurt in high school," he said. "I was 5-foot-11 in eighth grade, 6-foot-4 when I started my freshman year, and 6-foot-7 by the end of my freshman year."
Iverson grew even taller, eventually reaching 6-foot-9. He avoided injuries, including any knee pain from his rapid growth.
"I didn't really have any problems. I think it was because of my genes," he joked.
Iverson's farm chores contributed to his strength and athleticism.
"We would pile 3,000 bales a day, and each bale weighed 80 pounds. I was like any farm kid growing up in the 1960s," he said. "Along with it, I got fresh air, powerlifting and conditioning."
Today, many athletes engage in formal training programs to get the same benefits, he noted.
When it came time to attend college, Iverson remained in Vermillion and attended the University of South Dakota. He tried out and made the Coyote basketball team.
"I didn't get a lot of recruitment or scholarship offers," he said. "I attended USD, which was a good fit. I was just a farm kid, and I wasn't complacent at all when it came to making the basketball team."
Iverson noted he had the best of both worlds.
"I lived in the dorm and was far enough away from the farm, but I could still go back to my family for a home-cooked meal," he said with a grin. "But it was also great because I was close to home, and my family and friends could watch me play basketball."
Bob Mulcahy served as the Coyote men's basketball coach the entire four years that Iverson attended USD from fall 1969 to spring 1973. Mel Klein served as an assistant and would later coach Augustana College (now Augustana University) in Sioux Falls.
Iverson recalled with fondness the highly-competitive North Central Conference (NCC) in NCAA Division II. The league featured intense rivalries, including the Coyotes and the South Dakota State University (SDSU) Jackrabbits of Brookings.
"Back in those days, they were throwing coyotes and rabbits out on the floor. One year, a frozen coyote hit a USD cheerleader," he said. "Now, things are more politically correct. If somebody threw a coyote or jackrabbit on the floor, the police would arrest the person."
The games became up close and personal, Iverson said.
"The NCC had great rivalries. You knew every team well," he said. "I'm glad we played in the 'New Armory' (before the DakotaDome was built). Every game was packed."
The Jacks returned the favor in Brookings, Iverson recalled.
"We used to play at the 'Barn' at SDSU," he said. "We would get there for the game at 4:30 p.m. and had to run the gauntlet with snowballs thrown at us."Both USD and SDSU now compete in NCAA Division I, and the atmosphere has changed because of the facilities and decorum, Iverson said.
"The venues are so different now. They're so much more spacious," he said. "The crowd is further out and not on top of you. Fans aren't able to reach out and touch you."Iverson left the Vermillion campus with great memories, including a trip to the Division II national tournament during his junior year.
He thought his basketball playing days were done, but they weren't.
Going Pro
Iverson had no expectations of a pro basketball career. He had begun laying the groundwork for life after college ball.
Then he received an unexpected phone call after his USD graduation.
"I was working on the farm, and my brother, Dwight, who was a freshman at USD, came rushing up to me," he said. "Dwight said, 'Chuck! You've been picked in the draft!'"
A stunned Iverson thought his brother was referring to the military draft for the Vietnam War."Dwight said, 'No, the NBA (National Basketball Association) draft!'" Chuck said. "This was before cell phones, and I was supposed to get into town to take a phone call from them."
Iverson received an offer from the Seattle SuperSonics. However, he had already signed a teaching contract with a Wyoming school.
"The school graciously allowed me to go with the SuperSonics and return to the teaching position if things didn't work out," he said.
Iverson also received an offer from the Memphis Tams of the rival and now-defunct American Basketball Association (ABA). The Tams offered guaranteed money if he signed.
However, the ABA's future remained uncertain, Iverson said. And if he took the ABA contract, he wasn't allowed to try out for the NBA at a later date.
Iverson chose the SuperSonics, which offered an eye-opening experience for a farm kid."
(NBA legend) Bill Russell coached the team. Mostly he sat on the sidelines with the reporters and did some light coaching," Iverson said.
However, the rookie soon came face-to-face with the head coach.
"The first three days were hell. We didn't play any basketball. We just ran a lot," Iverson said. "I sat down, and Bill Russell said to me, 'Tired, big fella?' I knew I couldn't admit it, so I got back up and started running again."
Iverson managed to get some playing time, allowing his cousin and her husband to see him in action. But in the end, his stint with the SuperSonics ended and he packed his bags.
After teaching in Wyoming, Iverson returned to his home area. He resumed his basketball playing with independent teams.
Then came the invitation from Rapid City trucker Ralph Macy, who organized the 1976 trip to Europe, including Russia. For Iverson, the roster included familiar faces: Rich Nissen and Joe Mueting of USD, Jeff Wilber of Augustana and John and Dave Thomas and Lee Colburn of SDSU."In Europe, the competition was really good," Iverson said. "It was the equivalent of D-I and NBA quality."
Coaching The Sidelines
Upon returning home, Iverson found basketball connections of a different type. He started assisting Coach Jim Thorson with the Yankton College men's basketball team.
"I finished harvest (on the farm) and went over to help Jim. I mostly worked with the JV squad," Iverson said.
After Yankton College closed in 1984, Iverson's coaching days weren't finished. He would find his way across town, joining the Mount Marty College athletic staff in 1991 as faculty, women's basketball coach and athletic director.
Chuck and his wife, Karla, have seen their children enjoy college basketball success.At MMC, Chuck's teams enjoyed perennial success and advanced to the NAIA national women's basketball tournament. He coached the Lancers when his daughter, Cassie, played on a team that qualified for the NAIA Division II national tournament.
In addition, daughter Kara, played for USD. Son Colton played at Minnesota before transferring to Colorado State for his senior year, leading the Rams to the NCAA Division I tournament.As MMC athletic director, Chuck guided the Lancers from a small program with an independent schedule to conference memberships and growth in the number of sports and athletes. MMC currently belongs to the Great Plains Athletic Conference (GPAC), considered one of the toughest NAIA leagues in the nation."Back then (when I started), we had four sports and 45 athletes," Iverson said. "Today, we have 17 sports with 250 athletes, along with two club sports."Iverson said he didn't take a hard line as a coach or athletic director.
"I wanted people to feel comfortable around me," he said. "As an AD, I didn't want people to fear me. If they had something on their mind, I wanted them to talk to me about it."
In recent years, Chuck has enjoyed a re-connection with professional basketball.Colton, a 7-foot center, was picked 53rd overall by the Boston Celtics in the 2013 NBA draft. He played in the Celtics' summer league. He didn't appear headed for a roster spot, but the Celtics maintained their rights to him.Since graduating from college, Colton has played professional basketball in Turkey, Spain and Israel.
"We've made three trips overseas to see Colton play international basketball," Chuck said. "We were in Istanbul (Turkey), where you step back in time. Istanbul is so crowded, with 14 million people, it takes you a while to get through the city. It's almost claustrophobic."
Colton next played in a Spanish city of 250,000 residents as part of the Euroleague, Chuck said. The smaller city had more of a wide-open atmosphere compared to Istanbul's hustle and bustle, he added.
Most recently, Colton played for Maccabi Tel Aviv of the Israeli Basketball Premier League. Chuck said he was astounded by the mix of Biblical and modern settings in the same nation.
"Tel Aviv is ultra-modern, like any U.S. city. Then you go 30 miles out, and it's like being back in Christ's time," he said. "You're walking the same steps that Jesus walked. You read the Bible, and you're setting foot in the same area. It's mind blowing."
The Iversons ran into another mixture of Biblical and modern life.
"Colton and I prayed at the Wailing Wall. The women were sent to another area to pray, so Carla and Colton's wife just waited for us," Chuck said. "After we were done praying, we started walking away. People came up to us, mostly little kids, to get a picture with Colton. It all seemed surreal.
"It's so great to watch your son play. You get the chance to be exposed to all sorts of culture.
Colton has returned to the United States, where he's assessing his future. In one respect, he's followed his father's footsteps.Chuck lifted his legs, showing his large feet. "My shoe size is 16, but Colton's got me beat — he's a size 18," Chuck said with a laugh.
Fond Farewells
Chuck looks forward to his final year at MMC. He believes the athletic department has been left in good hands with new athletic director Chris Kassin and the rest of the staff, including new men's basketball coach Cody Schilling.
"Chris and Cody will be tremendous assets," he said.However, Iverson said he will miss the relationships he has developed with the MMC staff, players and parents, and the community in general.
"As for President Marc Long, I believe in his leadership and direction. He has attracted quality people," Iverson said. "I'm proud to be part of this college. Great things are happening, and we have a really exciting future."
Iverson credits one other special group in his life.
"The (Benedictine) Sisters are great people to be around," he said. "We have tremendous hospitality here, and there isn't anything the Sisters won't do for the college and community."
Iverson remains forever grateful for the many gifts that basketball has brought to his life.
"Basketball opened up a lot of possibilities. I was so fortunate how things fell into place," he said. "I met a lot of good people, and the sport instilled a discipline that I use in everyday life."
Iverson lives just a few miles from his boyhood farm near Meckling and his college years at Vermillion. However, he has also come a long way since then in terms of achievements.
"I'm very fortunate and blessed," he said. "How can you not have a good outlook on life?"