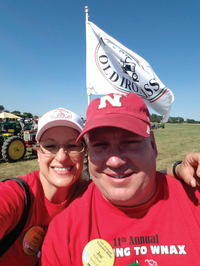 I took part in the WNAX/Tri State Old Iron Association (TSIOA) two-day tractor ride in July. Two days sharing a seat with my husband on an International 666 covering nearly 125 miles. Crazy, I know, but more exciting than I thought possible, after I figured out how to have some fun.
Day one, Friday, started out perfectly. Partly cloudy skies above us on the sixty-degree, slightly breezy morning and two hundred tractor drivers anxiously awaited the trip. Most had taken advantage of Graham Tire's assistance that morning in weighing the tractors and adjusting for correct tire pressure to assure for a safe ride. My husband and I were a group leader, number seven out of eleven groups and we were responsible to keep seventeen guys on track. Yes, all men. I was the only woman in our group, though several other women drove tractors and rode along with other groups. Thankfully the route was marked well as I'm directionally challenged. I couldn't find my way out of a paper bag.
My travel cup full of coffee and some already going through my system to wake me up as we left the field near the Chamber of Commerce and headed East out of Yankton. I felt jittery, anxious, nervous and excited. I know it wasn't the coffee, my body is accustomed to my habit. It was this new experience. Our group slowly lined up as we got out on a stretch of highway, resembling a momma duck with her trail of ducklings. When Yankton county slowly started to disappear behind us, I tried to sit back and relax, much easier said than done in my case.
"Seventy-five miles through South Dakota on this tractor today," I thought. I estimated how long this would take. Almost forever, at this pace. Do you know what else I could be doing right now? I felt the urge to multi-task, unable to just sit still. Maybe I shouldn't drink any more coffee. Twelve miles per hour seems so slow, excruciatingly slow, especially for someone who's always thinking ahead past the task at hand, always in a hurry to keep moving forward.
An oncoming semi-truck passed us, bringing with it a gust of wind that blew Joe's cap off his head and sent it flying behind us. He stopped the tractor and I hopped off to run 25 yards back to snatch it up off the center of the highway before the other tractors could catch up. He told me before the ride to wear good walking shoes, though I don't think this is what he meant.
Two hours of riding and we took a scheduled break in the center of Avon, SD. Drivers wore huge smiles as they pulled into the lot. Grown men chatted eagerly and were razzing each other about the ride. Some meandered through the parked tractors, studying them, like excited little boys at a toy shop. I met some wonderful people from many different areas. Each person and each tractor as unique as their story, all with one common link – they share the love of the simple life and the appreciation of agriculture.
After a short break, we're back on the road again, out in the wide-open countryside. Driving this slow makes me realize how fast we rush through life. We zip from one place to the next, barely paying attention to what's around us. We put out one fire only to find another flame starting to smolder. Our problems seem huge, sometimes compounding and overwhelming. Out in the middle of the countryside surrounded by God's green earth and I realized how we're each just a tiny speck in this huge world.
I thought for a moment, "What would it be like if we didn't have this?" I thought of those men and women who fought and still fight for us to have this freedom and silently paid them my sincere appreciation as I inhaled a deep breath of fresh country air.
It took me until after lunch at a beautiful little country church to truly settle in and enjoy the ride without thinking about my to-do list. Suddenly it was early afternoon and we've driven that day for more than five hours. It sure didn't seem like it. During the ride that afternoon, I had a moment. As we drove down a gravel road winding deep into countryside, "My Old Man" by the Zac Brown Band came across the radio headset I was wearing.
I thought of my dad, who would have turned 73 just the day before this ride. Tears started to fall as I fell back into childhood memories and I suddenly felt an intense appreciation for growing up in the country and I realized how much I still miss my dad. Grateful for the years I spent with him, though not nearly enough time. It seems though we're never given enough time to be with the ones we love.
Before I know it, eight hours have passed since we left that morning but it felt like we just left Yankton in our dust. Ask anyone that knows me and they would tell you that there's no way I would sit still to ride along on a tractor for 75 miles. I've completed a seemingly impossible task.
"Are you ok?" My husband asks as he studies me. I'm not moving or talking, just gazing out over the crops, taking it all in. I smile at him."Yeah, I'm fine," I reply. The skies have parted above us and I'm just letting the sun fall on my face, feeling its warmth coupled with a slight breeze. I'm still. I've realized the tranquility and comfort of digging back down to my roots and I let the feeling soak in.
Day Two
We were blessed with another gorgeous morning for a ride; though overcast skies above us, the temperature was similar to the day before. The drivers gathered shortly after sunrise that morning for a delicious breakfast served by representatives of Titan, a tire company. Entertainment was provided during breakfast while "the pancake man" flipped pancakes across the tent, remarkably landing them on hungry drivers' plates. Those taking part in the breakfast left the tent beaming, ready for the day's drive with comfortably-full bellies.
I was on the receiving end of some razzing that morning, our group of riders, ducklings if you will, asking me if I felt better. Apparently as the first day turned to dusk and we met back with the entire group for supper, I wore my weariness on my face. I remember how I ended that day. I was hot. And tired. And stinky. But the ride and the lesson it provided me was worth it.
Heading West out of Yankton to drive the Nebraska route, fat, sloppy raindrops slowly started to drip from the clouds. We were vulnerable with no canopy, so I opened my umbrella, trying to keep us dry. I balanced my coffee cup in one hand and the umbrella in the other. Trying my best not to drop my coffee cup, more concerned with hanging on to that than to the umbrella. You don't want to see me that early in the morning without my trusty cup of joe. Though we needed the rain, I was glad it didn't rain for long. I didn't want to turn into a soggy crab.
I'm not extremely talkative this morning because I'm still a little tired. I'm sure my husband is probably thankful for this bout of silence, knowing that it won't last for long. I feel like it's taking me a long time to wake up today, I feel groggy and relaxed. I mentally plan to buy one of those beer helmets that I can fill up with coffee the next time we do this. Gazing out over the Missouri River as we crossed over the dam, I wondered if this is how Meriwether Lewis and his friend William Clark felt on their expedition.
As we wound 48 miles through the Nebraska roads, I'm taken aback by the sheer beauty of nature. The serenity of the Missouri River and Lewis & Clark Lake from the Nebraska side was captivating. Taking pictures as quickly as I could focus, I suddenly felt like 12 miles per hour was too fast. I wanted everything to stop so I could take in as much as possible, craving the ability to wrap this shawl of peacefulness around my shoulders in a lingering, warm hug.
The ride Saturday felt different to me than the day before. Calmness settled in almost immediately, my senses keen and my mind as clear as a morning lake at daybreak. I learned a lesson in peacefulness the day before and I was yearning to put it to practice again. I was amazed at how nearly eight hours on the tractor that day felt more like only one or two.
The welcoming spirit of Midwesterners those two days was truly heart-warming, whether it was the hospitality at our stops for break or the spectators along the route waving in enjoyment of the procession. Blessed with an abundance of uncluttered skyline over vast fields of farmland and the genuine kind spirit of the locals, life in the Midwest is surely a small taste of heaven.