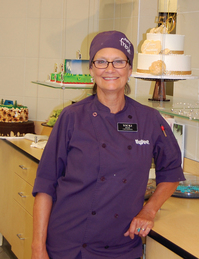 Vicki Bluum wasn't always a cake decorator at Hy-Vee. She started in the bakery, then took classes and was trained through Hy-Vee, and has now been decorating cakes for 15 years. However; not too long ago it seemed like Vicki might not be able to do the job she loved so much.
Five years ago, Vicki was helping her boyfriend in a pasture near Parkston. She was on a 4-wheeler and went to move the 4-wheeler. She wasn't going fast; she was just going to move it, but the next thing she knew the 4-wheeler had flipped and it was on top of her. She was rushed to the Parkston hospital where they then rushed her to Sioux Falls and Vicki was immediately taken into surgery. She had broken her right wrist and her elbow. They had to put a plate in both her wrist and elbow. After recovering from her surgery, Vicki went into therapy at the Orthopedic Institute in Sioux Falls. She had to loosen her elbow and fingers, as they wouldn't bend with the flexibility she once had and needed to get back to decorating cakes. Vicki is a widow, so she needed to get back to work, and she wanted to get back to work.
The therapy was helping but she wasn't healed or flexible enough, still, to get back to the work she loved so much. Her doctors made the decision to put her to sleep so they could manually manipulate her fingers and arm. Vicki said they worked them so much that she'd wake up with a "sausage arm." This process is called Manipulation under Anesthesia and helps break up fibrous adhesions around the jointand surrounding tissue. The patient's reflexes and pain sensitivity areabsent under anesthesia, so it's easier to manipulate the joints usingspecific maneuvers. After the procedure, Vicki had to go right back into therapy to keep the joint flexing. This process helped, but she still wasn't where she needed to be. To help understand what sort of movements Vicki had to do to decorate cakes, her doctors bought a cake and icing so she could show them what it was she wanted to get back to doing.
Even after this, Vicki still wasn't flexible enough to get back to work.
Her doctors did an ultrasound so they could give her an injection around the nerves to her arm. Then she would have another round of manually manipulating the arm and more therapy. It was a long road of recovery. Even though she wasn't to a place in recovery that shecould go back to decorating cakes, Vicki went back to work after 13 weeks. Hy-Vee was patient and understanding. They wanted her back as much as she wanted to go back and they worked with her to make it possible. She went into the bookkeeping office for about a month.
She was still working on her therapy and she used being in the office to help get her flexible enough to decorate cakes. During this time, Vicki ended up having to go into therapy here in Yankton for her shoulderas she was overworking it. She worked at her therapy and in the office until she could cut a credit card in half in the office. Cake decorating takes a lot of strength that most people wouldn't think about. She needed a firm grasp and the strength to be able to squeeze the tubes of frosting throughout the day.
The whole process took a while, and she's still not 100% back to where she was before, but this is a job she loves so it was worth it. She'sglad to be back doing something creative. "It's pretty amazing that this is my job." Vicki is also grateful to Hy-Vee for being patient with her recovery and she is also grateful that her job is with Hy-Vee. Hy-Vee encourages her to experiment and practice. "If you see something somewhere that you want to try, they encourage it. It's on the job training."
Vicki Bluum is inspirational in overcoming obstacles that life throws at you. She was thrown a curveball in life but she knew what she wanted and worked at being able to get back to it. Vicki shares this parting wisdom.
"Don't ever give up. No matter what it is. Go for what you want. Whatever it is!"