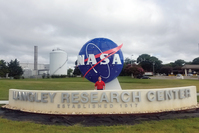 For one Yankton High School graduate, working in the space industry was just a dream until he recently received an internship offer from the National Aeronautics and Space Administration (NASA).
This past summer, Layne Droppers received the opportunity of a lifetime when he was invited to pursue an internship at NASA's Langley Research Center in Virginia.
"I knew the whole time growing up that I wanted to do something in the space industry," said Droppers, who majors in Aerospace Engineering at Iowa State University.
Droppers' interest in space began at a young age. He spent a significant amount of his time before school and during the summer reading books about the planets. During middle school and high school, he developed an interest for engineering and joined the Science Olympiad.
"It was all very beneficial for me and gave me some good experiences before going off to college," Droppers said.
He applied for his internship at NASA through the organizations One Stop Shopping Initiative website.
"I submitted applications for five different opportunities at different sites across the country," Droppers said. "I ended up interviewing for acouple of them, but ultimately decided on working at Langley Research Center. It helped that I had some previous experiences that helped me get my foot in the door."
Droppers' internship is focused on mission planning and interplanetary propulsion for future Mars missions. He is working on a computer program for NASA that will help determine optimal takeoff times and fuel ratios for spacecraft traveling to the Red Planet.
"It was actually my top choice out of the jobs I applied for," Droppers said. "I was also interested in one about how to manufacture propellant on Mars, and the other applications dealt with things like space flight and system engineering. They were about how to integrate all the different parts of a spacecraft so that it operates correctly."
The program that Droppers is working on is a tool that will beused to help future Mars missions determine how big their propulsion systems need to be in order to launch on a certain date.
"Essentially, you pick a range of dates and it will provide you with the best date to launch based on a variety of different propulsion methods," He said. "There is a lot of different technology people are trying to use to get to Mars. This tool will help determine what the best technology is and give performance curves for different takeoff dates."
The program takes into account travel speeds and the positions of the planets in its calculations. It's a tool that will help NASA cut mission costs while optimizing its carrying capacity.
"It's a lot of writing code for computer programs and working with software that does calculations," Droppers said.
The Langley Research Center where Droppers does his programming work is actually the location where NASA was founded, back when it was still the National Advisory Committee for Aeronautics (NACA). A few miles down the road is the Gantry, where impact tests are done for space capsules. It's where NASA prepared for the first lunar landing.
"In general, the entire location at Langley Research Center is really cool and historical," Droppers said. "I'm also surrounded by a bunch of really intelligent people. The offices of people who are the experts in the world on how to land on Mars are in the hallways around me. It's just really cool to be in that environment and around all that knowledge and experience in the industry."
According to Droppers, it's hard for him to pick a favorite part about his internship experience, but overall, the environment stands out as one of its best qualities.
"The environment is phenomenal and I haven't experienced anything like it anywhere else I have been," Droppers said. "Everyoneis incredibly smart and good at their jobs, and the atmosphere is pretty relaxed."
Throughout his internship, Droppers' biggest source of stress has been his desire to do well enough to earn a job offer to come back at the end of it all.
"It's given me a taste of what it's like," he said. "That has been enough for me to know that this is what I want to do going forward."
With another summer between him and graduation, Droppers says that he's still pretty open to the future. However, he does see himself working in the field of deep space exploration.
"I could also check out commercial space companies like Space X or Lockheed Martin Aeronautics," Droppers said.
No matter where he finds himself, Droppers has his eyes set on the stars. His experience at NASA has only served to solidify that desire and fuel his passion for pursuing it.
"I'm very fortunate and very happy to have this opportunity," he said. "It's a new experience and challenge every day, but I really enjoy coming to work here and that is something I think is really important in life."