The upper Midwest is full of professional football fans.
Minnesota Vikings fans are easy to come by. Green Bay Packers fans are a dime-a-dozen. It's not much of a chore to spot a fan of the Kansas City Chiefs, Denver Broncos or Chicago Bears around here either.
But a handful have bucked that trend and found teams to cheer for outside of the region.
Steel City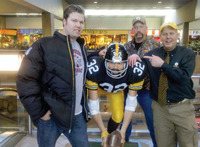 One of those fans is Ben's Brewing Co. owner Ben Hanten, who found the Pittsburgh Steelers' style of play resonated with him.

"I grew up in Webster, South Dakota, and as I became a football fan, I just fell in with the way the Steelers played football, which was that 3-4 defense and having linebackers have starring roles and those guys being the interesting people on the team instead of just all offense," Hanten said. "It got easier as I grew older and you'd start to see these people on offense who have that spirit — people like Hines Ward who wasn't afraid to stiff-arm somebody."

Hanten has no ties to the Steel City itself, but still became a fan of the team in middle school — in the thick of the resurgent "Blitzburgh" years of the 1990s which featured linebackers Greg Lloyd, Kevin Greene, Chad Brown, and Levon Kirkland. From 1994-2001, the Steelers made it to four AFC Championship games and appeared in Super Bowl XXX — one Hanten doesn't have the fondest memories of.

"My first Super Bowl experience with them was when Neil O'Donnell was throwing the ball to the Dallas Cowboys and giving away a Super Bowl," he said.

However, Hanten and Steeler fans across the nation have since gotten to watch the team win two Super Bowls — adding to the four the team had accumulated in the 1970s.

South Florida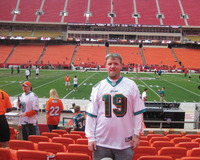 Hanten isn't alone in being a fan of a faraway team.
Locals Doug Smith and Jeff Brunken have found themselves gravitating towards the Miami Dolphins — a team that actually has a stronger local connection than many would realize.
The Dolphins were originally owned by Joe Robbie — a former South Dakota state legislator who was born in Sisseton and graduate of the University of South Dakota Law School — who was with the team from its inception in 1966.
It was this connection that helped make a convert out of Smith, who was then a Baltimore Colts fan."Joe Robbie bought the Dolphins, and at the time I was a Colts fan, and you had (Don) Shula come over from the Colts for them," he said. "Joe Robbie brought them up here a couple of times for spring training a couple of times at the Dome in Vermillion. Just kind of got hooked on them."
For Brunken, it took a friend's help.
"I didn't really have an NFL team when I was younger," Brunken said. "My best friend was a Dolphins fan, so I kind of jumped on and been with them ever since the early '90s."
Smith said he had took a little joy in watching the Dolphins win Super Bowl VIII.
"I didn't like the Vikings and they beat the Vikings in the Super Bowl," he said. "That was great stuff."
Going the Distance
Hanten, Smith and Brunken have also taken the opportunity to see their beloved teams in action.
"I've been to one in Minnesota and one in Kansas City," Brunken said. "Never been to Miami but I plan on it sometime."
Smith also had the experience of witnessing a Dolphins game amongst a hostile crowd. "Miami played the Vikings in spring training once," he said. "I think I was the only one in the stadium with orange on."
In 2010, Hanten found himself — along with friends — traveling to the Steel City itself as Pittsburgh hosted the Oakland Raiders.
"Pittsburgh's a really fun town," he said. "It's just a big small town. I found the experience of being in Pittsburgh like being in Omaha to some extent — it's just a walkable, fun bar town." He added that the city was even friendly to its opposing fans.
"Their fans were very welcoming to outsiders — even our Raiders friends that we took with us," he said. "The Steelers and Raiders have had a long rivalry from the '70s, and we took some Raiders fans out with us. We never felt like they were in danger. Can't say that in some cities that have NFL teams."
Being A Fan
Though 912 miles separate Yankton from Pittsburgh, Pennsylvania, Hanten said it doesn't feel all that lonely in Yankton.
"In the case of the Pittsburgh Steelers who have won the most NFL championships in the history of the game, you do find lots of people out here displaced from the east coast or who grew up also admiring that hard-hitting style," he said. "Even though we're a long ways, I have a lot of fellow fans right here in Yankton." He added that being an open Steelers fan has even helped business."When you become a Steelers bar, when you profess you like them, always put their games on and always play their sound, you can get listed on websites," he said. "All of a sudden, people who are traveling through the area are like, 'Oh my God, there' s a Steelers bar in Yankton.' I find a lot of new and interesting friends from the experience rather than feeling isolated."
Smith said sometimes it's fun to root against the grain."I'm surrounded by Pittsburgh fans, Chiefs fans so it's fun to root for somebody different," he said.
But Hanten said, in the end, it's not all about trying to be different.
"We become fans because there's something that connects in our childhood about the style of the game," he said. "It's kind of like when you hear a song in your teenage years and it means something to you. Even if it's not the greatest song in the world, it still means something to you years later."