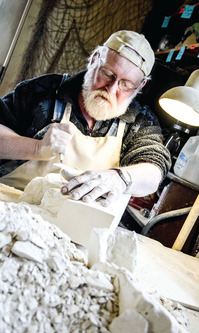 Carving chalk rock has become Ron Livingston's passion.
"I saw a picture of a Lincoln head my grandpa carved back in 1924 and I wondered if I could do that," Livingston said.
After being employed at packing houses in Rapid City for years, Livingston moved back to live in Springfield and ran a motor grader for Bon Homme County until he retired from the everyday working world two years ago. Fishing became an important part ofhis daily life but he wondered more and more about carving like his grandpa did.
Livingston dismissed wood but found an abundance of chalk rock in the Tabor and Tyndall area under the guise of old farm houses.
The source would keep him carving for many years if he was willing to tear the buildings down. He has gotten to be an expert for picking chalk rock chunks which will carve well and not crumble during the process.
"Chalk rock is soft and it felt right, perfect for what I wanted to do," Livingston said. "But not every piece is perfect. I can show you a creek bedfull of broken carvings."
Working in packing houses gave Livingston a basis for his skill so using old packing house knives came natural to him. He fashioned the old knives into carving tools, Livingston went to work. He also uses exacto knives and ceramicscoops which work well but he never uses power tools as they will chew up the soft rock. His first creation was something he knew a lot about - fish – one of his favorite models. He really knows fish.
"I like to carve wildlife, things I see in nature when I'm fishing," Livingston said. A lot ofpeople ask him to carve a favorite pet but he always says no. He tried a few and they never looked exactly like the loved house pet so he gave it up. Some ideas he has come off the Internet.
If he finds a picture he likes or wants a photo of a certain animal or bird on a computer, his mom can print them off and he can use them as a guide. Recently he did a Lake Pelican using a picture.
"I probably start with a piece of chalk rock a foot and a half by two feet, which eventually gets whittled down to a finished piece one foot by one foot," Livingston said. Fish figurines take anywhere from 10 hours up to 15 hours. As he becomes more skilled in his work, he has developed processes which includes stumps in some weak areas like the head or fins and so they will not crack as easily.
After the carving is finished, Livingston sands and sands a lot. Then he begins with bringing out the likeness of the piece with color. He tried painting the figurine only to be disappointed with the color runoff. He finally settled on colored chalk, which actually goes on really fast and smooth. Then he gives the piece two coats of hair spray, letting it dry between each layer. Finally, six layers of clear coat is applied and voila, the carving is ready to find a new home.
When Livingston started his passion, he decided to get some information about the medium he was working with so he talked to the curator at the museum in Vermillion. They were able to identify the chalk rock he was working with and told him it was somewhere between 85 to 87 million years old. They also told him this type of rock is only found two other places on the earth – one is Pickstown and the other is the White Cliffs of Dover in Great Britain.
"You would be amazed to see what I find in the sediment rock when I start carving," Livingston said. "The fossils, some of them just fall out, and I never know what I'll find."
Livingston's basement is full of carved pieces and since becoming associated with the owners of Twist of Pine, he has found his new hobby is becoming a nice second income. Occasionally, a fisherman comes from out of the area to fish and takes back a couple of Livingston's chalk rock creations for family and friends. At first his carving projects were a local treat, passed along by word of mouth but now his creations have world-wide fame with a website created by his Twist of Pine friends. He has pieces in Norway and Canada, enjoying the fame he has earned. He also participates in the arts festival at Riverboat days.
For Livingston, the work is not hard. He comes and goes as he pleases so if the day is nice, his fishing pole is close. When he works, he can often be found in is workshop in the wee hours of the morning.
Living with diabetes has it challenges and he adjusts his lifestyle so he can enjoy what he's doing. So, if bed beckons him at 7 p.m. in the evening, that's okay with him. He sleeps until midnight or 1 a.m. and then heads out to work in the solitude of the night hours.
In January, Livingston passed a benchmark. He had carved 1,000 pieces and decided he needed to create something special. He carved a white Siberian tiger and that piece he won't sell. It is standing on a shelf in his basement and he feels it is the best figurine he has created.
Another project Livingston has initiated in Springfield is carving crosses and he presents one to every baptism in all of the five churches in the community. He smiles as he reads the thank you cards, which come from all over, to thank him for the thoughtful gesture. Some families bring their babies back to be baptized in Springfield because they know their baby will receive the cross.
"If 15 years ago, someone would have told me I would be doing this, I would have told them they were crazy," Livingston said. "But now I don't know what I would do without it."