When you feel your worst, sometimes the smallest gesture can make a world of difference. Betty Bray strives to make a difference in the community by giving back and providing a soft touch to those in need.
Bray, from the northeastern SD town of Gary, met her husband in college and after he finished his residency and his commitment to the Air Force, they moved to Yankton. He took a job with the Yankton Medical Clinic and they added four children to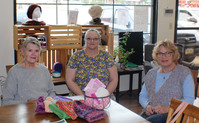 their family during their 22-years in the community.
Bray had desired to open a shop for knitting hobbyists. Her husband told her if she did the legwork for the plans, she could pursue her dream. It wasn't long before a friend of hers connected her to Molly Carson who owned a yarn shop in Yankton.
"Now I had all the information I needed to start a store, so he had to let me do it," she smiles. She made me laugh as she continues, "so I suppose you could say he lost a bet." She opened Ewe Knit It about three and a half years ago, first located in Morgen Square. The store moved to a new location last year, now located at 909 Broadway Avenue in Tripp Park Plaza. She really likes their new spot since it's located right next to a quilt shop.
She sells mid-to upper-range quality yarn, working with many small vendors that are independent dyers. She also sells knitting needles, crochet hooks, books, patterns and other items you might need for your knitting project. She offers individual lessons and randomly offers classes.
Bray has been working with crochet for more than 40 years and took up knitting after opening the store. She's made a plethora of items, many displayed in the store. Knitting tends to go faster than crochet, so she knits most of her samples, liking to make hats the most as they're quick to make.
When she started her business, Bray's goal was twofold: to bring the community together and to give back to the community. A regular knitting group in her store has joined with her to use their talents to give back. The group started making items that could be given to those in need around the area. Their goal is to knit one project each month.
Their first project was making hats to take to Yankton's Cancer Center. Their second project will be taking place this month, where they will be making "Knitted Knockers" to send to an organization founded by two breast cancer survivors. Knitted Knockers, according to www.knittedknockers.org, are "special handmade breast prosthesis for women who have undergone mastectomies or other procedures to the breast." These are soft, comfortable prosthetics found to be less heavy and hot than traditional prosthetics and can be placed in a regular bra. Volunteer knitters help provide these for free to those who request them.
In November, the group will be making purple hats to help increase awareness of Shaken Baby Syndrome. The group strives to find local agencies that would benefit from their donations. If you have any suggestions for their projects, please call her at 605-689-3999 or send her a message over her website at www.eweknitit.com.
Bray has other means to give back to her community. She collects kennel blankets at the store to be donated to the Yankton Humane Society. She collects yarn for the local hospital and they send it to the prisoners who knit prayer shawls and blankets. She also invites others to bring in a knitted hat for the Cancer Center.
Dona Steffen, Tres Dendinger and Emily Lincoln are part of the knitting club that gathers at Bray's store. They welcome anyone interested to join their group or to take part in one of their project knitting days. They usually plan their knitting projects on a Saturday, sometimes a Sunday. If participants buy yarn and needles to complete the project, Bray will often give them a discount.
Steffen, Dendinger and Lincoln enjoy the knitting group. Lincoln, not present for our interview, came up with the idea to start the group.
"It's fun to be together and it's for a good cause," Dendinger states.
Steffen adds, "It's camaraderie. It's just fun. We enjoy each other's company." Bray posts her project dates on her website and at the entrance of her store. Her website, www.eweknitit.com, and her Facebook page at Ewe Knit It have pictures of previous projects completed and dates of upcoming projects.
Though her knitting shop and projects keep her busy, Bray enjoys watching her youngest son play band at USD and she partakes in several wine clubs with her husband. Her two daughters now reside in Yankton and her oldest son lives in Baton Rouge.
She likes to see those that she's taught to knit become regular members and would love more members in her knitting group. "Anyone is welcome to come," she smiles warmly. She has various patterns, whether the knitter uses double pointed needles or not.
Ewe Knit It is open Monday-Friday from 10-6 PM and she stays open even later on Tuesdays, for her knitting group. Saturday's hours are 10-5 PM. She advises that, because she is the only person in the store, some days she might step out for an hour.Bray's kindness provides a gentle touch to those who need it the most, serving as an excellent example of how you can use your talents to help others and continue to make this community one of the best!