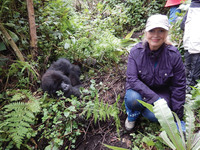 Ann Clough, City of Yankton's Deputy Finance Officer, has had a dream of going to Africa since she was young. The dream all started with the movie Born Free. The movie is about a real-life couple, Joy and George Adamson, who raise a lion cub and then release it back into the wilderness of Kenya. The T.V. show, Mutual of Omaha's Wild Kingdom also furthered the dream. But the thing sealed the deal for Ann was the 1985 movie Out of Africa. Out of Africa is a movie about Karen Blixen and her time in Africa. The movie is based on a novel of the same name by Isak Dinesen, which is actually a pseudonym for Karen Blixen. This book has also become Ann's favorite book. The movie's portrayal of Africa made Ann fall in love. "I fell in love with the scenery." After this, Ann knew that someday she had to go to Africa to experience it all in person. "I wasn't sure of the who, what, or how but I wanted to go." It took almost 30 years from that moment, but finally Ann was able to live her dream. In June of 2013 Ann was making a deposit at First Dakota when she saw a flyer in the window for an upcoming trip to Africa; Kenya and Tanzania to be exact. The trip was being put together by Jane Pugh, someone Ann trusted and knew. "It'd be the dream trip of a lifetime." Seeing this flyer, Ann knew this was a sign that this was her opportunity to live her dream and she jumped at the chance.
In February of 2014, Ann lived out her lifelong dream and went on her first trip to Kenya and Tanzania. The trip consisted of national parks, game reserves, but they also visited places to help them submerge into the culture. Ann was immediately hooked. At the time Ann truly believed it was only going to be a one time trip but it was so magical and she loved it so much that as soon as they left she knew she had to go back. Jane Pugh started putting together another trip for 2016 and Ann decided she had to join this trip. Her second trip was to Kenya and Rwanda. On her first trip they had met a guide named "Batsi" and he had told them all about his home country of Rwanda. They were eager to see it and told him that he should plan a trip to see his country and the gorillas in Rwanda. He planned the trip through sites in Kenya and then into Rwanda, which made Ann's second trip. Batsi took them to the capital of Rwanda, Kigali, and among the many things they did was visit a memorial for the Tutsi Genocide. In 1994 almost a million Tutsi people were killed within 100 days. Almost every community has a memorial as almost every person, every family, was affected by the genocide. Ann likens the memorial to something similar to the Holocaust memorial in D.C. "It was a powerful experience." Ann's third trip will be in 2018 and the itinerary will be more like her first trip as they will be visiting Kenya and Tanzania again.The trips vary between 14-18 days and it takes almost 2 days to get there. They leave on Thursday morning, flying out of Sioux Falls where they head to Minneapolis. From there they fly to Amsterdam for a 4 hour layover. And then it's a straight flight to Nairobi, Kenya where they arrive on Friday night. Ann loves the undisturbed feeling of the parks, saying it gives that feeling of before mankind. When they are out in the parks they rarely see other safari vehicles and often times it feels like they are the only ones out there.
Through her two trips to Africa, Ann has visited many places most of us can only dream of seeing. One of the first visits she told me about was a village she visited on her second trip located in northern Rwanda. Iby'iwacu Village is similar to us here in America going to a pioneer days event. They learned how the villagers ground up grain, among other things, and they watched performances as well. The villagers spoke English, so there wasn't a language barrier. On her second trip, Ann also was able to visit gorilla families in the mountains of Rwanda. They only allow roughly 80 people a day to visit these gorillas. 8 people are allowed one hour a day to go visit and it takes about 2 hours to hike up the mountain. The views were amazing and worth the trek, as were the gorillas. Gorillas in the Mist which is a movie about Dian Fossey and her work with gorillas, was filmed in this area. The gorillas were being poached, heavily, and at the time of the movie their numbers were about 300. Thanks to conservation and education, their numbers are now up to 900. In Kenya in the Samburu National Reserve they also visit the Samburu Tribe. Clad in brightly colored fabrics, the women of the Samburu tribe come out singing and dancing to greet them. "It's a magical experience. Pictures are hard to relay what the colors are like correctly."
A few of the parks Ann has visited on her trips are the Samburu National Reserve, Buffalo Springs National Reserve, Shaba National Reserve, Serengeti National Park, Ngorongoro Crater, Maasai Mara National Reserve, the Maasai Mara National Reserve, and the Ark in the Aberdare Forest. Each of these parks has their own experiences and adventures that Ann holds dear.
The Ark in the Aberdare Forest is at the beginning of the trip and is located in Kenya. It's a lodge that resembles Noah's ark and is up on stilts. It is built around a salt lick where animals come at all hours of the day to the watering hole. The ark has many decks from which you can watch the animals but the best location is the lowest level which resembles a bunker. It's a concrete slab with slits for windowsand there's a rock pile in front to separate you from the animals. You can watch from there all day long and if there are animals you'd like to see but haven't appeared before you retire for the night, you can havethem ring your room to wake you up so you don't miss any animalyou'd like to see.
Giraffe Manor is an educational area, with a lodge, in Nairobi,Kenya. This area features one of the most endangered species, the Rothschild Giraffe. Giraffe Manor helps educate, but you can also feed the giraffes; even get a kiss by one! "The thing that thrilled me themost, that surprised me the most, was the giraffes." Giraffe Manor also features the popular hotel where you can share your breakfast with a giraffe when you stay at the hotel on the property.
One of Ann's favorite places to visit is actually the Karen BlixenMuseum. Karen Blixen, otherwise known as her pen name Isak Dinesen, is one of the reasons Ann fell in love with Africa so much with her movie and book, Out of Africa. Her home from her time inAfrica has been turned into a museum and the movie was actually filmed at the location. Ann's favorite place on the property is a stonetable and bench that are mentioned in the book where Karen would have meetings with the chief of the Kikuyu tribe. Near this museum is Mt. Kenya where the Safari Lodge is located. The lodge sits right on top of the equator so you can actually stand on both sides. One would think with them traveling so close to the equator that the weather would be really hot but Ann says the weather is beautiful.
One of the activities featured in the book 1,000 Things To Do Before You Die is an activity that Ann has had the privilege to do twice. A tripover the Maasai Mara in a hot air balloon is an optional activity but Ann has done it on both of her trips. She had to wake up before sunrise so they could leave in the early morning but the view was worth it.
They travel for about an hour in the balloon and then are treated to a champagne breakfast in the wilderness. "It's definitely a highlight!"
The Ngorongoro Crater in Tanzania is another location they visit and another of Ann's favorites. It's a sunken, extinct, volcano and is the largest unflooded and unbroken caldera in the world. It features its own habitat and the animals live there full time. The crater is about 100 square miles. Another favorite, and probably the most popular and well-known locations, is the final stop on their trip; the Serengeti Safari. It's also the location of the annual great migration of the wildebeests and zebras that do a circle between Serengeti and the Maasai Mara. "It's a great experience."
They don't only visit parks, but submerge themselves in the culture too. They visit local shops, museums, and have visited a girl's school.They are taught a lot about the culture of the places and people they visit but they also learn a lot about the animals and plants. Each trip they are given a journal that has all the animals and plants they will see and information on them. Ann marks these up with notes about when she sees them, how many, location, and other details. Like a little scrapbook. The whole trip is "very educational." Ann says that photo safaris tend to be expensive because the fees help with the conservation of the animals and vegetation. Submerging themselves in the culture, they sometimes stay at lodges but they have stayed in tent cabins as well. She recalls one experience in a tent in the Serengeti where sheremembers waking up to monkeys crawling across the tops of thetents.
"It's unbelievable the amount of animals we see, of all types." Many of the encounters with the animals are close and experiences we couldn't even imagine. On Ann's first trip they saw a poster in the beginning of a close-up of lions. They told their guide taking them out onto the safari that they had to get a photo like this. Throughout their time they hadn't come across any lions in that setting though, until about 5 minutes before they had to leave for the airport they came across the lions and Ann was able to get great shots. Ann was also able to see a bao bob tree, which is mentioned in the book The Little Prince.
Ann has always loved traveling. When she was younger she tended to keep her traveling more to road trips but she's worked hard and now she's enjoying the fruits of that labor. "I live on it for 6 months planning and going. When I get back, it keeps me going for another 6 months."One thing that has changed Ann the most is her decision to sponsor a little girl from Uganda. On the trips there are opportunities to sponsora child at the school they visit but she didn't know enough about it.
But she's seen the African Children's Choir twice when they've come to Yankton and has had more information given to her about Music for Life. This year she decided to sponsor a 10-year old girl, Cathy, through the program.
"It's a magical experience. And it seems everyone who goes, you form a special bond. It's a special thing you share that no one understands unless they've been on the trip. It's something I feel passionate about. I really love it. It's all worth it."