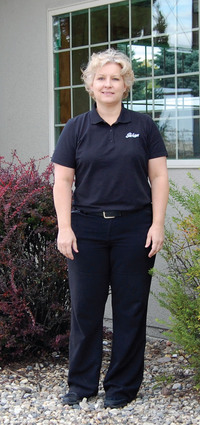 Kerry Woehl is well-seasoned in the restaurant industry. She grew up in the restaurant business, from her grandparents to her parents and eventually she followed suit, taking over Yesterday's Café and a new venture of working with Perkins.
Her first experience with the industry was working at her grandparent's restaurant when young and later working at a restaurant in Yankton as a young teenager. The trade helped put her through college as she waitressed while attending school at Northern State University in Aberdeen, obtaining her teaching degree in Chemistry and Physics. After college, she taught school for a few years before the restaurant atmosphere drew her back in.
Her parents, Dan and Bobbie Trimble, began a family operated restaurant 25 years ago, in 1992. Yesterday's Café resided on the corner of 22nd Street and Broadway in Yankton. Woehl explains how she was drawn back into the industry. "I think that once the restaurant is in your blood, it's hard to shake it because it's something you enjoy. You enjoy the challenge." We laugh as she said, "You sleep pretty good at night."
The restaurant opened a few days before she and husband Toby were married. The couple held their rehearsal dinner there and spent much of their honeymoon working at the restaurant. As they expanded their family, the couple's three children grew up right alongside them in the business, always helping out when needed. "Whether they wanted to or not," she adds, laughing. "Our family lifestyle is a little bit different than probably most, because weekends, holidays, nights, when the phone rang, we took care of the family business that provided for us." The lifestyle helped her children, now ages 22, 24 and 28, grow up with good work ethics, a valuable trait.
A Team Player
When her parents semi-retired about ten years ago, Woehl and her husband bought them out. Her parents still played a vital role of the team, they were just relieved of more of their responsibilities. Woehl plays an extremely versatile part in the restaurant with responsibilities from scheduling and payroll to food ordering and cooking.
She doesn't like to call herself a manager, explaining, "I hate to use the word management, because to me that means you don't work very hard." She saw herself more as a team player. "We try to lead by example, so we wouldn't expect anybody else to do something that we wouldn't do ourselves," she states. It's not unusual to see her helping to clean the bathrooms or take out trash when needed.
She praises her staff for being great team members who are flexible with helping out where need be. "It's very challenging but it's also very rewarding. Without the staff, we couldn't have done it," she states of her close-knit work family.
A New Focus
The Woehl's also own Rock Bottom Burgers & Beers in Yankton but her primary focus remains with Yesterday's and now a new venture. In August 2017, Cyhawk Hospitality, a franchisee of Perkins Restaurants', purchased the building from them, anticipating a new Perkins Restaurant to open the first part of November. She is excited to work with Cyhawk hospitality where she and most of the staff will remain with the restaurant, keeping the feeling of a family operated business.
She explains, "Truly, it was a family restaurant, it started as a family. It is still family, and although we will be Perkins, we will still be a family run business." A benefit of the business being family operated is the availability of getting an additional hand when needed, being just one phone call away.
Though there are differences between Yesterday's Café and the new Perkins, there are similarities as well. One is the importance of customer service, a favorite aspect of hers.
"My two favorite parts are the customers as well as the staff." She enjoys the customers sharing their stories and their families with her. "There's a lot of great customers in Yankton. The customers are awesome," she beams.
Rewards and Challenges
Woehl is a recognizable role model in her view of workers in this fast-paced industry, believing that those who have worked in the restaurant trade for some time tend to be hard workers. She also believes that the experience working in the environment can provide a valuable lesson. "I hope everybody can experience the food industry at one point because I think that it can help everybody in work ethics, perspective, compassion and customer service. Even though they might be in food service, that person could be your son, your daughter, your mother."
Though a very rewarding job, it's not without its challenges. The biggest challenge she faces is having adequate staff as hiring and retaining staff becomes more challenging over the years. This makes her job more difficult, requiring her to juggle a diversity of duties.
She feels that her parents, separately, were her greatest influences, each providing a different impact on her. "They balance each other out in the restaurant business and they both bring great attributes to the table and I hope to have gained the positive attributes from the both of them," she reflects.
Reflection
The dynamic businesswoman likes a variety of hobbies during her downtime: reading late at night, growing flowers and getting to the beach when she can where she likes to swim. She and Toby enjoy taking his motorcycle out for a ride when the weather permits. She also likes organization, explaining, "I like to work. One of my hobbies is just work. If I'm not productive, then I'm not enjoying my day."
Woehl is thankful when reflecting on her success as she explains, "I couldn't do it without my family, the support of our family, as well as our customers and the other team members." They will be expanding their staff as they will be hiring an additional 110 full- and part-time team members with the new company.