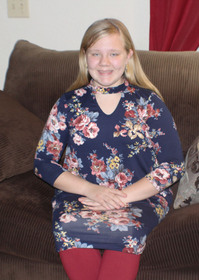 In my experience writing "Her Voice" stories, I have been blessed to meet so many remarkable people right here in my own community. Nothing has yet moved me as much as my interview with young Aimee Tschetter, founder of "Aimee's Shoes." The pretty young lady and her father, Russell Tschetter, paid a visit to my house for an interview one unseasonably warm November afternoon. Adorably dressed up in a flowered top and leggings, she explained that she had her D.A.R.E. graduation that afternoon. Fortunately for me, the busy young lady took time between school and dance practice that day to tell me her story.
Tschetter, the youngest of Russell and Terri's three children, said a commercial caught her attention while watching TV in their home in Spearfish, SD when she was just 5½ years old. She remembers a girl who mentioned sending the shoes she received for her birthday
to Africa, where they could go to someone in need. The image of a young African child walking on bare feet to the community water well imbedded in her mind and she felt a strong urge to help.
Russell explained how, as her 6th birthday drew closer, she kept asking for shoes. He shrugged it off at first, not sure where she was going with her request. When she relentlessly kept asking for only shoes, her parents asked why she wanted the shoes over anything else. She badly wanted to send her shoes over to Africa too.
Russell and Terri made some connections with church groups and different organizations in the Black Hills and headed over to the Pine Ridge Reservation for their first year's shoe distribution. It went rather well.
"I thought it was just a one-time thing," Aimee smiled. After that first distribution, though, the big-hearted girl couldn't stop her excitement in helping others. As it came closer to her 7th birthday, she decided that she wanted to continue the project to help more people. Now five years later, she's continued her mission to provide shoes, helping others in Porcupine, Beadle Creek, Manderson and at the Pine Ridge Reservation all in South Dakota. She even continued her project after her family moved to Yankton two years ago.
Now in Yankton, Aimee's Shoes primarily provides shoes to those in Santee. They've partnered with various churches and organizations and this last year have partnered with the Active Minds group on the Wayne State College campus in Wayne, NE. The Active Minds group assists with collection and distribution in their area. Aimee's Shoes still has a presence in Pine Ridge, as there are connections that assist with delivery there. Aimee's previous third grade teacher, a previous art teacher and the Girls on the Run group in Spearfish help assist in this distribution.
Many hours of work go into the process of getting the shoes ready for the delivery. Aimee and her parents sort the shoes into categories of men's, women's and children's. If needed, they clean and polish the shoes and replace missing shoe laces. On distribution days, they arrive at the designated location early to set up their display of about one thousand shoes. They stay on site and assist with handing out the shoes, normally a two- to three-hour process.
Their shoe distributions are held every year, though not always at the same time of year. The young volunteer explained that they plan
their project with the school year schedule in mind. She also wants to assure that she has time to focus solely on the shoe distribution without any other disruptions. Having now delivered 5,000-6,000 total pairs of shoes, she explains her mixed emotions on distribution days.
"It makes me feel sad and happy at the same time." Though the gloomy moods and dreary scenery of the places she travels make her feel down, she catches the contagious happiness from those receiving new shoes. She's always surprised by the appreciative reaction she receives when delivering the shoes, many recipients telling her thank you and giving her hugs.
She recollected her most heartwarming gift. When they were at a distribution in Santee, a lady assisting them that day told Aimee that she had a gift for her. Aimee followed the woman to her car, where she was presented with a star quilt. The kind young lady explained the significance of the quilt: when a star quilt is presented to you from a tribe member, that means that you are considered part of their family.
"I sleep with it every night, it warms my heart," she beams.
She encourages others to consider donating to the program. "If you donate the shoes, you have this warm feeling in your heart, that you're helping somebody. When you give somebody something and they love it, that makes you want to do it more and more."
The young girl has been noticed by some local news stations. After her story aired, she was contacted by people from California, Maryland and New York about donating shoes and has since received donations outside of her home state.
Aimee's project has helped her become efficient in organization and time management. Along with school and her shoe project, she participates in band, orchestra, soccer, softball and dance. Dance is her biggest passion, she explained, she's been doing it for several years. She has plans to continue her project provided she is able to find time to commit.
Listening to her tell her story was extremely heartwarming to me and she had me captivated with her ambition and compassion. When Aimee and her dad left, I told her story to my husband and tears started to roll down my cheeks. I was moved by how such a young girl could have so much consideration for others and the unselfish spirit to make such a big impact on so many people.
Aimee's Shoes accepts new and gently used shoes, most in need of children's and baby's shoes and explained that gently used shoes are often in higher demand than the new shoes. To donate, you can go to her Facebook page, 'Aimee's Shoes', and private message them. They will contact you back about your donation.
During the fall season, they often have donation collections at specified churches in the community. They will post this information on their Facebook page.
Aesop once stated, "No kind act, however small, is ever wasted." This compassionate young lady has made a difference in the lives of so many. Though she's small in stature, she's enormous at heart and serves as a remarkable role model for our community, showing how one small act can light a trail of kindness.