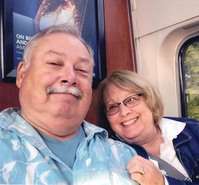 Traveling by rail is a romantic mode reminiscent of the late 1880s and may be making a comeback.
A pair of Yankton women rode the rail this past year and used the more inexpensive mode of transportation to plan their vacation get-away.
Karen Miller and husband were one of four couples to travel west by rail this past August. She met the other couples, who were family members, where they lived in Watertown and drove to Fargo to board the train.
"We travel together every year, four cousins and spouses, and Fargo was the closest boarding point for all of us," Miller said.
The destinations for Miller's family trips has always been National Parks. This last year they visited Glacier National Park in Montana and in the past, they visited Yellowstone. Next year, the September vacation will be a bonus trip as they will visit five National Parks in Utah. Zion, Bryce, Grand Canyon, Monument Valley and Canyonland.
Miller's cousin and family traveled many times to visit family in Oregon and found it be very inexpensive and comfortable. Her round-trip ticket was $242 which is more acceptable than airline tickets. There are lots of windows to view the mountain scenery and a special car which has an observation deck with larger windows for great vantage points to capture the vast landscapes.
There is also a lounge car where coffee is available in the morning and drinks in the afternoon. A dining car is available for meals but Miller said a traveler could order sandwiches which were brought to their seats. She added a passenger could bring all their food and drinks on board if they chose.
"It was a lot of fun," Miller said. "We could walk around the train, from car to car, or go to the observation deck to play cards." At one point when they were walking from car to car, the top half of the Dutch doors between the cars were open and they could look out at the passing scenery. The trip started on a Monday and they returned the next Sunday.
From Fargo to Glacier National Park the trip took 16 hours Miller said. They boarded at 3 am and slept for a few hours until it was light. By this time, they had traveled through North Dakota and had just started to cross over into Montana.
The cousins chose not to use the sleeper car option and instead slept in their seats. They reclined with a foot rest and really, Miller said, it was dark and everyone slept. The seats were full and there were lots of families on board in the eight passenger cars.
The destination in Montana was Whitefish, a great skiing area in winter but also a great town for summer park visitors Miller said. They rented a van and traveled throughout the park, staying at a variety of lodges after a day of sightseeing. They took ski lifts up in the mountains but forest fires complicated the places they could visit and see and clouded some areas with smoke.
"We (cousins) have a lot of fun together and we did some hiking," Miller said. They also took a boat ride on Lake McDonald which was a great choice. Everyone in the group researched the area and picked out things they wanted to do. When they arrived, they sat down together, pointed out what they wanted to do, set their schedule and made the arrangements.
The group did not cook for themselves but agreed to eat out together. Miller's college roommate was one of the group and her research found a local restaurant called Lulu's. She told the group they would love the French toast with lemon curd and fresh raspberries.
"She was right. It became our favorite breakfast place and the French toast was 'to die for,' Miller said with laugh.
Miller will definitely travel by rail again and is already planning a future trip. She has two small grandchildren, one of them being a grandson who is enamoured with trains.
"When he gets a little older, I'll take him for a trip by rail," Miller said. It was just a fun way to travel.
Denise Wubben's ride by rail was a longer trip - 24-hours, and she enjoyed it just as much. She traveled the same rail as Miller but her destination was Seattle and the casual train trip was just her style.
The train ride and seeing Seattle were both on her bucket list so she killed two birds with one stone, so to say.
Wubben's trip traveled the great Northwest last July with a friend but boarded at Williston, No.Dak. She drove to Rapid City to pick up her friend and then drove straight north to Williston, which she said was an experience itself since they traveled through the oil fields.
"I have put my kids on the train in Omaha to Chicago different times and thought it would be a fun way to travel," Wubben said.
Wubben had a wish to see Seattle and that part of the country including the Space Needle and the Pacific Ocean. When they arrived, they rented a car and did sightseeing, hitting the west coast and then heading north to Canada, touring all the State and National Parks in the area.
Riding the rail was so much easier than flying Wubben said. Passengers can walk between trains and the seats are much more comfortable than airplane seats with more leg room. The dining car had great meals and excellent chefs, the meals were served on tables with white table cloths. Riders could also bring their own beer if they wanted to or go to the Lounge Car for burgers, fries and a glass of wine or other snacks and drinks.
The floor-to-ceiling windows in the Observation Car made for a birds-eye view of the scenery and swivel seats made it very comfortable. There were always other travelers to visit with and throughout the trip a couple older gentlemen talked on speakers about the parks the train was traveling through or pointed out points of interest like waterfalls, lakes, passing towns and what fruit grew in the area.
Occasionally, the train would stop for a half-hour or so in a town and passengers could stretch their legs. For the people who live in the Northwest, lots of passengers rode the rail from one community to another and the train made several stops. She remembered one time she was told they were traveling 40 mph but in the evening, the train sped along at 80 mph. There were 32 cars in the train for that trip and at one point, they dropped two private cars off. A porter told them it was some celebrity who owned two cars with all their own amenities, didn't mingle with other passengers and hooked up to the train for a ride to wherever.
Some excitement happened during the ride Wubben said when a man was forced to leave the train. He rode in another car with a comfort dog but Wubben wasn't sure he was comforted. The staff found him plugging the toilets with the soap dispensers and security guards were communicating with each other on walkie talkies. All of a sudden, he was yelling and running and came into Wubben's car. The police boarded, hand cuffed him and pulled him off the train.
Wubben boarded at 11:30 am one day and they arrived in Seattle the next day about the same time. They rented a car and drove to her friend's daughter's home and stayed in a cabin closer to the ocean.
"My favorite stop was Mt. Rainier because I realized photos just do not do it justice," Wubben said.
"You're right there to see how massive it is, the bright blue of the sky and the white snow caps."
Wubben admitted she will travel by rail again. With the price of her round-trip ticket being around $200, it's hard to refuse. The service was excellent, passengers didn't have to deal with airplane security and scans. The porters took care of everyone's luggage and coolers were welcome. Wubben thought maybe one could have brought a bike.
It won't be hard for Wubben to find a place to go next time.