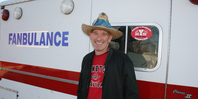 P.R. Olson of Olson Pest Technicians is one of the few people who can say they own an ambulance.
But Olson doesn't use it to transport patients or as a mere advertising gimmick — Olson has turned it into the "Fanbulance" and it can regularly be seen at Yankton High School sporting events sporting pro-Bucks decals and a grill.
Recently, Olson sat down with the Press & Dakotan to talk about a number of topics including his love of tailgating, growing up with Nebraska football, being a Green Bay Packers stockholder and hosting a "meat open house" at a NASCAR race.
The Fanbulance
For a decade, Olson has been a tailgating mainstay at Yankton Bucks football games.
"One year, I decided, 'I'm going to go barbecue some hot dogs down at Crane-Youngworth,'" he said. "I had an old 1972 Winnebago. I got it and it was piece — about all it was good for was tailgating."
He added that it proved to be a bit of a challenge at first.
"We had to get the grill in there, so I got in and lifted the grill in from my end and my wife lifted in from the other end and we were in," he said. "When we got to the football field, I had to have somebody come and help me get the grill out before I could even get out."
After a couple of years in the Winnebago, Olson got an upgrade — both ride-wise and grill-wise.
"Then I got the Fanbulance," he said. "It came off one of the Indian reservations. My dad got it for me. He goes, 'This would be pretty good for tailgating out of.' It's worked out real well. … Then the Optimists Club — my wife's an Optimist and she says, ''Hey, they're getting rid of this grill.' I looked at the grill and it's got a hitch on it, so I can just pull it behind."
Olson hasn't relegated the Fanbulance only to Bucks football, and has also taken it to other events including Yankton soccer, the Sturgis motorcycle rally and others.
One time, Olson brought the Fanbulance to his son's baseball tournament in Luverne, Minnesota, where it garnered the praise of former University of South Dakota football coach Ed Meierkort.
"His son was playing in this baseball tournament and he complimented me on my tailgate unit," he said. "Coming from a bigger football coach, I'm going to take that as a pretty good compliment."
The Huskers
Hailing from Norfolk, Nebraska, another of Olson's passions is the Nebraska Cornhuskers.
He acknowledged that the situation of late has been less-than-ideal for some elements of Nebraska's sports culture. "That's kind of a labor of love right now," he said. "But the volleyball team is doing well!"
He recalls much more dominant days for the Husker football team.
"We'd always make about a game per year," he said. "My grandparents and/or my mom and I would go down to a game. That was back in the '80s when it seemed like most of the games they were just rolling over everybody. We didn't do a lot of tailgating at that point, but we'd go to the games."
Olson said he couldn't recall any one game or memory that really stood out to him — but the atmosphere has.
"Just being there and seeing the sea of red with the balloons going off is kind of cool," he said.
Olson said he occasionally tailgates down in Lincoln.
At the end of the 2017 season, the Cornhuskers singled out former player Scott Frost to be their next head coach.
Olson said he's looking forward to the prospect of having Frost coach the team back to respectability.
"I'm excited about him being in there," he said. "He's either going to be a hero or he's going to be a zero. If he can't do it, nobody can."
The Green Bay Packers
P.R. Olson is also the partial owner of a professional football team. Olson and his wife are among the 360,760 stockholders that own shares in the Green Bay Packers.
Thanks to his wife's influence, Olson has found himself becoming a Packers fan over the last few years.
"It fits in with me well because it's a small market," he said. "They're not owned by any one person. … We bought some of the common stock for the Packers, so we're actually owners."
He added that it does come with some perks.
"You don't get a dividend off of it," he said. "You can go and get a free tour every year, but that's about it."
Olson said they still have yet to take the free tour, but have attended at least one game each year for the past few years with the exception of 2017.
He added that he still has yet to see Lambeau Field at maximum "Frozen Tundra."
"A lot of people say to get the true experience of Lambeau Field, you need to go in the winter time," he said. "We've kind of shied away from that so far."
While he hasn't experienced the Frozen Tundra, Olson said the experience of a Packers game at home is akin to another venue.
"It's just like being in Lincoln, Nebraska, on a Saturday afternoon in the fall," he said.
NASCAR
Some of Olson's favorite tailgating memories come from a little farther south.
For the last 15 years, Olson has been taking his tailgating talents to the Kansas Motor Speedway's NASCAR events.
"Me and four other buddies go and just have a good time," he said.
For races, Olson says there's one result he always wants to avoid.
"The worst one is when Jimmie Johnson won," he said. "We've
got two buddies who are Jimmie Johnson fans and I'm an anti-Jimmie Johnson guy. The best ones are when Jimmie Johnson doesn't win."
However, the experience goes well beyond just watching the race.
"For us, it's all about the journey," he said. "We get down there and it's about having a little bit of fun. We get us five guys down there, we get up about 8 a.m., go down to the track, park, cook breakfast, have adult beverages and we play beanbag toss and corn hole and just have fun. We go to the race, tailgate some more, then we go and meet up with some other friends and we do it for three days — we do it for the time trials, the Xfinity race and then we do it for the cup race and come back on Monday."
One year, Olson said they took tailgating to the extreme.
"We all got together in Crofton and we went through Osmond and stopped at the meat locker," he said. "These guys are pulling an enclosed trailer and I look inside the enclosed trailer and they've got a deep-freeze in there. We went into the locker and all of us made one trip out. We were carrying just a ton of meat."
Upon arrival at the track, Olson said they shared their craft with many other race-goers.
"When we got into the infield, we started our grill," he said. "It cooked 24/7. We'd smoke roasts overnight and we had an open-house sign out in front. People were just walking around and we'd say, 'Hey, you want a sandwich?' We'd just be giving away sandwiches and beef and pork. We were just smoking everything. It was unbelievable and a lot of fun."