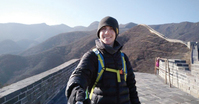 Many people dream of visiting another country and some dream of living in one. Young Taylor Tielke experienced the dream of living abroad when he resided in China for more than two years, recently returning home in the summer of 2017.
The son of Chuck & Terri Tielke, Taylor and his two older brothers grew up in Yankton. After he graduated from Yankton High School, he obtained his Bachelor's degree in Political Science, History and Global Studies from Concordia College in Moorhead, Minnesota. He is currently attending the University of San Diego, California to obtain his Master's degree in International Affairs.
Considering the Options
During his junior/senior year at Concordia, Tielke contemplated his future after college. He considered joining the workforce or applying to work toward a PhD in Political Science. Deciding a good step for him was to experience volunteering abroad, he applied for the Peace Corps.
Volunteering wasn't new to the Eagle Scout. He volunteered often with the Boy Scouts and was active in the community. He recalls a previous soccer coach, Dr. Nancy Saunders, getting him involved in volunteering. At a soccer practice when he was a pre-teen, Dr. Saunders asked for volunteers to help play TOP Soccer (The Outreach Program for Soccer) where youth soccer volunteers help children with barriers play sports. That sparked him to volunteer and mentor throughout his life.
Knowing he wanted to do something in International Affairs or Political Science, he viewed the Peace Corps opportunity as a test of whether he wanted to teach at the cultural or university level. He was accepted into the Peace Corps and was selected to travel to China to be an English teacher.
The ambitious young man explained the Peace Corps process to me. After applying for the Peace Corps, participants are selected and given an assignment that they can accept or reject. The average time of service for a volunteer is around two years and because many volunteers work in an education setting, the exact time served is determined by how many academic semesters, or years, are in the host country.
He noted that, because the Peace Corps is voluntary, some volunteers can leave early if they decide it's not the right choice for them. On the contrary, others may choose to extend their time in the host country for a third year.
When Tielke applied for the Peace Corps, he applied in the general field, with a wide variety of volunteering opportunities. One or two others at Concordia College also applied for the Peace Corps, but not anyone that he knew. He recalls his trip to the unfamiliar country, first flying into San Francisco for two days to join around eighty other volunteers, all complete strangers to him.
"That was also an exciting part about it. Moving to a new country and moving with 80 people who you've never met before," the adventurous young man recalls. Tielke was the only volunteer from South Dakota in the group. Though it was a difficult choice for him to be away from his family for so long, they supported him in his decision.
Venturing Abroad
Tielke and the other volunteers spent the first three months in Chengdu, the capital of China's Sichuan province. It was here that he and the volunteers took part in training, learning China's language and culture, how to teach English as a foreign language, and various rules, regulations and safety precautions. Basically, he explains, it was a crash course on how to provide service in China. Volunteers lived with host families during this time and Tielke felt fortunate that his host family lived close enough to the training sessions that he could walk there. Because the parents of his host family were both professors, they had a car and drove him to any other places he needed to go.
After training, his destination was Chongqing, right outside the capital city, where he resided for the remainder of his service. He taught students at the Chongqing Vocational Institute of Engineering, where they were working toward the equivalent to an Associate's Degree.
"That's what makes it really scary," he states, explaining how volunteers often have no background in the host country's language. He learned and studied the Chinese language while he resided there and is continuing to study the language.
He was still able to communicate in English while abroad, explaining, "Most of my conversations were with my students, so I'd try and speak half Chinese and mostly English, so I was never fully emerged into Chinese."
Adapting to Challenges
He feels that the most challenging aspect of volunteering in China was learning their language and relying on others for necessities.
"When I got into China, everything kind of goes back to square one. Having to learn how to order and buy food, buy things, ask for directions, be self-sufficient," he states. It was challenging for him to depend on others around him so much, as he was very independent in college. He remembers arriving in Chengdu the first night and feeling hungry and thinking, 'I don't know how to buy food, I don't know how to get food or even order food.'
Unlike living in Chengdu with a host family, he lived by himself in Chongqing. Relying on public transportation, much more common in China than the United States, served to be more inconvenient because of the large amount of people and traffic. Taking a taxi was costly, so he often took a bus or the metro. If he wanted to meet up with other volunteers from his group, it would take him about an hour and a half just to get there.
Tielke explains how the urban centers in China are extremely populated. Chongqing having a population of 20 million just in the city itself, he described the vision as "a sea of people."
"That was another big shock to me," he reflects. "Fargo Moorehead was maybe 250,000 people and you go to Chengdu which had nearly 15 million people. That just adds to the experience."
When serving for the Peace Corps in China, volunteers often live and work in communities that are central to Western China rather than in wealthier areas, he explains. For many of the provinces, compared to most cities in China, people would be very awe-struck when they saw him walking around, not accustomed to seeing a white man in the area. Though they might see a lot of "westerners" or foreigners on TV, seeing one in person was uncommon.
Many would stare at him in curiosity of why he was there and where he came from. When he moved to a new campus for the second half of his service, he strolled around the campus often and recalls feeling a bit embarrassed when others were so captivated by him, girls giggling and guys staring.
Back Home & Future Aspirations
After his two-year term was complete, Tielke returned to his home town of Yankton and adjusted to jetlag while adapting to the change in time, food and cultural behaviors.
"When you live in another country, you develop mannerisms that are just there, and you pick them up even if you don't know that you did," he reflects. He explains how others looked at him curiously when he naturally displayed habits he had developed while in China.
Serving with the Peace Corps made Tielke more interested in China specifically and he hopes to go back to China again to study the language, with a goal of not speaking English for a year. He plans to apply for the Boren Fellowship in January, which provides grants to students who study critical languages and allows the student to live in the host country to learn the language for a variable amount of time.
He would then like to finish his Master's program after finally returning to the United States. Because he is currently a fellow of the Robertson Foundation for Government, he is required to work for the federal government for two to three years in some way after he graduates and has career goals of working in the State Department in a diplomatic position with the government or possibly in a research or writing position.
Reflecting Back
Tielke brought back with him more than just the experience of volunteering abroad, explaining, "For one, it's taught me to be a little more patient with how things work and how to approach problems in different context. Being in China, it taught me to navigate issues that were foreign to me."
The opportunity reinforced the rewards of helping others. "It also reaffirms the importance of volunteering. How small things can mean a lot to people, even if it doesn't seem like it, even if it doesn't seem apparent. Remembering that things that might be small to you might be monumental to other people," he states kindly.
There are some things he misses now that he's back home. Though he was not a fan of the food in China initially, he grew to appreciate it and now craves it. He explains that much of the food was spicy, something the Midwesterner wasn't accustomed to, but now misses the spiciness and flavors of the authentic Chinese food. He also misses the lower cost of living in China and explains that an entire plate of food
might cost $1.50 in American money, allowing him more freedom to eat out at a lower cost than making his own food.
The Chinese weren't so different from Americans, Tielke explains. "From the perspective of a Midwesterner, a lot of the people I met in China were pretty similar." He found that his host family, the community and even his students were very hospitable. They were always there to help him when he needed it, or get what he needed or fix something.
"In terms of goals and aspirations, they're almost identical to Americans." He explains that because many families can only have one child, they are very family-oriented, relationships are important, and they strongly encourage their children to obtain a college degree.
He is proud of the impact that he left on the community where he volunteered. When he was first assigned to his location, his program manager selected a site for him that previously had difficulty with their volunteers. Normally the oncoming volunteer would be paired up with an existing, experienced volunteer already at the site. The site Tielke was visiting had no existing volunteers so he would be taking on the task alone. By the time he left, he feels that he made a positive impression on the community. Those that wouldn't help him in the beginning would do everything they could by the time he finished his term.
"Until you do something like this, there's really nothing to compare it to," he reflects. "The Peace Corps was, at that point, the most difficult thing I've ever had to do. Everything was a new challenge, no one was there to really help you. After you were done with training, it was all on you to integrate, to be a good teacher, to be a role model, to be a good representative, to really build trust." He explains that even with this difficult task, seeing the positive change in the people's attitudes by time he left indicated to him that he really did something. One thing people of the world have in common is people teaching people, and Tielke serves as a fantastic example of the impact this can make on others.