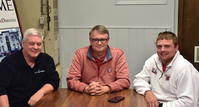 Sports play-by-play looks simple: show up, talk about the game, leave when it's over.
But it's not that simple. Not even close.
Three regional veteran play-by-play announcers — Joe Van Goor of Learfield Sports, Scott Kooistra of Riverfront Broadcasting and John Thayer of 5-Star Communications — sat down recently to talk about the highs and lows of watching games from behind a microphone.
About Them
Van Goor grew up in Yankton, getting his first radio experience two years before he graduated from YHS in 1978. His college career wound through the University of South Dakota, Mount Marty College and St. Cloud State University, though he did not graduate from any of them.
He first began doing play-by-play in 1984, and now serves as "The Voice of the Coyotes," serving as the play-by-play announcer for football and men's basketball for USD. Other than two months in Hot Springs and five months in St. Cloud, Minnesota, his entire career has been spent in the Yankton/Vermillion area.
Kooistra grew up in Kalamazoo, Michigan, then graduated with a BBA and MBA in Finance from Western Michigan University. He started in the radio business in 1984, then began his first stint in Yankton in 1984.
After serving as sports manager and assistant program director at WCCO in Minneapolis (2001-04) and general manager and sports director in Nebraska City (2005-08), Kooistra returned to Yankton. He currently serves as the play-by-play announcer for YHS and MMC for KYNT.
Thayer grew up in Eustis, Nebraska, attending Eustis-Farnam High School. After attending Doane University, he began his radio career. He has been in the business for 9 1/2 years, the last 5 1/2 of it in Yankton.
He currently serves as the voice of USD women's basketball for Learfield Sports, as well as doing play-by-play for YHS for 5-Star Communications.
JDC: What brought you to Yankton?
(or, for Van Goor, "What kept you in Yankton?"
JVG: What kept me in Yankton? I would say to opportunity to work. I've been with, basically, all three groups of stations in town, starting with KYNT in 1976, WNAX in 1982 and then-Culhane Communications (now 5-Star Communcations) in 1983.
SK: What brought me to Yankton was a horrible market back in the early 80s. I had my stock broker's license, and every one of my clients was losing money, and I was developing ulcers at 23 years old. So, I wanted to get into something I enjoyed.
I had three job offers after broadcasting school: Grafton, North Dakota; Marquette, Michigan — which was close. I always enjoyed hockey — and Yankton, South Dakota, which was the furthest south and had the best golf course. Didn't know anything about it other than Lyle Alzado was from there (Yankton College).
JT: For me it was a job opportunity. I didn't really apply for the job, wasn't looking at Yankton at all. When our stations (5-Star Communications) got the contract for USD (the University of South Dakota), they needed somebody to fill Joe's job.
I had some stuff online, and Jeff Fuller, the owner of the radio station, found that and reached out to me, asked if I would be interested in moving to Yankton South Dakota. And eventually I did.
JDC: Who had the greatest impact on your early career? Who are thepeople you listened to to develop "your style?"
JVG: The late Norm Hilson. I had thoughts about going into sportscasting as an extention of being a radio announcer. I was working at WNAX at the time, and Norm kinda pushed me into it, and it went from there.
SK: I'll go along with that. Not really broadcasting style, but the two guys I really appreciated, being from hundreds of miles away, to just introduce me to people, whether it's in town, or state tournaments, things like that, number one would be Hod Nielsen, by far; and number two, would be Norm Hilson. Those guys were great, if you went to a state tournament or somewhere, Rapid City or Sioux Falls, where I would have no idea who was who. They both were very good to me.
JT: For me, the interest developed at a young age listening to Kent Pavelka who , at the time, was the voice of the Husker football and men's basketball, and now is just men's basketball at Nebraska. I heard him do games all the time and, for some reason, it made me think that's what I wanted to do. I just grew from there.
JDC: Is there anybody you listen to now that inspires you?
JT: For me, if I could ever be like Kevin Harlan or Mitch Holthus, I'd have a chance to make it in this business.
Kevin Harlan currently does Monday Night Football on Westwood One. He does some TV games, too. He is absolutely the most descriptive person I've ever heard do a radio broadcast.
If I could couple that with the energy that Mitch Holthus, the voice of the Kansas City Chiefs, brings, those two things together would get you a long ways. I really enjoy listening to those guys.
I also enjoy listening to Kevin Kugler a lot, because he's an Omaha, Nebraska, guy, who worked there for a while, was UNO's (Nebraska-Omaha) voice for a while, then got swept up by Westwood One.
SK: This wouldn't be now, but my favorite announcer of all-time would be Ernie Harwell, the voice of the Detroit Tigers. And other sports, but mostly the Tigers. I used to have my transistor radio underneath my blanket as a kid, listening to games when I should have been going to sleep. (Thayer laughs.)
There is such a thing as transistor radios, John. I even had that goofy earplug.
JVG: For me, in the past, would be Herb Carneal, did the Minnesota Twins forever. Now, Pat Hughes, who does radio for the Chicago Cubs. I've gotten to know him a little through phone conversations, but if there were ones that I really liked and listen to, it would be those two.
JT: I suppose, being the young guy in the room, I should say I listen to these two older guys to find out how they stuck it out so long, right?
SK: Don't make that mistake, right? (Kooistra chuckles)
JDC: Getting ready to do a game, what does your preparation entail?
SK: Funny you should ask. As I was heading down Highway 15 last night (Kooistra had broadcasted the Mount Marty at Wayne State men's basketball game the day before), I wrote down some notes. I'm sorta kidding, but I think that's the one thing people don't realize from the outside. They say, "Oh, heard you doing a game last night, and blah, blah, blah," and they can probably figure out the travel, but all the stuff behind the scenes that goes into it, just to show up and start talking.
Just little things, like interviews, coaches, statistics, checking out athletic directors, equipment, board operators, etc. I'm sure I can come up with a lot more. They're so much behind the scenes that goes into it, as you know.
JT: Every broadcaster has their own preference as to how a stat sheet should look, or should they use a sheet or a book, or do they have information boards.
For USD broadcasts, I have three different sheets of paper with information on them, and they take probably a total of four, five hours to put together.
For me, especially when we're traveling, and this time it's basketball — where I'm coming back to do a high school game. The hard thing about high school games is travel. You spend, for one trip, four, five, six hours on the road that you can't get work done.
A lot of times, when I'm traveling for USD, I'll start working on the next game on the way home. A lot of people are taking naps, and there's no time for that.
SK: Commercials, logging
JT: Yup
SK: Promos, etc., social media, before and after, and during. I'm not very good at during.
JT: It never quits, that's for sure. I'm always looking at, at the college level you get game notes, high college level probably. At the NAIA level, maybe not.
SK: They didn't give you those at Huron (High School) last week?
JT: No. And I read through all those to get information. I do research on different players. Newspaper articles I think are great, because you can find out a different part of the story. I use that stuff all the time.
JVG: For me, I used spotter boards in football. Also, I use a scoresheet that Norm Hilson had designed a long, long time ago. Keeping score, especially at a basketball game, is so important. Sometimes I have to use my Yankton High School math to add up stuff. It's served me well.
Like John said, there are releases for football and for basketball that will take you to the far reaches of the universe. But really, with me less is more. You have to just read through it to get the things that you would think your readers would be more interested in hearing rather than fluff about a particular player, or anything like that.
JDC: What is the most fun game or experience that you have had through your career?
SK: I figured you would ask something like that.
JVG: I can probably, for all the ones I've done, the one I remember the most was the 1992 State B Final up in Aberdeen between Harrold and Warner. Barnett Center was full with about 8,000 people. One thousand were for Warner, the other seven were for Harrold. Eric Lappe from Harrold went just bananas from three late in that game.
It was a Hoosiers story. Harrold didn't have a full 12-kid roster. They had, like 10 or 11, and they had to bring up seventh and eighth graders to fill out their roster. Eric Lappe was the Jimmy Chitwood of that tournament. He'd gotten beaten around. He was wearing like bandage with a wrap around his head. It was probably the best tournament that nobody saw, because it wasn't on television. But, working for WNAX, and for the station that did all 12 games, you got to sit downstairs courtside. The atmosphere was just unbelievable, and the game was just unbelievable that night. And Harrold won that championship.
SK: My most memorable was the '94 Yankton Bucks championship over Rapid City Stevens in the Dome, double-overtime, when the Bucks won it and finished an unbeaten year.
JVG: In Max Hawk's last year.
SK: For Max Hawk, then they went unbeaten the next year. The actual championship game, 34-31, if I remember right, but it was double-overtime when the Bucks won it. Just because of the excitement, and two very good teams: a great passing team with Rapid City Stevens and Peter Martin, and a great running team in the Bucks. That's probably the one I remember.
JT: For me, more recently, I went to Duke, which was a pretty cool experience. (Thayer called the USD-Duke men's basketball game because Van Goor was broadcasting the USD-Sam Houston State playoff football game.)
Probably what stands out the most was the WNIT championship run for the USD women. Mostly because, to watch those have a great year, to be heartbroken in the Summit League Tournament Championship, not even really want to be in the WNIT. They had no interest in playing Creighton to open up that run, somehow won the game.
Then, when they went and beat Minnesota, scored so many points against the Gophers, it was after that game that they believed that they could win the tournament. They got the rest of their games at home, and just to watch the crowd fill up. There were over 5,000 there for the semifinals. There were over 7,000 there for the championship game. And to see that in the DakotaDome in the Dome's final game of basketball. It was just packed, just an incredible experience.
You could pinpoint all different things throughout all those different games that was exciting, but that whole experience was pretty cool to be a part of.
JDC: Is there a venue that stands out as one you enjoyed working in?
SK: Are you going to ask best and worst? (chuckles)
JT: (While laughing) Let's don't throw people under the bus, right?
SK: Well, worst won't be in Yankton, I promise.
JT: Mine would be in the state of Colorado, I can tell you that much.
SK: I can give you a couple of worsts.
This will sound like a kiss-up. I love the new venue, the new broadcasting. It's 20 rows up, just the right amount of room. It's a good view of everything. They get the new turf in next year. I can't think of any other place — certainly for a high school, I'm not talking USD or SDSU — certainly for a school district facility, that's any better in South Dakota.
JVG: For me, for a single game, it would probably be Williams Arena, when the Coyote men won there in double overtime a couple years ago. The atmosphere. Minnesota had gotten off to a rough start that year. I don't think the place was rocking like it usually is, or can be.
But, as far as an overall venue — I've done games there since 1984 — it would be the DakotaDome for football. Even for basketball, for the chance to sit courtside and do games there, it's always been a favorite.
JT: Duke, obviously, would be up there for me. That's just an iconic place.
The sentimental one would be when we went to Lincoln, at Nebraska. Growing up in the state of Nebraska, even though it wasn't Devaney (the Bob Devaney Sports Center) — I had done games at Devaney for high school sports. Pinnacle Bank Arena had just opened, and you're sitting, for me, not far down the line from Matt Coatney, who was doing the Husker women and still does, a guy I made contact with a long time ago. To be in that venue, you're on the other side, but there's over 7,000 people there for a regular season game between Nebraska and South Dakota.
To me that was pretty cool. Everybody has goals and, for me, to do Nebraska games one day was kinda like, the idea. To do it in that with building with Nebraska building, but for the other team, was a unique experience.
JDC: I won't say "worst," but what's the strangest setup you've had to broadcast a game from?
SK: I'll give you mine. Before the days of cell phones, at Sioux City Heelan, the Bucks played at Sioux City Heelan. Got there, and no phone line. The year before, there was. My own stupid fault, I didn't get there early enough.
Bottom line, I sat at a little school desk out in the hallway, outside of the athletic director's office, and used his telephone. I had a couple of parents at the end of the gym, down the hallway, do flashcards of the guys, what number was scoring baskets, and I did the whole broadcast just guessing.
And for the opponents, I took the program, and they would flash the score. And during time outs, I would run up and see the score. Basically made up the whole game, but parents helped out. Then at halftime I ran out to the official scorebook, see how far off I was.
So I made up the whole game. You could still hear the buzzer and the whole crowd, because it was about 30 feet away.
JVG: I had kind of a bad experience at Midland University, at the time it was Midland Lutheran College. The phone line that I was supposed to use had somehow gotten disconnected. It was like a two-way, one that went between Fremont High School, Midland and the station. It had gotten disconnected somehow at the Fremont High School site, and it was dead. I sat there through the whole first half.
They have a great facility now, but they used to play in a fieldhouse where the softball coach, who I also think was the SID (Sports Information Director) at the time said, "Look, what I can do is, my office is just off the fieldhouse area. I've got this length of phone cord. I can set up a table. It will be in an open area on one end of the court, but anywhere from 20 to 25 feet from the end of the court."
At halftime, I managed to get a scoresheet, or halftime stats, then I picked up the broadcast from there. You're far away, ground level, and trying to make stuff up. I got sorry notes for about a month from those people down there.
But that was, for just sitting there and not thinking about it, then actually to get the game in, was kind an unusual thing.
JT: Was his name Kramer?
JVG: Kramme. Heath Kramme.
JT: For me, one of the most unique was when I was in college, covering Doane in the GPAC softball tournament in Sioux City. Doane had lost a game and got put on a field that really wasn't near the other groupings of fields. And the closest power was in the middle of a park.
I went around and asked nicely to GPAC Commissioner Corey Westra, the SID at the time at Dana, Doane's SID and others, even a couple of softball players' parents had extension cords. Seven extension cords later, it got me, probably, about 30 yards from the backstop. So we set up shop there.
Then you dealt with, hoping people would realize you're trying to do a broadcast and not stand behind the backstop and block the view.
That was probably one of the more challenging to get on the air. We were discussing, maybe doing it from the car in the outfield, if had an adapter that would go into the cigarette lighter so we could power everything, but we rounded up enough extension cords to get close.
SK: And everybody got there extension cords back.
JT: They did.
SK: Which one is yours? The green one or the red one.
In other words, usually equipment is the issue.
JVG: I've done baseball games from the front seat of a van many times, parked right next to the backstop. That's just how it is sometimes.
JT: We've all done it from scaffolding of some sort. Back of a pickup in Wynot for a high school playoff game a few years ago was fun.
JVG: I did that in Coleridge a few years ago, back in the 80s.
SK: I remember doing that in Coleridge, and I remember you (Van Goor) maybe Kearney. It was a Crofton game, I broadcast from the front seat of a vehicle, and you were upstairs.
JVG: I was upstairs.
SK: You were up, looking like that could go at any minute.
JVG: I know. That was a mistake. You were in the endzone in the front seat of your car.
SK: Yes. (Thayer laughs) You may have a better view, but you might not make it through the two hours.
JVG: And I had the, who was that gentleman from Crofton that was doing the filming?
SK: It wasn't that many years ago, really.
JVG: I see his face, and he's going, "Why is this thing moving?" I'm just, "don't think about it right now. Don't move. Don't move." And it worked out.
JT: I had a playoff game in Colorado, at Hotchkiss, which is on the western slope. They had just built a brand new field, but had no pressbox or anything. So they put up scaffolding. It was surprisingly nice, the western slope during playoff football time, but the wind was blowing so the whole thing was swaying.
My color analyst was a pretty big guy, took us a little bit to get him up there. We're in the middle of the game, and somebody else had come up, and apparently didn't shut the trap door. I stepped back in the middle of the broadcast
SK: Oooh
JT: and just about lost it right down the chute. Felt my foot go down and I grabbed onto something, and the broadcast continued. But that would have been rough.
JDC: Besides game broadcasts, you two (Thayer and Kooistra) also have shows. Yours (Thayer) is sports-related. How do you come up with topics each day?
SK: There's so much going on. It's never any problem. And I have regular guests. The city manager comes in every two weeks. That type of thing. The school board president comes in every month.
Doesn't have much to do with sportscasting for me. It can be, but most of it is not.
JT: I just let sports happen. Somebody's going do something stupid that we can talk about, or a success somewhere. It's pretty easy, obviously, this time of year.
Hardest time for me is in the summer, because you have Major League Baseball and WNBA, and that's about it for big sports. Right now, all the college sports going on and all the pro sports. There's always something.
SK: My toughest week is between Christmas and New Year's. Don't get too many political officials. There aren't any meetings going on. Things like that.
Can I borrow your tape (if this interview) afterwords? (He laughs) I need to fill up about 45 minutes.
JT: We heard this the last three days.
JDC: What's the favorite part of your job?
SK: In the big picture, the relationships you make, with coaches, with the people involved. And then the most exhilarating part is a well-played big game. It really does get the adrenaline going, it doesn't really matter what level it is.
I think, in the big picture, who you get to meet along the way, the friendships.
JT: There's no doubt. I've been fortunate to meet a lot of people from all over. I wouldn't have done it without this job. It's pretty cool to stay in touch with those types of people.
The other part would be, when you do radio you typically don't know who's listening until you screw up, right? But, to know that you're doing a service for somebody, you're their eyes, basically, is pretty cool.
The biggest example for me would be Nicole Seekamp, and her parents living in Australia. Her mom would send me a Facebook message. It would be a Saturday afternoon or night game, and she would send me a "good morning message" on a Sunday in Australia. They were having breakfast and about to listen to the game. That is pretty cool, because those people can't make that work to come to every game. Then to meet those people in person is pretty neat.
JVG: Now there's so many platforms that you can get a game: audio, video, social media, live streaming on Facebook or Twitter. But back when I started in 1984, it was on air. And the people that you meet, like Scott and John said, the interaction with coaches and players, players that after 30-plus years of doing this, now have kids playing. You happen to be doing a game and just shake your head and think, "God, am I old."
JT: Are they kids or grandkids? (Laughs)
JVG: Just kids. Not quite grandkids.
JT: I can make those jokes.
JVG: Yes you can.
Now, the interaction I have, not only with the sports I cover, but the other coaches at USD, that take the time to give you a kind word. That makes it all worthwhile for me.
JDC: Last one. What advice would you give a young person looking at a career in sportscasting?
JVG: Wash your hands. Don't get a cold. (Kooistra chuckles)
I've been fortunate. I've been in radio 40-plus years now. I've done something in every kind of department that makes the whole picture. I've worked as an announcer. I've worked in sales. And, also, with the sports side. My advice would be, be prepared to start small, but do everything. Experience everything, so you know what they're talking about when a salesman comes in and says, "What game are we going to do?" Based on sales, sometimes listenership isn't even a big thing.
Like I've said, I've been a news director. I've been a sports director, too. Just be prepared to start small, be prepared to do everything.
SK: As I was walking down here, I thought one of the toughest things about this business, you guys may or may not agree, but all the conflicts there are now. I've got five games coming up on Saturday in a confined amount of time, and I'm not sure how I'm going to do it. Look at all the jockeying you guys have to do with whether something's online, what station is it on, who to send it to, or who's going to do the actual broadcast. Like last week with Duke. You guys had to do a lot of jockeying that weekend.
I've got two Mount Marty games, two high school games and the (Kansas City) Chiefs (KYNT is a Chiefs affiliate) happen to be playing on Saturday, too. All that to figure out. I think that's one of the tough challenges, trying to coordinate it all. Not to mention advertising, etc.
JT: I told a group of wannabe sportscasters about three years ago, "If you like your sleep, if you like to eat healthy and you like your free time, then get out now." Because all that stuff kinda goes away.
For me, it would be, make connections. I've had a couple of opportunities over the last eight years because I did work for somebody for free. When I was in college, I did some free work for a guy, and about three years later it turned into a full-time job, which allowed me to travel all over the country and cover NAIA sports.
Too many kids today, they want too much money, or they don't value the experience. They don't value getting to know people as much, and that stuff goes a long ways. We've all found that, whether we've gotten a job or know somebody that's gotten a job, it's not necessarily because you're talented, it's because you know somebody. Those relationships that you have made will eventually get you a job someday. You can't put a dollar sign on that.
JVG: Also, right place, right time stuff is also big, too.
JT: Yeah
JVG: The luck of the draw. You just appear one day and you're the guy.
SK: We had 17 sports announcers at WCCO in various capacities, and I guarantee you that 75 percent of the people in South Dakota who do this, or Nebraska or wherever, are just every bit as good. But those guys are making, some of them, a thousand bucks a game. Right place, right time, or former Major League players.