Child abuse is more prevalent than most people are aware of and it happens in every community. Even ours. A presidential proclamation in 1983 deemed April as National Child Abuse Prevention Month, recognizing the need of teamwork between families and communities to prevent child abuse. Fortunately, there are organizations who do make a primary goal of helping children and families affected by child abuse. I spoke with staff at the Court Appointed Special Advocates and River City Family Connections offices in Yankton about their roles.
Court Appointed Special Advocates (CASA) Program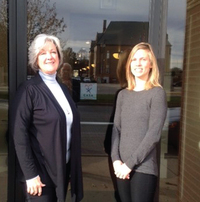 I sat down with Sherri Rodgers-Conti, Executive Director of our CASA program, located in Yankton. The organization trains people to be advocates that work in the court system for abused and neglected children. Rodgers-Conti explains the group as "the eyes and ears of the court."
She explained the history of CASA to me. Forty years ago, a judge in Seattle, Washington, had to come to a decision about a child's situation. Deciding that he could accomplish this with the help of others, he began training people to become child advocates, training them to be objective and factual while observing the situation and report the necessary information back to the court. This program was so successful that several court systems followed this model. There is now a National CASA Association, with just about 1,000 CASA programs in the U.S., six of them in South Dakota. The Southeast CASA Program, is the youngest of the South Dakota programs, starting about six years ago.
A teacher by trade, Rodgers-Conti has always had what's best for children in her mind, striving to make a difference in the lives of kids. Before her time with CASA, she was previously working at Public Broadcasting as the director of Education Services for the state. When the education department was eliminated due to budget cuts, she applied for the position to implement the CASA program after Judge Mary Dell Cody and a team of board of directors made the first steps necessary to begin.
Not unfamiliar with CASA, Rodgers-Conti had heard about the program several years ago after talking with someone leading a CASA program in another town.
When she was hired for the challenge, she immediately started the program with two volunteers who were previously traveling to Sioux Falls regularly to take part in their CASA program. Six months later, they held their first volunteer training session. While Rodgers-Conti handles the program's resources and funding, contact with sponsors and the record keeping and documentation required to manage the program, Case Manager Crystal Gemar works directly with the volunteers: recruiting, training and supervising them.
Though Rodgers-Conti's direct role in doing what's best for children has changed slightly, her overall focus of helping children has always stayed the same. "That's just been a nice transition for me to still have that satisfying feeling that what I am doing is all for the benefit of the kids," she reflects. "We've had fantastic people in every community step up to be CASA volunteers. Of course, if you don't have good CASA volunteers, you don't have a good program. That's been amazing to me, the people that will step up, because they're such great people."
She explains their role in child safety is because there is a situation where the judge needs to know what is really happening with a family. The information that the CASA volunteers present is about what is best for the child. They are included in the circle of knowledge about the court case and are considered a voice of the children.
A volunteer is assigned based on a good match to the child, taking into consideration the child's age, medical or educational needs, cultural background and gender. The specific volunteer is included in a court order that gives them authority to talk with everyone in the case and attend court hearings.
The volunteer will spend an average of 8-10 hours a month visiting with the children, parents, foster parents and the assigned Social Services case worker. The volunteer also has permission to discuss pertinent matters with the child's teacher or counselor or possibly the parent's employer. The volunteer would speak to these parties to assure that statements made by the parent are accurate, or to verify that court ordered requirements are being followed. Typically, each CASA volunteer has one case at a time, with the average process taking about a year. Occasionally a CASA volunteer may have more than one case at a time or a case may take longer than the average.
"This is how we can really speak for this child, because it's not good for that child to have the court think that the parent is doing so well when it really hasn't changed anything," Rodgers-Conti explains.
One of the myths of CASA is that their role is to assure that the kids don't go back to the parent, which is not true. To the contrary, she explains that they consider it a huge success if they can verify that the parent is making progress and continues to make progress, enough for the child to safely be returned to the home. She estimates that in 80% of the cases, the child can safely return home.
Rodgers-Conti explains that many families are in crisis because of drug or substance abuse, though some cases involve physical abuse and sexual abuse. At this point, the situation cannot be remedied with the parent any longer. "The majority of the cases we have are severe neglect and cases with children ages five and under. So, when you put those things together, you can see why it's very dire."
The volunteers chosen to assist with these children must take part in 30 hours of training, led by Case Manager Gemar. Volunteers are trained on child welfare, family dynamics, cultural backgrounds, how to report to the court and what the court needs to know. They thoroughly understand their job after completing the training.
They have 21 volunteers and are in the process of training another group. "We've been really fortunate, where, we started just in Yankton, and as we've had new cases come up we've always had a new group of people trained. We have from day one met 100% of the need. I am so proud of that," she smiles.
It takes a dedicated person to volunteer for this role. Not only are
they required to take part in the training, but they must be committed to the case over its duration. "That's a very special person to step up and do that," she explains.
If you feel that you might be that special person to fill this need, you can volunteer by calling Crystal at the Yankton CASA office at 760-1766, email the office at casacasemanager@outlook.com or visit the National Website, www.casaforchildren.org. Volunteers must be at least 21 years of age, pass necessary background checks, provide references and complete an interview.
The program was named Southeast CASA when it began because there was the goal to expand into other counties. They've accomplished their vision, expanding to serve Clay and Bon Homme County and will soon be expanding to Union County. The number of children receiving CASA services increases every year, having assisted 54 children in 2017.
The effort of the volunteers reaps rewards, Rodgers-Conti explains. "It's so rewarding to know that the effort that's put in really does matter, and that these kids will have a better childhood so that when they get to be parents, they'll have better parenting skills."
"Because of the confidentiality of our cases, the general public has no idea that these cases are going on," she explains. That becomes frustrating to her because she knows that people care about children and no one wants to see a child suffer. "It is a benefit to the community when the children are taken care of and raised properly," she explains.
The agency will be displaying blue pinwheel "gardens" in front of their major business sponsors in Yankton and Vermillion in April. Rodgers-Conti explains that each pinwheel in the garden represents one abused or neglected child who was served by Southeast CASA last year, a total of 54 children will be represented by the pinwheels.
They are also planning a child abuse prevention activity in teamwork with the Pathways Shelter for the Homeless in Yankton. It will provide children with educational, safety and hygiene items. She also explains to be on the lookout starting in April for a blue-ribbon car magnet reading, "End Child Abuse," distributed by CASA.
River City Family Connections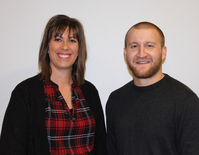 Amy Haselhorst with River City Family Connections (RCFC) explains the agency's two main services – the safe exchange of and safe visits for parents and children. The agency, started about 15 years ago due to a community need and previously located on 4th Street, has been at their new location on Goeden Drive for the past seven years. Brad Link is the full-time RCFC coordinator, while Haselhorst is a monitor/education specialist part time. Two other staff also help with services in the evenings.
Amy and her husband Kevin, who works in the Ag Department
at First Dakota National Bank, have three children: Megan, a junior in high school; Gavin, an 8th grader and Cale, a 4th grader at Beadle Elementary. Haselhorst has been with RCFC for two years. She spent the previous 18 years as an occupational therapy assistant, traveling all over South Dakota and Nebraska to help children with developmental disabilities in school settings. After she and husband Kevin relocated to Yankton, she decided she wanted to try a new venture. With her desire to help children, she opted for RCFC, a natural fit for her.
"I know I love working with kids. I know that's what I'm good at. So, I picked to go this avenue," she beams.
Her work days vary because all situations are different, but most often she is working with direct client services of the safe exchanges or safe visits. For the safe exchange, the RCFC staff will physically exchange children with two parents that, for whatever reason, should not be in contact with one another. For the safe visits, RCFC provides a safe environment and monitoring for parents and their children. The staff can monitor the conversations through a video and monitor feed, with the viewing station in another room. She explains that the children may or may not be aware of why RCFC services are being used.
"Child abuse, no one wants to talk about it, but we all know that it's happening in all of our societies everywhere," she explains. "But that's difficult to talk about because no one wants to think that people are hurting children. But it needs to be done so we can help protect the kids and do something about it."
The agency works with a team of child advocates in the area: Department of Social Services, CASA, local court services, Parents as Teachers, River City Domestic Violence Center and Yankton Police Department. They will take referrals from lawyers and even individuals themselves.
"We have to realize that child abuse and neglect is happening. It's not unique to Yankton or Yankton County, it's happening everywhere," Haselhorst explains. "Not every community is lucky enough to have the agency like this. There actually are very few agencies that provide the services we do in this state."
She feels that their agency's biggest challenge is understanding that all the families that they serve have different dynamics and tailoring their services to bet fit that family's needs. She explains their role in the healthy family relationship. "It's finding out what are their needs, how best to communicate with this family and basically serving them the best that we can, so families are healthy and happy."
RCFC presents various awareness activities through social media and their Facebook page, River City Family Connections. During the
month of April, they will have a radio ad and some other activities to bring awareness to National Child Abuse Prevention Month. She explained that the Yankton Mayor will also be doing a proclamation on March 31.
They distribute educational and promotional material to other agencies that may need their services and they support the "Wear Blue" Campaign, where the community is asked to wear blue in support of child abuse awareness. Haselhorst states that they are planning to take part in the event again this year, planned for Wednesday, April 4th. Last year, she explains, they called different agencies and businesses around Yankton to advise them about the wear blue day. Those wearing blue could send in pictures of their participation and RCFC posted the pictures to their Facebook page.
In October, during Domestic Violence Awareness Month, Haselhorst leads educational sessions to local fifth graders about the message "Love Doesn't Hurt." In 2017, she visited 19 classrooms for a total of 450 kids. Part of this program includes the children taking part in a drawing contest, illustrating their thoughts about what a happy and healthy family looks like.
One winner of the drawing contest was selected from each of the schools visited and each winner received a gift card. They recently added a grand prize to the contest, with the winner having their picture displayed on a billboard. Addison from Beadle Elementary was the first recipient of this grand prize and will have her illustration displayed on a billboard on Highway 81 North of Yankton during the month of April.
Haselhorst explains enthusiastically that they are always looking for opportunities to speak and they love providing presentations for various groups. Because many people don't know about these services available, they want to increase their presence, so the community knows it's available.
As she took me on a tour of their facility, it is well-thought out, safe and very accommodating to those they serve. The agency has seen continuous growth every year. In 2017, they had 560 safe visits spanning 959 hours and 492 safe exchanges. Their variety of services provided by the program last year totaled 1,254 hours, serving 129 adults and 95 children.
What surprises Haselhorst the most is the number of hours of exchanges and visit time and how many families are being helped by this. They develop relationships with the families, working with some of them for many hours. She recalls a case where they worked with a family for an extended period, resulting in the positive outcome of the child and mother were reuniting as a family again. This was good for the family and good for the community.
"I think the coolest thing to see is to make a relationship with a family and a child that comes for an extended period of time and actually see that child meet developmental milestones in the building." She's witnessed young children learn to crawl or stand for the first time and enjoys watching their speech and language develop.
You don't have to be a resident of Yankton to take advantage of their services. The only day they are closed is Saturdays, and they are open most evenings. Haselhorst encourages those interested to call them at (605) 665-1204 and they will help provide guidance about what services might be beneficial. Watch for their awareness campaigns, check them out on Facebook, don't be afraid to call them with questions.