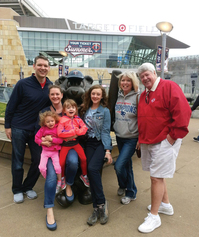 There's little that can be said about the history of Boston sports that hasn't been written a thousand times before.
It's a history of great success, spectacular loss, complex characters and a perseverance that's hard to match.
But as difficult as it is to write a complete account of that history, some have had the privilege to witness much of it first-hand.
John "Muggsy" Murray of Yankton is one such individual. If you ever stepped into Muggsy's Sub Gallery during his tenure as owner, you would've seen this history represented throughout the restaurant — ranging from a picture of Bobby Orr's famed "Flying Goal" in the 1970 Stanley Cup Finals to authentic seats from Fenway Park and plenty of New England Patriots memorabilia to go around.
A native of Quincy, Massachusetts, Murray came out to Yankton in 1969 at the behest of his hockey coach.
"It was kind of a jungle," Murray said. "My hockey coach made me come here. He said, 'Murray, you've got to get out of this. This isn't good for you. This isn't a good environment.'"
Heartbreaking
When the Boston Red Sox won the 1918 World Series against the Chicago Cubs , it was their fifth championship. No team had won more World Series than they had. It would be the start of a championship drought that would last 86 years and see the team gain a reputation for finding creative ways to snatch defeat from the jaws of victory while
denying some of the greatest players of all time rings because they wore a Red Sox uniform.
It was in the midst of that drought that Murray would grow up along with the team.
"I played baseball in Little League from day one and from then on it was just addicting," he said. "We just followed the Red Sox because it was the thing to do in the day."
Murray picked up a hatred of the dreaded New York Yankees at an early age too.
"I started collecting baseball cards and, of course, would put all the Yankees on the bicycle spokes," he said. "I can't tell you how many Mickey Mantle and Roger Maris cards I wrecked."
He also learned at an early age that being a Red Sox fan could be complicated.
This was demonstrated when he went to get an autograph from Red Sox legend Ted Williams, who had his own complicated relationship with the city's fans.
"I had a bag of balls and this was back when you didn't get money for autographs, you didn't collect them for that — you just did it to have it," he said. "I gave him one ball, he signed it and he broke my heart. I give him another ball for Paulie King — another kid in the neighborhood — and he goes, 'Hey, listen you little s**t. There's other people around here … you got your ball, now go away. Next.' I was so crushed. I was like, 'This guy's my idol and he did that to me.' I was only like 12 years old."
Murray would see the Red Sox drop three World Series in his lifetime in 1967, 1975 and 1986.
But then came the magical year of 2004. That year, the Sox made it to the American League Championship Series (ALCS) where they fell behind the Yankees three games to none before storming back to take the pennant.
A quick, four-game World Series against the St. Louis Cardinals seemed almost anti-climactic, but that was far from how Murray would describe it.
"I don't think I slept for three days," he said. "It really was so exciting. … That first one was pretty intense and pretty exciting. What a miraculous feeling and season."
At one point, Murray even gained a little insight from the man that helped history happen — Dr. William Morgan.
Morgan is best known for helping pitcher Curt Schilling through an injury during the 2004 ALCS against the New York Yankees.
"Another friend of ours Pam and I used to double with all through college was Dr. Billy Morgan," Murray said. "He said, 'Muggsy, you're not going to believe it. I come home late one night. We're down three games to none against the Yankees and I said, what am I going to do? (Schilling) is healthy as an ox from the ankle up. If I can do something medically to stabilize that tendon, we could get some use out of him.'"
Morgan would visit the morgue at Massachusetts General Hospital where he found two cadavers to experiment on where he would find a way to stabilize Schilling's ankle and get him through the iconic "Bloody Sock" game.
The Red Sox have won two World Series since in 2007 and 2013.
'From Little Russ to Big Muggs'
It's hard to fathom today that the five-time Super Bowl champion New England Patriots would ever have a problem getting people in the stands.
But long before Tom Brady and Rob Gronkowski in Murray's younger days, that was the case when the then Boston Patriots helped start the American Football League (AFL).
"We used to be able to take a free bus over with free tickets," he said. "They quit doing that because there wasn't even enough people to fill the buses."
Across the league meant to rival the well-established National Football League, fans found AFL teams far more accessible, and this was no different in the Boston area.
"When we were kids, a guy in the neighborhood would take a bunch of us little kids over to their training camp and it was very lax," Murray said. "The fans could walk around because there weren't many of us. The following just wasn't what it is today."
With the sport still growing in popularity overall and the new league trying to get any footing it could, Murray noted the presentation was night and day compared to what we'd see in professional football today.
"It wasn't as near professional as it is today," he said. "The uniforms would have holes in them. Today they get five jerseys brand new and everything's spectacular and well-maintained and well-kept today. You look at the old pictures of Fenway Park, it's tattered, the (grass) wasn't green. Today you don't see any of that."
As with the Red Sox, the Patriots had more bad days than good as Murray grew up, including a 46-10 beat down courtesy of the Chicago Bears in Super Bowl XX, a 51-10 rout by the San Diego Chargers in the 1963 AFL Championship and a loss to Brett Favre and the Green Bay Packers in Super Bowl XXXI.
"I was a Patriot fan and wore all this stuff and memorabilia when we were 1-15," he said. "All those people that razz and ride me these days, I say, 'I remember the bad days and I was still there for them in those days.'"
Murray's had the opportunity to meet a few more recent Patriots players, including South Dakota native Adam Vinatieri.
Hartington, Nebraska native and former Patriots player Russ Hochstein also made a stop at Muggsy's, and this gave Murray a chance to stretch his height a bit.
"I said, 'Russ, I want to get a picture for the wall,'" he said. "I'm standing on a chair next to him and he said, 'What're you doing?' 'Just shut up and take the picture.' We took the picture, I cropped the chair out so now I look huge. I only come up to about (his chest). I'm real little to him, but in the picture I look pretty big because of the way I cropped it. I want him to sign it, 'From Little Russ to Big Muggs.'"
Lyle Alzado
Murray's had the experience of meeting a number of sports stars who aren't quite associated with Boston, including former University of Florida basketball coach Billy Donovan, baseball great Pete Rose, basketball Hall of Famer Scottie Pippen and more.
But one of the sports relationships Murray remembers most fondly is his relationship with the late Lyle Alzado.
Murray befriended Alzado when the two attended Yankton College.
At one point, Alzado — whose many non-football ventures included boxing — gave the Murrays a chance to see one of the biggest sports legends of all time in action.
"I come home from work one day and my wife goes, 'Lyle called and he says he's got tickets for you and me in Denver. He's going to fight Muhammad Ali.'" he said.
Alzado — who was playing for the Denver Broncos at the time — was set to fight Ali in an exhibition bout at Denver's Mile High Stadium in 1979.
"We had row one seats — 1, 2, and 3 — in Ali's corner," Murray said. "I said, 'What're you doing Lyle?' Lyle goes, 'You know me. What do you want to sit in my corner for? He's the champ of the world.'"
Murray also talked about the lonely reality that Alzado faced in his lifetime.
"Lyle was a problem guy who had a lot of issues," he said. "People don't realize what a lonely life he had. He said, 'Muggsy, I quit answering my calls. Every time I got a phone call, someone wanted something — tickets, speaking engagements, free this and free that. They never called to say hey Lyle, how you doing? I just had no friends after that.'"
But Murray said that Alzado was a great guy.
"He did have a big heart," he said. "He was a very nice person, just things a lot of times didn't go his way."
An Accidental Lunch
There are still some figures in Boston sports that Murray said he'd still love to meet.
"My all-time idol, to me, would be Bobby Orr," Murray said. "That's on my bucket list. I've got to try doing that someday. I grew up with him — same age and era watching him."
As a member of the Boston Bruins, Orr won two Stanley Cups. In the fourth and deciding game of the 1970 Stanley Cup, a photo caught Orr leaping through the air after scoring the winning goal.
One Boston sports legend that Murray met completely by mistake was three-time NBA champion and Boston Celtics power forward Kevin McHale.
"I'm at a Papa Gino's back home and in the car next to me, a guy gets out and gets out and keeps getting out," Murray said. "I go, 'Kevin?' and he goes, 'Yes?' 'Good luck in the playoffs."
Unknown to Murray at the time, this brush with an NBA champion was just getting started.
"We get inside and there's a big line," he said. "(McHale's) got
his wife and two little kids. We get our pizza, he's sitting down and the place is packed. … He says, 'Hey buddy, why don't you join us?' I said, 'No, no Mr. McHale, you're with your family. I'm not going to budge in.' 'Where else are you going to sit? There's no seats. I had lunch with him and his family by accident."
Repertoire Of Birth
Murray lost his father at a young age and says that sports were a real godsend growing up in suburban Boston.
"I've been blessed in sports as far as having the opportunity to see my teams win and accomplish the things they did," he said. "My mom was working, I had no dad and it was a tough upbringing atmosphere that we had. … I am truly blessed with the role that sports did play in my life. I hate to think where and what I'd be if I hadn't got involved with hockey and baseball."
He added that there's few other cities quite like Boston and its sports culture. "Boston is so loyal, and they seem just so dedicated, so sincere through the good and the bad," he said. "Every barber shop that you'd go into or every bar room you'd go into or every grocery store or wherever and whenever — the talk of the day would be the sport of what season it was. … Boston is unique and very loyal and dedicated to their sports teams. Young, old, blind, crippled, crazy — it's born in you. You're baptized with it. It's part of our repertoire of birth."
Though he shares a love of Boston sports, Murray ultimately saves some of his greatest praises for Yankton.
"I've been so fortunate in my travels and the people I've become associated with," he said. "Yankton's been very good to us. Yankton's a wonderful town. I've left five or six times and every time we came back, it was more my idea than Pam's — and Pam's a Yankton native. … I hate to think what would've happened had I not had Yankton in my life."