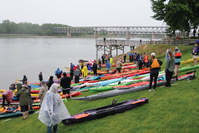 To hear Jarett Bies speak about kayaking on the Missouri River is like entering a church service on a high holy day, with the preacher imparting his wisdom upon the flock.
"There's a sense of being and being a part of something that is much greater than your' self," Bies said. "There's an intimacy when you're that close to the water in a self-propelled craft, but it's different than just driving across the state. There are things you're going to notice going at that pace, being the only engine behind your transportation, I think that makes it something special."
Bies served in the Marines from '86-'90, and was stationed throughout posts in the Pacific: San Diego, Hawaii and Okinawa. It was during his time in the Marines that Bies discovered there was something about the water that was calling to him, but it escaped him. When he was attending graduate school in St. Cloud, Minnesota, Bies' friend had received a kayak from his fiancé. While his friend served as a law clerk during the day, Bies took the kayak out onto Lake Minnetonka, and that's when he found his calling.
"The idea of exploring the water was something that I had wanted to do but it had never really clicked how to go about it, until I paddled my buddies kayak and it really did click," Bies said. "So when I finished graduate school and moved back to Sioux Falls, I bought my own kayak and I've been at it ever since."
It was in the year 2000, when Bies finally paddled on the Missouri River, and if it wasn't for some persistence, it might have come at a later date.
"I think it was in 2000, I was working as a news assistant at the Argus Leader, and there was an outfit based in Vermillion that was doing guided trips on the river, so we were going to be doing a story on this new business venture and there was a seasoned veteran reporter that was going to go with them, and I convinced him to let me go instead. That was the first time I paddled on the Missouri River," Bies said. "I just really fell in love with it. Later things changed, and I ended up living in Vermillion, which made it a whole lot easier to spend time on the river."
Even as an experienced kayaker and veteran of the Missouri River, Bies has seen his group in situations where it may not have been life-threatening but certainly a serious reminder of the power the Missouri River has.
"I was on an expedition last August where we got into a spot where there were a lot of standing waves and wind, people in our group weren't the most aggressive paddlers because sometimes you can end up being able to muscle through that, but we ended up having a group separation," Bies said. "Three or four people carried on and then a thunderstorm came in, and we were worried about them, two of them ended up in Nebraska. Thankfully, some people helped them with lodging. So I've never been in anything life threatening or in fear of someone else's life, but you paddle past things sometime and you can think about what ifs? Definitely a reminder as to how serious and in control the water is."
Now Bies owns his own LLC, South Dakota's Best River Races, and has set up a number of kayaking events since moving to the area. The races that Bies works with include four races on the Missouri River taking place throughout the year. One of which is the South Dakota Kayak Challenge, which is a 72-mile endurance race on the Missouri River, stretching from Yankton to South Sioux City, Nebraska. There is also The Fort to Field 50 paddle battle that runs from Fort Randall to Springfield, River Boat Days Kayak Run and the DamN Back race.
"The DamN Back is a short 10-mile race that starts and ends at Riverside Park in Yankton. That one is a little more challenging, the most people we've ever had for that event was around 20 participants," Bies said. "It's more fun but in terms of the people who would want to take part in it, it's not for beginners. Paddling up against the current is challenging and we've had a few participants who have hit the wall during that race."
All the proceeds from the races are used on operational costs, but whatever is left over after covering those costs is donated back to organizations that focus on helping with the river. This year, Bies plans to donate profits from the Fort to Field 50 to the Outdoor Women of South Dakota, a non-profit that aims at getting more women involved with outdoor recreational activities.
"We've never solved anyone's budget crisis, as much as we've tried to make contribution turnaround and give back what we have to like minded organizations," Bies said.
Bies hopes that the races he sponsors and events he takes part of, can bring awareness to what Yankton has to offer. The Missouri River being a world-class body of water to enjoy, but also some of the other smaller bodies of water that are in the area.
"I'd love to see more people out paddling," Bies said. "Without that kayak, I couldn't be out in that tiny spot with a quarter of a mile of moving water on either side of me, a bald eagle overhead or a paddlefish jumping out of the water. It's truly something to experience."