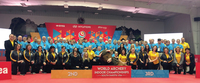 Long before the 2018 World Archery Indoor Championship in Yankton …
Long before there was the 2015 World Archery Youth Championship in Yankton …
Long before Yankton established itself as one of the world's premier archery destinations …
Long before there even was an archery center located on the eastern edge of Yankton, Jim Robinson loved archery.
"I used to hunt archery," Robinson said. "It was my favorite sport as far as hunting. I've shot rabbits and pheasants and deer. I always thought I was going to shoot a goose, but I never did."
Robinson was among the nearly 400 volunteers that helped make the recent 2018 World Archery Indoor Championship at the National Field Archery Association (NFAA) Easton Yankton Archery Complex a success A love of archery and spirit of volunteerism drew Robinson to the 2018 tournament.
"I started archery hunting in the '60s and I got to know Bruce Cull in the '70s before he moved to Yankton," he said. "We talked a lot about archery back and forth and about what he'd like to do here in Yankton — which I never thought he could do, but he did. I've always been an archery fan. I do a lot of volunteering and it's a ball."
The 2018 event wasn't Robinson's first time volunteering at a major world tournament. In 2015, he helped out with the World Archery Youth Championship in Yankton.
"It was just exciting to see all of these kids from around the world," he said. "The majority of them could speak English, but there was a lot of them that couldn't, so it was kind of funny to try to communicate with them. It was pretty fun to see somebody from China, Korea and they all got along."
At that tournament, Robinson was tasked with helping direct spectators.
Robinson said he was very impressed with the competition he saw at the 2015 event.
"I was amazed with the three finalists," he said. "I think out of the three (competitors) … there was only two arrows out of the bullseye. It's amazing to me. I don't think I could get that close with a .22 and a scope on it. … There's a lot of skill in what they're doing. When I used to hunt, like, shooting at a deer, you could be off quite a ways and still hit the deer."
As soon as he heard that a new World Archery tournament would be coming to Yankton, Robinson said he was excited about the prospect, signing up for all but two days of the tournament.
Joining Robinson at February's tournament was Larry Hintgen, who volunteered his time on food services at the 2015 tournament.
"When you're retired, you've got time to do some of these things, like Boy Scouts and Riverboat Days," Hintgen said. "I was interested in archery through Boy Scouts."
He said that the indoor championship was a good opportunity to use some of his own foreign language skills.
"I'm a Luxembourger, so naturally we enjoy talking a little German to the Germans and the Luxembourgers," he said.
Robinson said that the indoor tournament was a bit of a learning experience.
"(There was) a guy from Iran who's never seen snow before," he said. "You just take things for granted until you see somebody from a different part of the world."
He added that there were a number of differences between the 2015 tournament and the 2018 tournament.
"In this tournament, there's some (teams) that only have one from a country or two," he said. "In the youth one, they had regular teams with coaches. A lot of these don't have coaches but they have a team."
Robinson said he loves the experience of talking to the competitors.
"You get to see a lot of people and, once in a while, they'll stop to talk with you and you ask them some questions," he said. "It's fun being around it."
During the 2018 tournament, Robinson found himself tasked with helping to guard the archers' equipment — much of which left an impression on him.
"The equipment is amazing," he said. "There's no two bows alike. I kind of look at them. … The most popular bows I've seen when I try to read them all is Hoyt. I wondered how that's all come about."
He added that the bows he spent time guarding are also far different than what he's used to.
"They have more things on it and contraptions," I don't have a clue what it's for, but they've got a lot of money tied up. They said some of those bows are $5-$10,000, so there's a lot of money sitting in this storage room."
Robinson said that the volunteer culture is strong in Yankton.
"That's what makes Yankton click is volunteers," he said. "I'm involved in Sertoma and Little League. We've got a Little League Sertoma tournament coming in May and we've got 42 teams coming.
That takes a lot of people to run that. They have Riverboat Days and that takes a lot of volunteers. There's just a lot of things in a town this size. To make the town a better place to live, you need volunteers. You can't be just a taker, you've got to be a giver too."
Hintgen said it's great to have an opportunity to help show that spirit off on the world stage.
"We're the host for the world," he said. "You can't just do it with the staff here at the archery center. You've got to have a lot of volunteers and they've really been organized. People have their jobs, the time and fortunately we've had a good volunteer turnout, so it turned out pretty good."
He added that the tournament left a huge impression on him.
"What always amazes me is that I talk to other people in the community and they really didn't realize what was going on," he said.
"The TV, the production, the governor's here — this is world class."
NFAA spokeswoman Nancy Wenande said the volunteers are all ambassadors.
"The volunteers we have here are the face of Yankton and the face of the United States," Wenande said. "They have been doing an awesome job welcoming the coaches and participants in the event, answering questions, helping them with what they need."
She added that Yankton has been a unique experience for some of the competitors and coaches because of these volunteers.
"One of the coaches … was sharing with us that he was so happy that we were so accommodating to take them wherever they wanted to go in the community to shop and enjoy our community," she said.
"The other places they've been, usually they don't get that type of specialized service to get out into the communities."
Robinson said that the tournament also provided a refreshing shot of unity in a tumultuous world.
"You see all these countries with all the damn world problems we've got, they all seem to get along," he said. "It's just nice to go somewhere where you have all that international flavor and no problems. I haven't seen any and I don't think they have."
Robinson said he has every intention of volunteering in 2020 when Yankton welcomes the world once again for the World Archery Field Championship.