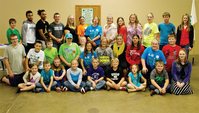 "4-H gives you so many life skills and benefits," explains Katie Doty, the 4-H Youth Program Assistant. Though she's just in her first year in this position, the 4-H program is nothing new to her, having been involved since she was just eight years old. She loved the livestock program, where she showed all species of livestock and took part in baking, fashion and arts & crafts. Still involved with animals, she and her husband live near Mission Hill where they raise cattle and goats.
"My parents were in 4-H and I still remember the day my dad asked me if I wanted to be in 4-H, (while) we were driving to town," she explained. She responded to him that although she didn't know much about the program she would sure try it. Because she started at age eight, she didn't take part in the Clover Bud program, but she credits this program as an excellent opportunity for youth starting at age five to get involved. This group holds their own meeting with the beginners and allows them to get an idea of what the program can offer them.
Doty is given the opportunity to arrange various programs through the Yankton County Extension Office. She has organized programs at the local schools including a Lego Robotics program after school at the four elementary schools. She will soon be hosting events at the Yankton Boys and Girls Club and at the Yankton Community Library.
She is hands on with the 4-H students as well, helping kids with project workshops. She enjoys holding the programs and seeing the youth take interest and having fun in the activities. Her biggest goal is keeping the numbers up and getting more members, adding that they had a great year this year with enrollment.
She, along with Danielle McFarland and Lauren Hollenbeck are the primary go-to people for any questions about Achievement Days, an annual event where the students can demonstrate their hard work.
Though these three answer many of the questions, Doty credits those that help with the entire event, stating, "We wouldn't be able to do Achievement Days without the leaders and volunteers that we have and the kids' participation."
She reflects on her own experience in 4-H. "Achievement Days was always my favorite time of the year. You work for it all year long. The kids work hard at it all year long, so they are ready for Achievement Days."
Held in August, this year's Achievement Days is scheduled for Thursday, August 2nd through Saturday, August 4th. On the first day of the event, the youth take part in interview judging on the indoor projects that they've been working on throughout the year. Here, they explain the details of their project to the judges. She feels that this helps them gain skills in conversing with people and making eye contact.
On Friday, the Swine Show, Fashion Review and Celebrity Round Robin are held, finishing with the Beef Show that evening. For the Celebrity Round Robin, the junior 4-H leaders ask various people throughout the community to take part in the year's chosen event, this year's event is showing sheep and swine. The participants do not need to have any experience in the events or in 4-H and are given a ticket to the evening's supper.
Saturday morning is the Sheep & Goat show and the public presentations. At the end of the day is a round robin competition, where anyone who received a Reserved Champion or Grand Champion award during the week's large animal shows can participate for a chance at being voted overall champion.
Doty notices that as the students continue with the 4-H program, they gain confidence and several students display the desire to help younger members with their projects. She enjoys watching the youth work with each other. She recalls her first impression of 4-H, a bit overwhelming and intimidating at first to be around the various animals and to interview with adults but explains that she gained confidence and became more comfortable with these tasks with more experience in the program. She is thankful that many students come to her with questions and she encourages the youth to ask for help or guidance. She strives to make her herself easily accessible to the students.
Though she feels that many still have the perception that 4-H is just about working with animals, livestock and agriculture, it really covers a wide variety of interests. If your child would like to become involved in this program, you can contact the Yankton County Extension office at 665-3387, view their website at www.yankton4h.com or complete a profile and enroll online at www.4honline.com.
Doty continues with a smile, "I think 4-H gives you a lot of the life skills that you're going to need growing up," she explains. "It gives you the ability to talk to people, give presentations, public speaking, responsibility with animals and getting projects completed on time. You get the opportunity to learn how to cook, sew and take care of animals. Anything that the kids are interested in, there's a spot for them in 4-H."