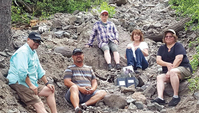 A former Yankton family is thinking back on their time here a bit more somberly these days.
John and Doris Elliot along with their five children — Cheryl, Sharon, JD, Sandra, and Stephen — lived in Yankton during the 1960s and '70s, having moved from New Jersey.
However, Lt. Commander JD Elliot, United States Navy (retired), who resided in Denton Texas, went to be with the Lord on Sunday, April 22, 2018, following a courageous battle with cancer.
While in Yankton, John Elliot took J.D. fishing at the river when he was about 5 or 6.
As the family recalls, J.D caught a huge catfish and wouldn't let his dad throw it back. J.D. also wouldn't let him clean it for eating. They brought it home, and it lived in the tub for several days. His mom threw a fit, and made them get rid of it … after all with five dirty kids, one needed a bathtub. So back to the river it went.
It was just one of the memories the surviving family members have of their Yankton days.
The Elliot kids loved riding their bikes to the lake and back. (When Chalkstone Hill was a curvy road, unlike the straight highway it's today.) At times, they'd stop at Charlie's Pizza. J.D. was obsessed for a while in setting the high scores on Charlie's Pizza's pinball machines.
"I rarely had money to play, but he would pitch me a quarter once in a while. Oh. I loved the smell of Charlie's Pizza," Stephen said.
There were also artistic pursuits, As a boy, J.D. acted in "The Witch, the Lion and the Wardrobe" at Mount Marty College.
In the summer of 1979, J.D. was near Gavins Point Dam when a tornado struck. He weathered it out in his vehicle, then drove to Yankton. The twister tore through the northern part of Yankton, taking the roof off the former Save U More building, tearing down the Drive Inn Theater's screen, and damaging the Champlain Truck Stop, where Hy-Vee now stands.
J.D. graduated from Yankton High School in 1979. Before enlisting in the Navy in October 1979, he worked as a manager at McDonalds.
In 1983, J.D. while in Pascagoula, Mississippi, worked with several of his USS Yorktown buddies refurbishing a shrimp boat. It's now a museum on the water in Pascagoula.
In 1984, J.D. met and married Penni.
He served as a Sonar Technician aboard the guided-missile destroyer USS Towers (DDG-9), as a "plank owner" aboard the USS Yorktown (CG-48) (1983-1986), and as a Master Sonar Technician Instructor with the Fleet Anti-Surface Warfare Training Center Pacific Command. J.D. aspired to the rank of Chief Petty Officer before being selected for the Naval Enlisted Commissioning Program in April 1988.
In 1986, JD, his wife Penni, and their son, Justin, moved to San Diego. There J.D. was an instructor.
He went to the National University from February 1986 to July 1987, graduating with an associate's degree of science with honors.
He made Navy Chief in 1987 and, about four months later, learned that he made the ECP program. In 1988, with a 3-year-old and 3-month-old twins, J.D. and Penni moved from San Diego to Albuquerque, New Mexico, where J.D. went to school for two years full time, graduating from the University of Albuquerque in 1990 at the top of his class with a degree in economics.
He was sub-sequentially commissioned a Naval Officer in May 1990 and designated a Naval Flight Officer in August 1991. His Naval Officer tours included Patrol Squadron FORTY (VP-40) as both a Junior Officer and again as a Department Head; Commander Patrol Wing TEN (COMPATWING-10); Maritime Patrol Mobile Operational Command Center Western Pacific (MOCC WESTPAC); and Air Test and Evaluation Squadron ONE (VX-1). J.D. aspired to the rank of Lieutenant Commander and retired honorably following 26 years of dedicated Naval Service.
On one of his missions, J.D. helped rescue a missionary couple.
Martin and Gracia Burnan served with New Tribes Mission in the Philippines. On May 27, 2001, while celebrating their 18th wedding anniversary, they were taken captive by a militant group of Muslims called the Abu Sayyaf Group. In her book, "In the Presence of My Enemies," Gracia wrote about the search planes. Those planes were J.D. and his team flying overhead.
J.D.'s sister Sandy recalled, "I met her and had her sign her book for J.D. When I gave it to him, he was so excited. He read it and shared it with his team,"
Following his military career, J.D. worked as a Test Analyst for Wyle Laboratories in Dallas, continuing his service to the United States Navy as a systems matter expert for the test and acquisition of Naval airborne systems. J.D. enjoyed open pit master barbequing, camping, fly fishing, watching Kansas City Chiefs football and spending time with his nine grandchildren, Caden, Alexander, Landon, Ella, Emerson, Abram, MacCallum, Adalynn, and Abegail.
"It never mattered how bad of a day J.D. was having with his cancer, every time one of his grandkids would walk in the door, his whole attitude would change and he would have the biggest smile on his face," Penni said. "There were times I would catch him holding one of the grandkids when he wasn't suppose to."
"J.D. was so proud of his three children, Justin; his twin daughters, Bridget and Christie, he just couldn't say enough about them and how much they accomplished. He loved them so much," Penni added.
She remembers family vacations. "One of the things we would do when going on family trips is, J.D. would play a math game with the kids and a game to see how many different state license plates they could find. The kids loved that," Penni said.
Concerning camping, Penni remembers, "J.D. and I would fill up coolers of water balloons and have ice cold water balloon fights."
J.D. was active in the Boy Scouts, both as a boy and an adult. In Oak Harbor, Washington, and in Japan, he stayed active with the Boy Scouts until their son, Justin, made Eagle Scout. He also volunteered with the girl's swim team, doing whatever they needed him to do.
The family remembers J.D. having a wonderful sense of humor that was continually engaged. You would never know when a one-liner would be interjected into a situation. He could keep you in stitches for hours. There was always laughter being around J.D.
Early in J.D.'s life, Grandpa Pete influenced J.D.'s life. One morning, the grandfather took J.D. to breakfast. The waitress was
apparently having a bad day and approached their table looking very depressed and downtrodden. Grandpa Pete gave her a bright smile and said, "Well good morning, pretty lady." They began talking and, before J.D. knew it, the woman's face was full of joy and she had a skip in her step. J.D. said he then decided to always look for ways to brighten someone's day.
"He wanted to make people feel more valued than they valued themselves," Stephen said.
Penni added, "One year, J.D. and I in honor of his Grandpa Pete and my grandmother, bought two new pews for the add-on of the church that we went to in Frisco, Texas."
Some of J.D's awards: CPRW-10 Outstanding Leadership Award. Navy Commendation Medal. National Defense Medal. Global War on Terrorism Service Medal. Global War on Terrorism Expeditionary Medal. Two Sea Service Deployment Ribbons.
Many shipmates commented this about J.D, "He always had to use the last drop of gas when he was working. That was his thing, and he always made sure that the job was done correctly."
STGCS (SW) Garry D. Sims US Navy retired, knew J.D. for 39 years. He says this about his friend: "JD and I went from scrubbing toilets to very senior leadership positions. I saw him in every situation possible and he served with honor and distinction. The world is a worse place without him in it.
One morning, J.D. got a call from his friend telling him that one of their buddy's house got hit by a tornado. Out of the kindness of his heart, J.D. told his buddy, "I'm on my way to help." J.D. went to Home Depot and bought up all the plywood and other supplies needed. Penni added sandwiches, chips, and drink. It took two hours to get there.
Once a month, J.D. and his Navy buddies would go to help his friend clear off his land to get it ready for the house he was going to build. They called it the SPA. After all their work, they'd sit around a campfire and tell old sea stories, then shoot at homemade targets they'd made.
"J.D. was a very loving and caring person," Penni said. "He had a heart of gold."
"No one will miss J.D. more than his wife, kids, and grandkids; but we siblings grew up very close and remained close throughout the years," Stephen said. "We regularly had video chats and many drawn-out group texts. We made each other laugh — and JD was always in the middle of it. We'll continue to make each other laugh, but it will never be the same until we're all together in heaven. There we'll pick up where we left off … laughing together again.
"You spend any time with J.D. you will hear about Penni, his kids, his grandchildren and his friends. He loved his relationships — none more than his wife, kids, and grandchildren."