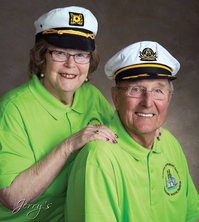 Some familiar faces will be in new roles for Yankton's 2018 Riverboat Days.
Cliff and Donna Madson, whose ties to the festival run back to its very beginning 35 years ago, will serve as the Captain and Belle at this year's event set for Aug. 17-19.
And they are already doing what every Captain and Belle does: promoting Riverboat Days. They were part of June's Czech Days parade in Tabor and will hit other parades, festivals and events throughout the summer.
But the Madsons are well aware of that.
"Most people don't understand what it takes to put this thing on," Cliff said. "It's a real big commitment for somebody that doesn't have the time."
The Madsons have already put in their time, in a way.
Cliff was involved in the start of the annual festival 35 years ago. He served on its board of directors for 25 years, while Donna has been on the board for 15 years.
Beyond that, both of them have volunteered to work events or to handle duties for years. Cliff has worked with forklifts and semis to haul equipment, and Donna has sold tickets for the purchase of beer.
But they've usually been behind the scenes.
Now, they will be the faces of this year's event.
"We're not used to people paying lots of attention to us because we stay in the background," Donna said.
She said the couple has been approached in previous years about serving as Captain and Belle, but they declined the honor.
This year will be different, however.
"I thought it'd be fun to have a year where I didn't work during Riverboat Days because we're going to be doing other things," Donna said.
But even as Captain and Belle, they are part of an army that makes the festival happen each August.
Donna noted that the set-up and teardown of the event are exhausting.
"Even the younger (volunteers) are tired afterwards because it's so many hours (of preparation)," she said.
Cliff said volunteers spend much of the week of the event getting Riverside Park ready for the festival, and preparations continue literally until the opening on Friday night.
After Riverboat Days ends, Monday is a full day of work, too.
"The night it's over, notes are taken of what went right and wrong, and we start then and there getting ready for next year," he said.
It's all worth it when you consider the value of the festival to the community, Cliff said.
"So many people don't realize what Riverboat Days has (done), and continues to do, for Yankton," he said. "(The Riverboat Days committee) has spent a considerable amount of money in the park in the last 20 years.
"It's a community project and it works because everybody helps.
That's what makes it a good celebration."
For the Madsons, it's just another service for the community they call home.
They have lived in Yankton since 1963. They reside just outside of Yankton where Cliff plants corns and beans, and operates C&C Hauling and Construction. Donna works part-time at the Contact Center.
They remain close with their four children and their families, two of which reside right next door to them.
Those close connections to their family and the community remove any ideas of living elsewhere, Donna said.
"We went to Texas one time for a week in the winter and I could never do that (again)," she said. "My car is kept in our garage, the guys shovel the snow around our property and I don't have to work in the cold. I have no desire to live anywhere else."
In addition to working with Riverboat Days, the couple also works with Yankton's annual Holiday Feast on Thanksgiving eve.
The Madsons say they are looking forward to their new roles for Riverboat Days, even if this longtime event requires them this year to take on new positions.
"I'm really enjoying it," Donna said.