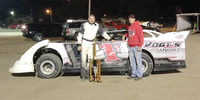 Nebraska native Gale Vogt's called Yankton home for around two years now.
But well before that, Vogt was making the rounds on dirt tracks throughout the upper Midwest.
Recently, the long-time driver sat down with His Voice to discuss his success on the track, his love of racing and the community that makes racing possible.
Late Model
Racing has always been a family thing for Vogt.
"My dad raced for years over in Stuart, Nebraska and Winner, South Dakota," Vogt said. "When I got into Junior High, I raced go-karts for a couple of years."
In high school, he raced late-model part-time during high school at tracks in Lake Andes and Stuart before taking time off for engineering school.
After school, Vogt raced street-stock for a few years before getting back into late-model racing.
He said that he even remembers when he picked up his first late-model car.
"I picked up my first late-model on the day that Dale Earnhardt died," he said.
After racing throughout the state of Nebraska, Vogt started working in Yankton — where he moved two years ago — and started racing regularly at Wagner.
Over the past five seasons at Wagner, Vogt has accumulated three championships and two runner-up finishes.
Vogt said he hasn't seen too many differences between racing in Nebraska and racing in South Dakota, except for regulations.
"The competition is about the same," he said. "It's just different rule packages are about the only difference."
He said this took a little getting used to.
"Down in Nebraska, most of the late-model racing had been with limited engines," he said. "They allow a little more up here because we try to combine with the WISSOTA sanctioned series. That took a bit of getting used to."
In addition to the upper Midwest, Vogt said he's raced as far away as Lakeside Speedway in Kansas.
#1
For the last year and a half, Vogt has been running with a late-model Lazer Chassis emblazoned with a number one that he bought used.
"We really got it dialed in toward the end of last year and started out fairly strong this year," he said.
However, the new car hasn't been totally without issue.
"We've had some fuel issues a couple of nights," he said. "Also a lot of rain outs this year. … I had a lot of work projects going over the winter and we had a lot more to do to the car. We got started a little bit later than I like because of the weather and some other things.."
While the chassis was bought used, Vogt said he put in his own engine and drivetrain.
He added that there's a lot of work to keep the car running in top condition.
"There's really a lot of adjustment to these cars in the late-model class," he said. "It has a four-bar suspension. There's lots of various settings that you can set that at. It has a J-bar … and you have a lot of adjustment with that. Shocks, springs and there's really a lot that I can adjust and a lot of things you can do to get yourself in trouble too. I enjoy the challenge of it."
This year Vogt is racing in Wagner as well as part of the Tri-State Series which runs on regional tracks in South Dakota, Iowa and Nebraska.
Vogt said he has a small but dedicated crew that works with him during races.
"I work on it during the week," he said. "At the track, there's usually two to three guys that will help me out."
He added that other racers tend to help each other out more often than not.
"There's a crew that helps my cousin race a B-mod there," he said. "If I'm having trouble, his crew helps me. It just depends on what the needs are. What you'll find in the racing community is that racers help each other. If you need a part, you just walk around the pits and everybody helps everybody out. You don't want to see anybody not make it out on the track because they're missing a component."
Currently, Vogt is on his sixth late-model vehicle.
"I really didn't wreck any of them, per-se, they just wear out and then technology upgrades to where they do different things with the chassis to make them handle better," he said. "That's what I've upgraded throughout the years."
With an eye to the future, Vogt is already at work on car number seven — another Lazer Chassis which sits partially finished in his garage that will either be used as a backup for the current car or go into service during the next racing season.
Vogt said putting a new dirt track car together can take at least a few weeks.
"If you have all the parts and pieces, you could probably put it together in three weeks," he said. "Some people on the bigger-budget teams buy their car complete and all put together." … If I make my own body, it takes a week or two. If I get the body that's formed already and just need to rivet it on, we can do it over a weekend. I'd allow at least a month to do everything right if you're starting with a bare chassis."
Notable Moments
With a family that enjoys racing, Vogt recalled one instance of a little sibling rivalry on the track.
"I raced against my brother at Stuart," he said. "There was one night where he and I finished 1-2 in the heat race, 1-2 in the trophy dash and 1-2 in the future."
He said that his brother became just a little suspicious of the performance at one point.
"I almost passed him in the trophy dash and he immediately came over and was checking my tire pressure to see what pressure I was running," he said. "He didn't like that I came up alongside him at the end."
Vogt said he's also had his share of come-from-behind victories over the years.
"Once at Wagner I came through the field from pretty far back and was riding the cushion and got my way up to the front from the eighth starting position," he said. "That was a really good night because we were running clear up high where nobody else was and managed to get around the field."
But one of the most notable moments for Vogt is one he gets to repeat race after race — signing cards and memorabilia for fans.
"That is another aspect I really enjoy, being a role model for young kids," he said. "Even if I have a wrecked car at the end of the race night, I maintain a positive attitude and sign cards for the fans. I try to make sure they have an enjoyable experience and keep coming back."
Stepping Up
Vogt said he's started giving some thought to what his next step in the racing world might be.
"I'm right on the border of where I'd like to join the SLMR (Super Late Model Racing) Series full time," he said. "That takes a lot of support from crew members and such, because when the SLMR tours for a weekend, sometimes it's a Thursday, Friday and Saturday. … The logistics of that is the challenge of it, but that's where I would like to be."
A Social Event
Vogt said he finds joy in the technical aspect as well as the family aspect of racing.
"As an engineer, I like trying to figure out how to make the car go faster each week and how to make improvements," he said. "It really is a social event for us as well. We're one of the last ones to leave the pits at Wagner every week it seems like. … I have a cousin that races over at Wagner and we visit a lot after the races. Family will come down from the stands. Fans will come down from the stands and it's really a good time to visit with everyone."
Vogt said, at the end of the day, he gets a lot out of the hobby of racing.
"Everybody has their hobbies," he said. "This one I get quite a lot out of. A lot of people will say a lot of negative things about racing (like), 'Well, it's expensive.' I have my money in my car and trailer and such and compare to people that have campers and boats. They have just as much into their campers and boats, but I get a paycheck at the end of the night. It's about your hobbies and what you get out of it, and I get a lot out of it as far as the satisfaction of when you have some good nights and the challenges when you have some struggles. Everyone has their hobbies and the people in the racing community are passionate about it."