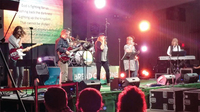 Connie and Dave Tschetter loved their community and enjoyed helping others. Connie mentioned to their son Russ one day that, because she helped so many people during her time as a nurse for 37 years, she desired for her legacy of kindness and giving to be carried forth, suggesting the possibility of a scholarship fund. After her passing, Russ struggled with the promise for years and turned to God's help in paving the way for guidance. A few days after asking for direction, several names popped into Russ's mind and he called these people for their leadership. With the help of five sponsors to help get the event started, the Honor Fest, a Christian music celebration, began.
Though the first year's event was held in March, it has since been an annual September event, this year held on September 15th. A variety of Christian music genres perform at the event in hopes to appeal to a larger crowd of various ages. The bands slated to perform this year are:
70X Forgiven, Nick Montieth, Everchanged and Identify Raps. Pastor Pineapple, a Christian speaker, will be presenting the topic of "What is your Why?" This year Tschetter will also be partnering with five or six local churches of various denominations who will offer a display of educational materials.
Tschetter compassionately explains his role in holding the event.
"This became an opportunity for me to, not only put my faith into action, but to also help those people who don't have a faith, who have probably never been to a church, or heard a Christian music concert or heard the word of God before." He explained his vision as a beacon of hope to those people who are lost.
He shared a statistic that he learned while organizing the event, approximately 32-36% of Yankton's population does not have a church home. He explains further, "It has evolved into something that is not for my parents, it's not even about the bands, it's what God is doing through me to my community…to be able to reach these people through the most broken times of their lives when they have no one else to turn to."
Because this event is in its initial stages, the funds recuperated from ticket sales are being used to cover the cost of the event. In the future, Tschetter hopes to recover enough funds from the event to begin a nursing scholarship at Dakota Wesleyan University where his mom obtained her nursing degree and later branch out to begin a scholarship in his dad's honor in either the visual arts or meteorology field.
In hindsight, Tschetter feels that this event completes the mission of carrying forth his mom's legacy. He feels that this is the most substantial way of continuing and honoring her and his father with something that could have an eternal impact on others. He explains the name Honor Fest not only means honoring his parents and their wishes, but also honoring God by being his vessel.
Tschetter feels that the event brings together those people that have never been to church, those that are Christians but lagging in their faith and those that want to reach out to others through their faith.
Tschetter explains how he feels that his event gives all three types of people a chance to come together and learn from one another.
"It excites all three (types) of us to say, 'I can make a difference.' One person can make a difference to my family, my kids, my organization that I work for, my region, my city. One person can have a multitude of different people that they interact with on a daily basis."
The event is held at the NFAA Easton Yankton Archery Center east of Yankton. Tickets are available here and at www.Eventbrite.com. You can also visit their Facebook page at "Honor Fest" and message Russ for tickets. He tries to keep the costs reasonable; tickets are $10.00 in advance or $15.00 at the door. There are also VIP tickets available at a cost of $30.00. The VIP tickets allow early entry at 5:00 PM, first seating and special meet and greet with the bands and an opportunity for autographs. Doors open at 6:00 PM for the rest of the ticketholders and the concert and speaker last until approximately 9:00-9:30.
Tschetter is thankful to those who have given him guidance and direction in planning this event and welcomes the community to join the celebration or volunteer to become involved. He appreciates the businesses in the community that have taken a positive stance in their faith and encourages the citizens to take a stance as well and take advantage of this positive, family-friendly event. He smiles, explaining appreciatively, "The volunteers have been awesome, the businesses that have given time and talents, it's just amazing how a small group of people can come together."