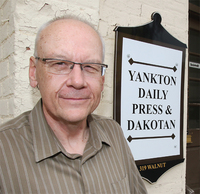 For almost 15 years, Gary Wood has overseen the behind-the-scenes productions of the Yankton Daily Press & Dakotan and Missouri Valley Shopper in Yankton and the Vermillion Plain Talk and Broadcaster Press in Vermillion.
As owner/publisher of Yankton Media Inc., Wood keeps track of what goes on with the news, business office, circulation, advertising and composing departments.
"Through the years, I've had the opportunity to deal with so many different people, and I've been fortunate to run into some very good people over the years," he said.
Wood has spent much of his adult life working in the newspaper industry. After completing a nine-year stint in the Army — during which he earned a business degree from Southwest Missouri State University (now Missouri State University) — he began his career in Los Angeles working in the classified advertising department with the Los Angeles Daily News. From there, he spent a few years working in the advertising department at the Denver Post in Colorado before striking out on his own and running his own advertising agency.
However, he found that he missed being immersed in the newspaper world.
"Newspapers have always been in my blood," he remarked.
After selling his advertising agency, he briefly worked for the San Francisco Examiner before relocating to Sioux City. He came to Yankton in 2003 when he was hired as publisher of the Press & Dakotan, Plain Talk, Shopper and Broadcaster by Morris Communications, Augusta, Georgia, which owned the group. After Morris sold the newspapers to Gatehouse Publishing in 2007, Wood saw a window of opportunity to become the owner of the "Yankton Group" (as it was known in Morris corporate circles), and he purchased the publications to form Yankton Media, Inc. The sale was finalized at the stroke of midnight on Leap Day 2008.
"It's a rare privilege to be an owner and publisher of a daily newspaper, a weekly newspaper and two weekly shoppers," he said. "The trend in the industry has been corporate ownership, which has gone a long way towards hurting the newspaper industry. Sometimes, we're our own worst enemy. As newspapers, we should be answering to Main Street, not Wall Street."
It also gave him the opportunity to stay in Yankton, which he and his family had come to consider home.
The changes in the newspaper business during his 30-plus year career have been vast and game-changing, he said.
"When I started back in Los Angeles, things were still being run through a hot waxer and put on a paste-up sheet," he recalled. "And if
it was a page with color on it, we would have to cut the color by hand with amber overlift and a X-Acto knife, which would take hours to do."
While in Denver, the Internet started becoming a factor in the print business and in everyday life, and he saw how newspapers began to adapt to the online world.
"I'm proud to say that newspapers are much stronger in almost every market you look at than radio and TV," he said. "In South Dakota, we're very fortunate because newspaper penetration is huge in a lot of markets. Yankton is one of those."
He noted that a recent study done by the South Dakota Newspaper Association showed that more than 30 percent of newspaper readers are between the ages of 18-35 and that 90 percent of newspaper readers are registered voters.
"We have an educated populace in the state that are newspaper readers," he said.
As he is heavily involved in the business side of the industry, Wood doesn't often contribute to the newspaper in editorial form. He said he occasionally does, however, when he has a strong opinion about something.
"We want to make sure everyone has a voice, but we want people to understand that if they have a voice I vehemently disagree with, I'm going to respond accordingly," he said.
As publisher, he hears from customers when they are happy or unhappy with something published in the newspapers or magazines.
"Some of the biggest disappointments are to have people that want to disagree, but not do so in a respectful manner," he said. "The biggest challenge of the job is to be able to deal with those people and figure out the best way to make it work."
When he needs an escape from the pressures of the job, he enjoys woodworking, riding horses with Deedee, his wife of 22 years, or catching up with his children, 20-year old Rachel who is attending Berklee College of Music in Boston, and 19-year old Eli, who works for a manufacturing plant in Nebraska.
Though the job of owner/publisher is difficult at times, Wood admits he gets a sense of fulfillment when people are pleased with the work Yankton Media, Inc., has done for the local communities.
"I feel very privileged and honored to be a part of (the newspaper industry) here and to be able to provide our readers and advertisers with great local content that's important to both of them," he said.