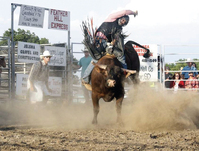 Springfield, South Dakota is well-known for its 4th of July celebration, an event that takes place over a few days and features a few different events. The main attractions of this celebration are the Frog Jump, the fireworks, and the rodeo. This year will be the 20th annual Bull-O-Rama, an event that Jack Coleman has helped spearhead.
The town was preparing for their 4th of July celebration as well as the bridge dedication in 1998 when Jack was first given the idea to have a rodeo for the town. At first, Jack didn't want to be a part of it as it would be time consuming to find the sponsors and advertisers, not to mention the bull riders. However, Jack changed his mind and decided to do it and the next day Jack and a partner started putting together the first Bull-O-Rama. They went up and down Main Street getting sponsors and advertisers, collecting $500. They then found a local trucker to help haul the animals. After they had this secured, the rest was "pretty easy" to put together. Jack owned a lot of bulls and they used his property for the event so then they just had to find bull riders. The whole thing was put together in just 30 days! Jacks favorite part of the whole ordeal, he jokes, is "when it's over."
The rodeo consists of bull riding for the adults and mutton busting for the kids. In most bull riding competitions, the rider needs to stay on top of the bull while holding the rope with one hand for eight seconds. There are four judges who score the rider and the bull for the ride. Two judges judge the rider and the other two judge the bull with scores up to 25 for a total of 100 points. Mutton busting doesn't have any strict guidelines, other than the kids should wear a helmet for riding the sheep. In years past the rodeo also featured a businessman bull riding event but they've had less people sign up for it so last year they had an animal scramble where kids had to round up animals such as pigs and chickens. The rodeo also features a calcutta. Calcuttas increase audience participation as its a way for the audience to place money on a team for the day.
This year's 20th annual Bull-O-Rama takes place on Tuesday, July 3rd. And Jack Coleman would tell you, "it's a good celebration."