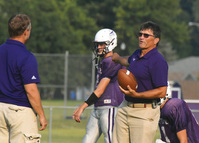 When Arlin Likness retired as the head coach of the Yankton High School football team, he said that he "might get the itch to coach again."
That "itch" is being scratched in Beresford, as he joined the Watchdogs to help their program as an assistant coach.
Likness is spending his 40th season of coaching with the Watchdogs, the first time since 1993 that he will be on a sideline other than Yankton's. He was Yankton's head coach from 1999-2017, leading the Bucks to four state titles (1999, 2002, 2014, 2015). He was also an assistant coach for the Bucks' 1994 and 1995 championships, and took Hamlin High School to state titles in 1989, 1990 and 1991.
Becoming A Watchdog
Likness' retirement from YHS was announced in February, after the Britton native took early retirement.
"When I decided I wanted to retire, I put out some feelers," he said.
"With Yankton, if you retire from teaching, you retire from coaching. I felt like I might want to coach again."
Little did he know that the groundwork for his next coaching destination had been laid the previous season.
"We had some offensive questions, and Arlin came over and met with our staff," said Beresford head coach Scott Ebert. "He had made the comment, at the time, that he was probably in his last year of teaching and coaching in Yankton. One of us made the comment, 'See you in a year.'
"I walked away, wondering if it would be an opportunity."
Likness' connection to the Beresford staff, though, goes back further. Ebert is a longtime friend and former college teammate of former Yankton assistant coach Jason Oswald. Beresford athletic director Geoff Gross, who also works with the football program, dealt with Likness when he was the athletic director at Mitchell.
Likness had other coaching connections to Beresford … knocking the Watchdogs out of the playoffs during his tenure at Hamlin. His Chargers eliminated Beresford from the post-season in 1982, 1989 and 1991.
The connections, though, were not the only reason Likness chose Beresford. "I talked with three different schools, and Beresford seemed like the best fit. The other two will be fine. They will win a lot of games," he said. "But that was not what I was looking for. I wanted to go where I would hopefully give the most help, and have fun.
"I feel like there is potential there."
Meeting The Team
Likness boasts a 261-101 career record — the fourth-most victories in South Dakota football coaching history — and seven state titles.
But for a Beresford team whose players were born after his tenure at Hamlin, Likness was an unknown commodity.
"I don't think any of us really knew him," said Blake Peterson, a senior tight end and defensive end who has committed to Iowa State.
"After we found out and heard about him, we thought it was awesome that he was coming to join our program."
The parents of the Watchdogs, though, had memories of the longtime coach.
"One of the dads came up to Coach Likness on Tuesday at our athletic-parents meeting," Ebert said. "He was on the 1982 team."
Learning To Work Together
Because of Likness' work with the Beresford coaching staff a year ago, some of the offensive concepts used by the veteran coach were already in place.
"We were running some of the same stuff, so it hasn't been a big difference," Beresford quarterback Tyler Kropuenske said. "For some of the plays, he has different terms."
As the team began work for the 2018 season, Likness brought in some reinforcements.
"During the summer, Don Campbell came with me," Likness said. Campbell is a former assistant coach for Likness, and was a state championship head coach for Brookings in 1983. "He really leap-started us in the right direction."
That direction, in many ways, is similar to what Yankton fans saw from Likness' teams for the past two decades.
"A lot of similarities," he said. "I'm trying to put in things that I think fit their personnel. We don't have big numbers. We have 25 ninth through 12th grade, so we want to stay healthy."
That ability to adjust systems to personnel — and opponents — is what has made Likness such an asset to the program, Ebert said.
"He is so good at adapting, adjusting," Ebert said. "He is so good with motions, shifting the backfield.
"From a player's perspective, it is very exciting to be in a system like that."
Among the changes that have occurred in Beresford is the addition of yoga, something his teams in Yankton did as a way to help both flexibility and focus.
"We hadn't been doing yoga before as a team. A few of the guys had been doing it on their own," Peterson said. "Doing it as a team has definitely helped. It gets us focused, gets us loose. The whole program routine, how it's different, we all really like it."
Though Ebert has plenty of experience himself — 15 years at Harrisburg (10 as head coach) and in his seventh at Beresford (third as head coach) — Likness has been a valuable resource for him as well.
"Practice flow ideas, what can we change, what can we make better," Ebert said, referring to some of the topics they have discussed. "Having the opportunity to have him here has been good for our guys and our coaches."
And not just from the standpoint of what Likness adds on the field.
"It goes beyond 'X's and 'O's," Ebert said. "It's about the quality of man that he is, his faith, his care for the kids.
"He's just a quality, quality, quality, genuine person."
Though there have been challenges, Likness said that coaching staff has been "on the same page," as have the players.
"Right now it's fun," he said. "The kids are having fun. The staff is having fun. There is room to grow and get better."
The Season
The 2018 season opened on Aug. 17 with a matchup involving two of the winningest coaches in South Dakota high school history. Bridgewater-Emery-Ethan, which lost in the state finals a season ago, is coached by Jeff Van Leur, who ranks fifth all-time and second among active head coaches. (Likness, who is fourth, is not currently a head coach. Sioux Falls Roosevelt's Kim Nelson is the leader among active head coaches.)
The Watchdogs opened the season with five straight opponents who were in the Class 11B playoffs a year ago — Sioux Valley (Aug. 24), McCook Central-Montrose (Aug. 31), Groton Area (Sept. 7) and Canton (Sept. 14) — before a bye on Sept. 21. Beresford opponents Elk Point-Jefferson (Sept. 28) and Mount Vernon-Plankinton (Oct. 11) were also playoff teams a season ago. Flandreau (Oct. 5) was not, but is traditionally a strong program.
The Future
Likness has committed to Beresford for this, his 40th season of coaching high school football. After that, things are up in the air.
"We'll see how everything plays out," he said. "If they're happy with the results we get, if they're not. If I'm happy with all the driving, or not. And where my wife and I want to be a year from now. All those will come into play."
"Right now we're just taking it one day at a time. It's football time."