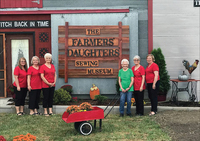 Tucked away in the country, not far off Bluff Road in Vermillion, is a hidden gem: The Farmer's Daughters Sewing Museum. The museum's existence is a testament to a family's strong love and an obsession for sewing machines. Five sisters and their mother have shared their incredible collection of eighty plus vintage sewing machines and sewing related memorabilia in a venue that is available to the public. They want to tell the sewing machines history and story. The machines date from the first official one worldwide patented by Elias Howe in 1846, up to the Singer model 401 in 1957, which is considered the last of the vintage all metal sewing machines. All the machines were for home use, none of them are the industrial versions used in factories. These machines were the ones commonly found in households and many have been handed down through the generations.
The museum is located on property owned by Sally and Dick Abild. It was once a steel milking barn that was moved in the 1950's to Vermillion by its previous owners. The barn has been completely renovated with another large room added to properly showcase this amazing collection. Upon entering the front door, the museum feels warm and inviting. An expansive row of tables is in the center of the room for visitors, to be used for sewing workshops and classes. Sally Abild greeted me warmly and welcomed me inside. It was a dreary day
outside, but inside the museum one would never know it. Sally's knowledge about the machines and their history left me in awe. Not only does Sally know their detailed lineage, she is able to clean and do some minor repairs on them too. She doesn't try fixing the electric ones though, due to their intricate wiring.
Sally is quick to add that the museum is a family affair and that her sisters, all their husbands and even her mom is very involved with it. Evelyn Hanson, the ninety-five years strong matriarch of the family, is the baker of homemade cookies and breads for all the tours guests. She believes that good hospitality means always having cookies and coffee for company. There have been literally busloads of women, sometimes numbering fifty or more and all are excited to visit the museum. Evelyn has been kept very busy assisting with tours, and was the impetus for urging her family to get the renovations completed for the museum's first open house in September 2017.
Sally is the oldest sister of the five. All were born on the family farm in Elk Point, South Dakota. The sisters are all very close, especially to their mother and visit frequently. Gloria Miller lives in Yankton, Marie Guillaume in Fort Worth, Texas, Linda and Bill Sparks in Aurora, Colorado and Geri and Nick Leone live in Freehold, New Jersey. "There are regular times of the year when we all get together in Vermillion."
Along the walls of the first room, the sewing machines are placed in chronological order with placards and posters providing helpful information about dates, models, and manufacturers. Even though there are some of the same models, each one is distinctly different. There are differences in cabinets, decals, treadle, crank and some being electric. Included in the main barn are examples of machines from five European countries and also Japanese machines made after World War II. It has been said that these foreign machines caused the end of the sewing machine industry in the United States, with Singer being the last manufacturer closing in 1988. This was because the Japanese models were made so well and sold for a third of the American version's price.
In addition to the parade of sewing machine models, there are unique displays of antique pincushions, sewing boxes, quilts, furniture and family mementos. Sally says her family wanted to share their parent's legacy. Pictures of the family dating back to great grandparents are interpersed in the timeline of the machines as couples were married and their children were born. The making of clothing for the family is a tradition that's been passed on for generations. Evelyn's mother made many dresses from feed sacks that had pretty designs incorporated into the material. Evelyn continued to sew on a treadle machine, because the farm didn't have electricity until the 1950's. All the women sewed and were very active in home economics and the 4-H club. There are examples of lovely winter coats made by Sally's grandmother, who never needed to use patterns. Family photos illustrate how the sisters had matching dresses made for special occasions like Easter, Christmas and other holidays.
The origin of the museum was based on necessity. Sally had collected about twenty machines over the years and needed a place to display them. Her four sisters also had machines and sewing stuff that they owned and felt ready to downsize their collections, but Sally just wasn't ready to part with hers and suggested showcasing them in the barn instead. She hoped they could create a space where people could come together to sew, have fun and appreciate these beautiful machines.
"In the Midwest we don't have access to the really old machines like they have in the East coast and in the big cities. We had a plan to find some of these machines and bring them back to South Dakota." Sally's sister, Geri and her husband, Nick, from New Jersey have most recently brought back a Grover Baker they'd discovered in Brooklyn. It will be
one of their most rare and valuable machines because of its age and the short time it was available. The museum even has American made machines that were used in England, purchased by the family and have returned to South Dakota. The search for sewing machines to complete the museum's timeline has included extended family members as well.
Sally mentions in particular, the Singer model twelve that was one of Isaac Singer's most successful machines. It came out shortly after the Civil War. The early sewing machines were very expensive and could cost a year's wages. It was common for multiple families to go in together to purchase one that they all would share. Singer was the first manufacturer to offer people an affordable ten year payment plan that was wildly popular. The model twelve was said to be "The machine that clothed a nation."
Sally has been astounded by the interest the public has shown in the museum. She hopes that telling the sewing machine's story will "Encourage people to keep their machines and hand them down" to continue to be used by other family members. I want people to know their value and rich history." She feels that there has been a resurgence in the popularity of sewing, quilting and making things by hand and this museum is very relevant. Information about the museum and contacting Sally is available on Facebook and Instagram under Farmers Daughters Sewing Museum. Visiting the museum is done by appointment only, but Sally is considering being open one or two Saturdays a month during the winter. I recommend allotting at least an hour because there is so much to see. Sally has an interesting video available called "Still Stitching" that can be viewed at the museum too. Children are strongly encouraged to visit. Sally wants the museum to be interactive with opportunities for people to actually see the sewing machines in action. She looks forward to having future workshops and gatherings. This museum is one of only two in existence in the United States, with the other being in Tulsa, Oklahoma. We are so very fortunate to have such a unique place to learn about vintage sewing machines so close to home.