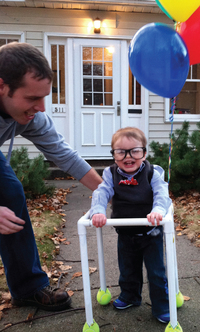 Halloween means more than costumes and candy for the Hamilton family. Shane and Kate Hamilton, along with boys Grant and Eli, have turned the occasion into a family affair, parents and pets included. Grant and Eli are always excited to show off their talents in the masterpieces their dad made for them. With Shane and Kate's imagination, the boys don't just wear costumes but take a special role in a theme that takes several months to prepare for.
Grant and Eli were born with Salla disease that can cause cognitive and developmental delays. The condition is rare; less than 200 people in the world are diagnosed. Kate explains how the boys have been affected by the condition in similar ways. Grant, 9 years old and starting 3rd grade is extremely smart, loves math and numbers and Eli is nearly 6 years old and just starting Kindergarten. "It's a big year for both of them," she states.
Grant has delays in gross motor movement and uses a walker to walk; Eli's gross motor movements aren't quite as affected but are still delayed. Communication is their biggest barrier, both boys use a communication device to speak. Though the two often stand out because of their differences, Shane and Kate make Halloween night an opportunity for them to stand out to others in a big way, featured as cast members in their own "family movie."
The Halloween themes are Shane's specialty. The tradition started on happenstance when Kate saw a toddler costume resembling Carl Fredricksen, the elderly widowed man from the movie Up. The Pinterest post displayed the toddler in full costume, including the character's walker. Shane created the costume for Grant including the walker, built from PVC pipe, one that was practical for Grant to use. "It took on an extra layer of meaning because of that," Kate explains.
The creativity continued into the next year. Grant was interested in Paw Patrol so Shane designed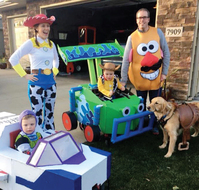 Grant his own fire truck, built around his walker so Grant could "drive." The next year little brother Eli joined in and the dynamic duo continued to steal everyone's hearts. Batman and Robin made an appearance that year, Grant as Batman and Eli aside him as Robin. Grant "drove" the Batmobile and one-year old Eli had his own Robin car, designed around a little red wagon for him to sit in.
The boys appeared in a Star Wars theme the following year, each in their own spaceship, with Mom and Dad as Princess Leia and Chewbacca. Sheriff Woody (Grant), behind the wheel of a buggy and his partner Buzz Lightyear (Eli) in a spaceship led the group in Toy Story the following year. Characters Jessie and Mr. Potato Head joined in, along with the family dog, Markey, as Bullseye the horse. Top Gun for the following year was especially exciting because Eli had his own transportation. Playing US Navy pilot Iceman, he "flew" next to his wingman Maverick, played by Grant. Each boy had their own airplane and Markey also had his own set of wings as character Hollywood. The cast even included pilot Goose (Dad) and civilian contractor Charlie (Mom).
"It's really special for Shane to make these awesome creations that he makes, I don't even know how he creates them. It's basically out of PVC pipe," Kate comments. Shane joins in to add "PVC pipe, cardboard and a lot of Gorilla Tape" as we laugh. Creating the costumes is a large time commitment so Shane starts working on them in July. He explains the creativity behind it. "I tried to incorporate something that Grant was interested in. For the Star Wars theme, Grant really liked spaceships. In Top Gun, Grant loved airplanes. And for Toy Story, he really liked the movie." Every concept incorporated a vehicle or transportation means so the costume could be built around their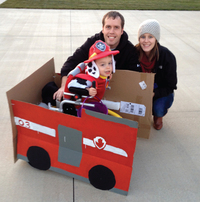 gait trainers or walkers. "The costumes had to be functional," Shane continues.
The boys get excited as Shane works on the costumes and Grant is engrossed in his role. "It's funny, when he was going around with the airplane, he knew exactly what he was supposed to be doing and being serious with it," Shane laughs.
As the boys begin their school year, they will attend the same school in Harrisburg. She explains how nervous she was when Grant started school, not being able to walk or talk. Fortunately, Grant didn't attend school each day alone, he had his trusty sidekick with him, his service dog Markey. She felt that having a service dog with him during the day not only provided him support, but served as a social bridge as well, helping him to make friends. Grant has developed a large network of friends, people enthusiastically calling out a hello to him as they recognize him and Markey.
Grant has had Markey for the last 3 years and Kate explains how Markey joined the family. When Grant was about 3 years old, Shane and Kate talked about getting him a service animal. He always had a love for animals, and they thought it might benefit him. After some searching, they found 4 Paws in Ohio. Because of the cost of the service dog, they needed some help. It took some time before they got to the point of asking others to help, but when they did, the money was raised within 24 hours. After waiting for the dog to complete the lengthy training, Markey joined their family in 2017. Kate explains that it's like learning a new language, because there are many rules to owning a service animal.
"It's amazing to see them together and it's helped Grant with his confidence. It was a lot of work but it's probably the best thing we've ever done," she explains.
A year ago, they introduced Zeta to their family to help with Eli. Zeta was trained at 4 Paws as well and is a "Client Companion," specially trained to alert for seizures, which Eli has a history of. Kate laughs, "I think Markey likes it too, having a friend at home."
The service dogs are included as part of their family, so much that that they even have custom beds. Shane's dad Roger built each boy a bed frame that has a dog bed at the bottom of their feet, so each dog can sleep near their "human." Markey attends school daily with Grant while Zeta will remain at home during the school day. Kate explains, "the school has been so amazing throughout this whole process. Everyone knows Grant, loves Grant. They've always accepted him and it's just a huge weight off our shoulders."
Zeta hasn't been a part of the Halloween fun yet, but the Hamilton's are excited to include her. Though they're not sure if they will be able to take part this year, they're busy brainstorming for next season, always remaining tight-lipped about each theme until it's revealed. Neighbors are always excited to see the group each year, expressing their gratitude for stopping by.
We've been fortunate to know the Hamilton's and to be able to follow the family's happenings. The family is so inspiring; Shane and Kate's tenacity is admirable, and it's been fun watching the boys' progress. I'm excited to see what will be on the next episode of "Hamilton's Happy Halloween!"