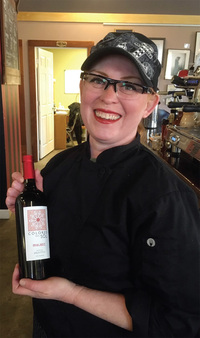 I am not lying when I say my little sister Erica Wright Kostal was born with a spatula in her right hand, a mixing bowl nestled in her left arm, and a "take charge attitude" complete with fiery red hair. All joking aside, I truly believe she is genetically predisposed to understand and truly love food demonstrating a passion and appreciation for the culinary arts.
Getting to write the story of her professional journey and share how she arrived where she is today, an owner and Executive Chef of Willa B's Bistro and Emporium, has not only been fun but an honor.
Erica's family and friends continually tell her she needs to "taut" her accomplishments and experiences more often, but she remains humble shrugging her shoulders and blushing. So, when I asked her if I could interview her for a story for Her Voice she reluctantly agreed, and I ran with it!
Inspired personally by her Grandmother Wilma Bierle (Willa B) and mother Laurie Wright, Erica states "someone was always cooking…our lives and family gatherings centered around good food".
From snacking on appetizers which always (still does) consists of large trays of homemade pickled items, cheeses, and Grandma's famous clam dip to meals of roasted duck, goose, dumplings and peaches (just to name a few). Food is always homemade, abundant, and wonderful!
Encouraged by our mother to create her own dishes Erica remembers her first experience preparing an entire meal for all of us. She recounts "When I was eight-years old, Mom let me pick a recipe to make by myself for the first time and I thought that ham-loaf from the Betty Crocker Cook Book sounded delicious. So, I wrote down all the ingredients, jumped onto my bike, and road down to Hasker's Market. I collected all my ingredients and Mr. Hasker, stationed behind the butcher counter as always, ground the ham for me so I didn't have to do it all. I paid for my ingredients, hopped back onto my bike, and pedaled back home. I cooked that delicious meal and fed the family. It was the start of something beautiful!"
From this day on Erica's curiosity and exploration continued, so it was not shocking when she chose a career in culinary arts. While attending school however, she quickly learned things do not always go as planned in the kitchen.
Home for Christmas break, Erica decided to "show-off" her new cooking skills by taking over the kitchen giving all of us directions for exactly how our Polynesian-themed meal should go (the family tired of traditional Christmas dinners so we selected the cuisine of a different country each year).
As the pina coladas flowed, and most of us were past the point of wanting to eat, Erica kept telling us she was waiting on the rice to get done. Curious, I wandered into the kitchen where I witnessed several large stock pots boiling over with starchy water, kitchen windows steamed over, and Mom and Erica frantically stirring the rice.
Eventually at 10:30 we all ate dinner and from what I remember it was very good! All guests were sent home with a parting gift of a gallon bag of rice provided by Erica who was now in tears proclaiming, "I will never be a good chef." We all laugh at this story now because look at what she has become!
During the beginning of her professional career, Erica trained under some of the best Chef's working side-by-side with the area's talent. "I've learned something different from each Chef I have had the pleasure of working with. Once you make it 'in' with another Chef, you talk about concepts, ideas, different things happening with your businesses, and help to build each other as much as you can."
One of the Chefs who stands out to Erica as a great mentor and who pushed her to work harder is Chef Christopher Ray, a national wild game champion, restaurateur, and author. According to Erica "I worked under him for four years and he was the toughest Chef I ever worked with. He is very talented and driven like Gordon Ramsey. He taught me everything I know about preparing and cooking wild game."
It is Christopher Ray who was the first Chef to officially address Erica as "Chef": a title only earned when a notable Chef refers to you by this title because you have proven yourself in the industry. From this point on, Erica would proudly be called "Chef Rikka". Why Rikka and not Erica? When her nephew Paul Jacob was little, he could not pronounce Erica, so he called her Aunt Rikka so the name Rikka "stuck."
Chef Rikka's career has taken her many places including regular appearances on KSFY and KELOland television and it has provided her with some amazing experiences creating meals for names such as: First Lady Barbara Bush, Collective Soul, Oleander, Four Non Blondes, Ani DiFranco, Dionne Warwick, The Statler Brothers, Alison Krauss & Union Station, George Carlin, David Copperfield, Bill Cosby, Yo-Yo Ma, Weird Al Yankovic, the last touring company of CATS, the touring casts of Stomp, River Dance, England Ballet Nutcracker, the Sioux Falls Symphony, The Dracula Ballet from France, Imus in the Morning, Neil Armstrong, Lance Armstrong, John Thune, and Bill Janklow.
One of Chef Rikka's favorite memories is cooking for Collective Soul and Oleander. "I was able to not only cook for them for three days, but also had the time to get to know them and hang out with them."
When asked if she could cook for anyone else famous and what she would cook, she responded "In regard to the industry the late Anthony Bourdain or Chef Gordon Ramsey. I would cook ham loaf! Just kidding! I would need to come up with the right menu. It would be hilarious though if it was ham loaf and potato wedges." If she could cook for an entertainer she said "Dave Grohl. I would make a fresh pot of coffee and then something that would remind him of his childhood and a favorite meal growing up."
All fantasies aside, with a ton of experience and support behind her Chef Rikka remained focused knowing one day she would achieve her dream of opening her own bistro back home in Yankton. This dream came to fruition when Erica, Laurie, and Chauntel opened Willa B's Bistro and Emporium in October 2015.
Like an artist given a blank canvas, the concept of the bistro and menu was all hers to create! Chef's daily menu items are fresh, locally sourced, seasonally available healthy products with "absolutely no fryers!" From soups to sauces everything is homemade.
What I have always found amazing about my sister is even after creating all day long she still goes home and cooks a fabulous meal for her family. Their little guy Oliver is a true "foodie" in training and her favorite person to cook for. For example, last night Oliver requested
salmon, so his mother made him Saffron salmon with Jasmine Rice and asparagus. Did I mention he is seven?! As his Aunt, all I can say is I pity the young lady he selects as I am not sure anyone will compare to his Mother's cooking!
By the way, if you are wondering what is meant by someone being a "foodie"? As Chef Rikka indicates "A 'foodie' is someone I want to cook for because they aren't afraid to try new things and be adventurous with flavors, ingredients, preparations, and costs."
Of course, with any profession there are positives and negatives. Like any artist Chef Rikka has her share of pet peeves. "When someone asks for substitutions it changes how the dish was concepted and meant to be enjoyed. Or when someone asks, 'is it good?' which is a slap in the Chef's face, basically asking them if they know what they are doing."
"Another frustration" she says "is when people do not RSVP on time. When you have an RSVP that means we have a limited number of seats or need to prepare to shop for special ingredients. If you RSVP late you cause the kitchen to have to reconfigure their plans to make sure that all guests for the event can be served the same dish."
Chef Rikka says "It's one of the hardest businesses you can be involved in. You are working a lot of hours, on your feet most of the time and constantly multi-tasking: knowing when to fire dishes, being able to read ten tickets and get it out at the same time. Each table that comes in is a unique experience that you have to be in tune with and assure your staff is meeting guest expectations at all times."
Overall, the positives outweigh the negatives. "It's a unique industry because no matter how tough it can be, we form close relationships and friendships with our patrons. We have met people in the community we would have never known had it not been for opening Willa B's."
What's next for Chef Rikka and the business? "We are working really hard to build our catering business.