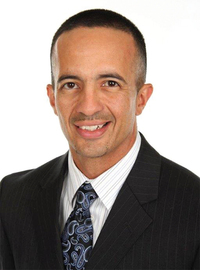 Albert Fernandez
If you want to become a better parent, friend or teacher, you should spend some time with Albert Fernandez. If he doesn't motivate you, nothing else will! Many people are familiar with Albert's excellent coaching abilities working with Mount Marty College athletes. Many also know about his fierce skirmishes with lung cancer, but not everyone is aware of how his spirit has flourished and been transformed during his medical odyssey for wellness.
Albert has selflessly shared his story online, beginning with his diagnosis in 2012.
He continues to post regular updates on his Caring Bridge website. In the most recent entry, Albert talked about the love he has for his children and on this particular day he mentioned, Mya; a junior at Yankton High School. Albert described doing something as simple as getting up at 5:20 in the morning to make a breakfast burrito for his girl, before her bus ride to an out of town basketball game. He accompanied the foil wrapped nourishment with a special note, and a lot of pride. He advised fathers: "Dads seize these opportunities, your daughter will be looking for someone like you. Set the example. Once I accepted Christ, our relationship grew. Since I put him first and learned to love myself with patience and compassion. Then I was able to do it with Mya. Thank you Jesus, since these changes came after I was first diagnosed with cancer. What a journey. So Dads out there, start the relationship with Jesus if you choose, and see what happens."
Like many people, faith, family, and friends are what Albert credits to helping him stay strong. But he always places the Lord and Jesus first. Born and raised in a catholic family, Albert went to church every Sunday. He was also an altar boy for ten years. Albert asserts that,
"Even though I did all those things, I didn't really know who I was. I was going through the motions. I was doing what I thought was expected of me. From the time I was thirteen until I got cancer in 2012, I don't think I was a very genuine person. I always wanted to be a mentor and someone that people looked up to, but I really didn't know what I wanted to do long term. I was kind of lost. I had two opportunities when the Lord reached out to me previously, but I didn't take them.
It was the cancer that was a game changer. Albert shares, "To me, cancer was the Lord's way of saying, 'This is your last chance. Come to me, put me first, and trust in my plan.'
"So I did, and it took me everything I had to do it. This is why I say for me, cancer was a positive. If it weren't for cancer, I wouldn't be the person I am today. When you put the Lord and Jesus Christ first in your life, it changes everything about you. All the sudden you not only try harder every day, you become a better person, which makes you a better parent, co-worker and friend. You need to commit to the changes. People can't understand this, until it actually happens to them. It's fantastic. I feel like I am a GENUINE BELIEVER, and I never felt that way before. I feel like I'm seven years old, because I'm seven years into my faith journey."
When asked about how his children Mya and son, AJ; now a sophomore at Mount Marty College, have dwelt with his journey, Albert is filled with great pride. On his website he often shares how he loves the strong, great people they are growing up to be, and how blessed he feels to be their father. He says, "They are the best children in the world!" Albert is grateful for the day to day experiences he shares with them, no matter how trivial they may seem to others.
Albert's mother, and her sister, Aunt Gloria, are both breast cancer survivors. Albert says, "To see them be on the same road, stay strong and come through it, was incredibly motivating and inspiring." A routine helps Albert to stay on track, and daily prayer allows him to deepen his faith. This was ingrained during his childhood. Every morning before getting out of bed, he thanks the Lord to be alive.
He has daily prayers that he reads on his phone, and says Grace before meals. He ends every day giving thanks as well. The Hail Mary prayer is his evening favorite. Albert says he surrounds himself with the things that keep him positive and provides holy space. He carries the Bible with him constantly and says, "I read as much as I can. Genesis is a little bit of a hard read. Sometimes I just talk with Jesus. I've come to learn and accept that everything is in his time."
Albert's parents Albert Sr. and Delia, just celebrated their 50th wedding anniversary, and pray the rosary every day together. Albert recalls that, "There were some really low times when I asked them to do the rosary with me. We'd do it four or five nights a week sitting at the kitchen table, because I really needed it. My parents are so deep in their faith, and so strong. They set a great foundation for me." Albert is also in his second year of being an oblate with Sacred Heart Monastery.
Oblates are people from any walk of life that meet monthly to learn how to lead lives guided by St. Benedict's wisdom. Denette Leifeld has been Albert's prayer partner the past two years, and become a great friend.
Albert makes his position clear when he says, "I'm not here to force my faith on anybody. Everyone needs to make their own choice. You have to decide for yourself, what you believe in. I'm more of a Christian. I go to Catholic Church on Sundays at Sacred Heart in Yankton, because I love the routine of it. It's part of me and part of what I grew up with. It's amazing how now everything at church is so different now, and means so much more to me. The first time I went back to church after the cancer, I cried the whole time."
Some setbacks came at the end of summer in 2019. Albert had low blood pressure, and flare-ups of some previous areas of brain necrosis. The necrosis was a result of the whole brain radiation in 2012.
Necrosis can cause brain swelling and neurological symptoms such as weakness, and loss of balance. Albert was hospitalized for a few days at Mercy Hospital in Sioux City, IA. The big question was: were Albert's symptoms due to a reoccurrence of tumor/cancer growth or increased necrosis?
During November and December, Albert did a lot of travelling to visit with medical experts to get their opinions about how to best fight his current fatigue and symptoms. He shared online: "A test of faith, no doubt. Did I want to give up? Yes. This has been the toughest 3-5 weeks of my life and today my Lord Jesus Christ, and my desire to never quit has paid off. As of right now I have severe swelling of the radiation necrosis on my brain and every day is a challenge with routine things." Fortunately later on, a final answer of necrosis was determined, not cancer. A new treatment plan was implemented, and this has greatly helped Albert regain his strength, and improve his symptoms.
After every challenge Albert is always ready to fight back and ATTACK! Even after those latest challenges, he shared in a post: "This is life.
When adversity comes along, how you react to it defines you, and the impact you have on others. It's important to keep our perspective and treat others well. I now attack cancer not because of hate, but because I choose to work for the Lord." Albert always stays grateful, positive and upbeat.
Online he often shares his favorite music, inspirational videos and Bible passages that uplift his spirit. He hopes that it will help others as well.
When other people would rather stay home, Albert always wants to get back to work at Mount Marty and back to his students. He attends or watches every Mount Marty game possible, and has many plans for the future. He shares: "I realized at work that being around people is so important. The interactions, conversations and feelings are so great and something we should all cherish. I also realized that, I Love these people that I am blessed to be around. We are all His children, which is why we should love and respect one another. We can make this world a better place by accepting that we are all family."
"I know that Jesus has a plan for me and for that reason I will continue to push and try to improve my health, so I can do his work.
I have some goals of what I would like to do and it is simple, not to be ashamed and share His love with others everyday!! I also want to get involved with our FCA on campus and also volunteer my time with kids fighting cancer. They are the true warriors! Thank you for the continued support and prayers! I feel your prayers and believe that they work. Do you believe? Did you have an impact on someone today? Did you make our world a better place? In Jesus name let's spread His hope, faith and love with each other!! Much Love and God Bless!!"