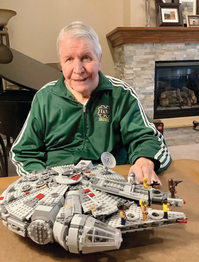 Tom Cihak opened a gift from his son, Mike, and wasn't sure what to think.
As his wife, Rogene, recalls now, he didn't think much about it at first.
It was a Lego kit.
Tom had never really shown much of an interest in Legos.
"I was worried it would add to his frustration and that he'd struggle to put it together," Rogene said.
In short order, a card table was set up inside the Cihak home in Yankton, and nearly a decade later, it's still there.
"It's never come down," Rogene said. "That's where we are today. He works on Legos every day."
The Yankton man, who in 2013 suffered a stroke that took away his ability to speak and write, has since become addicted to Legos. It's become his favorite hobby.
No project is too daunting. He'll try them all.
"Some people get addicted to puzzles," Rogene said.
Before his stroke, Tom was a busy man. Not only did he play an active role in his business, Cihak Insurance, in downtown Yankton, he was well-known for his love of golf, photography, astronomy and traveling.
That all changed seven years ago.
"None of that was going to work anymore," Rogene said.
An irregular heartbeat (which the Cihaks weren't aware of at the time) created a blood clot that prevented blood from flowing to Tom's brain. It affected the left side of his brain, which consequently weakened the right side.
Out of the stroke came a condition called aphasia, which causes a person to lose the ability to express or comprehend speech.
"That has resulted in social isolation for him, because he can't speak or write," Rogene said. "That never came back."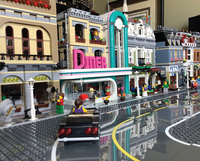 Tom continues to work with therapists at Avera Sacred Heart Hospital on aspects such as balance, coordination and cognitive function, but he has never regained the feeling on the right side of his body.
In other words, he's had to learn how to do everything with his left hand since the stroke.
That's where the Lego projects — Tom is approaching 100 — are more than just a hobby.
They've been beneficial for Tom.
"It makes his right hand at least try to assist with the Lego building," Rogene said.
Those projects — they're all on display in the Cihak home; they don't get taken apart — reinforce the therapy, according to Rogene. They require a lot of hand-eye coordination. They require some thinking and reasoning. They require some strategy.
"It's a fun and creative way for him to do that," Rogene said.
The projects can be exhausting for Tom, so he works on them 20 minutes at a time a few hours each day. And they're not basic ones, either.
No, some include as many as 4,000 pieces. In total, Tom has nearly 200,000 Lego bricks, Rogene estimates.
"They are the largest, most complete kits we can find," she said.
One look at Tom's collection backs that up.
He has shelves filled with his completed projects; everything from castles, ships, ferris wheels, carousels, roller coasters, motorcycles, as well as large and intricate city scenes. Certain projects like the Batmobile (that was perhaps the most difficult one, because every piece was black) or Millennium Falcon starship from the 'Star Wars' movies are especially detailed.
"I think he likes them all," Rogene said.
After all these years, Tom also has quite a system in place when he begins on a Lego project.
When he opens a new box, separates all the pieces into specific piles and thoroughly pours over the manuals and designs — "he's very organized," Rogene added.
And even despite his physical limitations with his right hand, Tom rarely ever asks for assistance. These are his projects; he can do it by himself, according to his wife.
"The only time he needs help is if something gets stuck," Rogene said. "Otherwise he does this pretty independently."
Although the two Cihak children live away from Yankton, they've always made sure their father is well-supplied with Lego kits, according to Rogene. Their son, Mike, lives in
Pennsylvania, and their daughter, Erin, lives in Texas.
"They always know what he wants for Christmas," Rogene said, with a chuckle.
Earlier this year, the Cihaks discovered a new television show that was right up Tom's alley: 'Lego Masters' on the Fox network. In the show, teams build certain projects based on a specific theme.
"Tom loves it," Rogene said.
Part of the show that Tom especially enjoys — and chuckles during — is when the intricate displays fall apart, she added.
"He can relate to that," Rogene said, with a chuckle.
This was a hobby Tom never expected to have. But his stroke changed everything.
"The stroke took away most of those abilities and hobbies, which has left him feeling isolated, but I'm so grateful that he has this hobby," Rogene said.