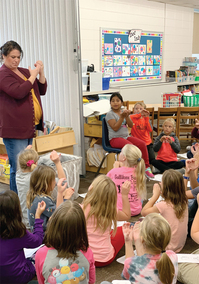 Truly a voice for someone, Michele Huber plays a crucial role in the deaf community, using her talent in Sign Language to help them communicate freely with others.
Huber's interest in the field started during high school. In swing choir, her teacher asked if she would like to do the signing for one of the songs. It turns out that the opportunity sparked her interest in the field. "I liked it. Then I thought, 'Well, let me test the waters here a little bit.' I started winning awards in competitions."
Though she first was planning to attend Northern State University in Aberdeen to major in Music, on a whim she decided to attend the American Sign Language Interpretation Program at Southeast Technical Institute in Sioux Falls.
"And then I found out I was signing everything wrong!" Her laugh contagious; I couldn't help but laugh with her. She explains though some of the signs were right, not everything was signed the correct way.
The challenging program required the students to take sign classes for several weeks before being considered. The course was rigorous, and Huber was one of six students out of a starting class of 32 to complete the program. The field now requires four years of schooling to obtain the degree.
After graduation, Huber spent time in Hartington, NE and Osmond, NE as an interpreter in their schools, then came to the Yankton School District for a few years to interpret for a couple of students. When those students moved, she didn't have anyone to interpret for and went to work under the State of South Dakota in Vocational Rehabilitation Services.
She spentthe next seventeen years in Vocational Rehabilitation Services and the Human Services Center as a State interpreter for clients and patients of many different ages. "I enjoyed working at HSC interpreting.
It was just an eye opener and I learned so much," she explains. She also assisted clients at the Human Services Center at their job site, interpreting for the job coach. They would use tools like checklists or pictures to help the client get started in the new environment and Huber would eventually fade out when they could perform independently.
The Yankton School District contacted Huber when they had another deaf student starting Kindergarten. She's developed a strong bond with the student while working with her over the past three years. Aside from working one-on-one with this student, Huber also interprets during Individual Education Program meetings and preschool sign-up events.
Her daily routine begins with preparation for the day's events. After greeting her student in the morning, she attends class with the student to interpret what the teacher is saying. The two move to the Resource Room where the student has one-on-one contact with other teachers, developing reading, math and other skills while Huber interprets.
For story time in the afternoon, the student watches a story enacted in pictures and sign language on an iPad. They stop the story at various times to discuss it. Huber smiles and explains that her current student is doing well. The school district has also been working with staff and students to teach them some sign language. "The teacher she has now,"Huber comments, "she knows some sign. It always puts a smile on her face when the teacher signs 'good morning.'"
There are three most common forms of Sign Language: American Sign Language, Pidgin Signed English and Signed Exact English. Huber is familiar with each and can accommodate those she is helping.
Her experience with signing while listening to someone is a process."It's hard," she explains. "There are times you have speakers who are so fast, but you just have to do the best you can. Some people can sign one-on-one with a deaf person and do fine. But they get up to interpret and they hear it coming but just can't put it out."
She feels that one of the most beneficial learning moments for her was at the Sioux Falls School of the Deaf where she was able to observe communication between several deaf people and their interpreters. Though there is not a large deaf community in Yankton, Huber is not without resources. A few times each month she is observed by a representative from a South Dakota School for the Deaf outreach program and is given recommendations or advice.
Every Monday for about an hour, Brittany Stanek, who is also deaf, spends time teaching the student. Stanek is a Community Support Specialist with the Communication Service for the Deaf in Sioux Falls.I had the opportunity to meet with Huber, Stanek and the student while getting ready to take their picture. Words flowed seamlessly with everyone as we enjoyed some casual conversation. It was incredible to watch how smoothly literally unspoken words can be understood.
There are some misconceptions about the deaf community, she explains. "A lot of people can think that deaf people can read lips. I did some research. 17% - 20% is what they really can understand." She explains not to assume a deaf person can hear if they look up when an airplane flies by or when they hear a loud noise such as a fire alarm. Some of the deaf can hear a little or can feel vibrations from the noise.
"It is their language," she continues. "The deaf community likes to teach their own language." Though she's assisted with teaching sign language, the proper way to learn the language is from a deaf teacher. Huber would then be the interpreter between the two parties. If you don't know sign language, she explains that communication can simply be through pen and paper.
Huber does some freelance interpretation in the Yankton Area and approximates that there are about a dozen deaf people in our community. She feels that interpreting is more of a necessity than an option, "If you have meetings or changes, it's always best to have an interpreter. It is a struggle to get employers to pay for an interpreter, though. Always has been."Those that she helps are held closely in her heart. "It's like a family. Once you meet them, they remember you forever. It's like your deaf community and if you have been their interpreter, you are pretty much included in that deaf community."
Huber has had many rewarding moments during her career. "When a deaf person succeeds at a job or getting out of HSC or treatment so they can keep going in life. And even like the students here. Seeing them blossom and learn. It's rewarding to know that you're doing good for someone."
She is grateful for her family and credits them for being so supportive of her career. Her husband John is the Highway Maintenance Supervisor for the state Department of Transportation; son Hunter will graduate in May from the Precision Ag program at MTI; and daughter Paityn, a sophomore at Menno Public School, is involved in many things including sports, band, FFA, FCCLA, theater and student council.
"Kindness is the language which the deaf can hear and the blind can see," Mark Twain once said. Huber is truly a link between the deaf and the hearing communities, eliminating barriers to blend the two cultures together in one language of kindness.