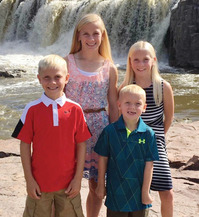 Troy and Sarah Boomsma welcomed me into their beautiful and cozy home on a cool, intermittently rainy afternoon to share their story about their son Jaxon.
It was the most heartbreaking interview I have done, and I appreciated them discussing their loss.
Troy and Sarah share Jaxon's emotional story with me; I can't imagine the courage it took for them to do so. On Easter weekend in 2017, Jaxon was involved in an accident on a family farm, a place where he loved spending his time. The fatal accident suddenly changed the Boomsma's lives forever. The story was heartrendering to hear and my heart ached for this family.
Troy, Sarah and their children: Callie, Jaiden and Carter had a new road to face without Jaxon. The couple explains the paths they were faced with at that point: they could be angry and place blame or lean on their faith instead. Relying on their faith has helped them in their grieving process. They explain that it's easy to be angry but with faith, they stay on the right path.
The couple moved to Yankton in 2005 and met many of their current friends through the children's sports activities. Aside from sports, the children loved spending time at Ridgeway Park as they grew up. The family spent countless hours at the park, located right behind their house. Because of this, several neighbors wanted to do something special at the park in Jaxon's memory. This is how the foundation of the JLB Mission 23 started. A group of more than 20 neighbors and friends joined together to form a foundation that started a Jaxon L. Boomsma Memorial Fund, where funds raised would be used toward improvements of local parks and farm safety education.
Troy and Sarah list the additions that the fund has helped make to Ridgeway Park: adding three benches, adding to the basketball court to make it a full court, adding a water fountain and some playground spinners. Not only are the improvements in honor of Jaxon, each improvement bears a symbol of the young boy in some way. The back of the metal benches has Jaxon's name cut out in Jaxon's handwriting and other items have Jaxon's symbol.
Jaxon's symbol, a ribbon surrounded by angel wings, bearing Jaxon's initials "JLB" across the top, was created by friend Justin Olson. "He put it on their track t-shirts and that just kind of stuck. We put it on the shirts we make every year," Sarah explains. The symbol has also been spotted on t-shirts and uniforms of various local sports teams.
The first fundraiser, "Jaxon L. Boomsma Keep His Smile Alive" was held by JLB Mission 23 in the fall of 2017. They saw the improvements that were made to the park with event's funds and strived to hold it again on an annual basis to allow them to make improvements to more parks. Troy explains that the fundraisers are all family events created just to have fun. This year, their fundraiser will be held on November 16, including a cornhole tournament.
Along with giving back to the community, the Boomsma's are spreading the word about farm safety, using various means to educate the public. They have teamed up with Katie Doty, the local 4-H coordinator, to include this subject in the farm safety day camp she and Farmers Union put on. There are also farm safety demonstrations put on by the kids at Achievement Days. Troy strives to get the farm safety message out to adults as well as children, as adults need reminders too.
Troy, who works as a territory manager with Pioneer Seeds, is using his large market to educate farmers about farm safety. He covers territory from East of Yankton to Mount Vernon and has several connections with the state of SD. He is in touch with many farmers during his workday while managing seed salespeople and stays in touch with his audience through social media. "If I can share my story to help others, that's what I do," he says. "It's what we do."
He was surprised at the reaction he received from his discussion with others. "For me, working for Pioneer, I've talked to people who have lost their son with a 4-wheeler, lost a child with a horse, lost a kid in a grain bin. I'm in front of a lot of people, my thing is to share the story, even if it's tough, try to educate people," and Sarah adds "so other families don't have to go through what we've had to."
Pioneer has been very supportive of the family's message, as safety is extremely important to them. The company helps sponsor various organizations in their promotion of farm safety and has created their own educational means. They had an intern help create a flyer about farm safety, including farm safety facts. Some of the facts are staggering: a child dies from an ag-related accident every three days and about 33 children are injured every three days. Pioneer has also handed out coloring pages about farm safety and brightly colored decals with a "farm safety" reminder on them. Troy stresses their goal with the materials, such as the decals. "If you have something like (the decal) on your tractor, maybe the farmer will think twice. If you have that on a grain bin, maybe a guy will think twice. Be aware of your surroundings, we all get distracted. That one second could change your life."
The Boomsma's three children have teamed up with Troy's sister to create a children's farm safety book with Jaxon as the main character. The book, Staying Safe on the Farm with Jaxon, includes illustrations of actual pictures of Jaxon and the family on the farm showing ways of staying alert and staying safe. They are hoping to have the book for sale at the November fundraiser and later available on their Facebook page, "Jaxon L. Boomsma Keep His Smile Alive." The Facebook page also includes updates on the community improvements they are making.
The family strives to keep the foundation alive and continue the fundraisers annually. Troy explains, "The Yankton community has been great, and that's why we want to do that, to give back. Yankton is unbelievable." Sarah adds, "The community has been amazing."
Troy continues, "Both Sarah and I grew up on farms. Even though that happened to Jaxon, farming is a great place to raise a family. We want to promote agriculture and farming." To do this, they have started an annual $1,000 scholarship for a Yankton senior student who wants to go into agriculture at a vo-tech or college in South Dakota. Michael Drotzmann was the first scholarship winner last year.
I can't imagine the pain that they feel each time they share Jaxon's story, yet they push through their grief to help educate others on farm safety. I don't think they realize just how many lives they've affected with their mission. It impacted me just listening to their story. I grew up on a farm and thought back to what I did as a kid, at that time unaware of the possible dangers that existed. Their story makes me stop and think about it.
I was fortunate to share in some special memories of Jaxon with the couple. The young boy loved tractors, hunting and visiting both grandparents' farms. They showed me a short story that Jaxon wrote in 1st grade that the teacher had later given to the family; he wrote about how he loved to throw the extra Easter eggs in the cattle yard. They shared with me a picture of his first-grade signature, the letters of Jaxon's name in child-like handwriting, now used as a template for the back on the benches they've made in his memory. They showed me a picture of Stewart School teachers all wearing their Jaxon Memorial t-shirt and a framed wrestling uniform bearing Jaxon's symbol that a friend of his wore when he won a special match. It's obvious that this little boy had an impact on many lives.
They discuss the hurt that they feel every day. Certain triggers bring about the pain and sting of their loss. "It's brutal, but it's helped us, and hopefully we can give back and keep his smile alive," Troy explains. They share experiences of how this has affected them and their families. Troy mentions the reoccurring phrase "time heals" and explains how it doesn't heal, you learn to handle it better. "You learn to move forward, but you don't move on."
"The foundation memorial has really helped us in this process," Troy shares. Sarah adds "We can't thank them enough." With Troy's link to Pioneer Seed, he strives to share his story as much as he can.
"There's no better place to live and raise a family, I'll say that," Troy reveals. "It teaches you a lot of things, work ethic and just the person you are. But I want to share our story with them."