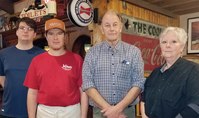 JoDean's Steakhouse has been known by many from its radio jingle as "A South Dakota Tradition". The Neilson's restaurant was always a family run business from day one with John, Thelma, and their son, Jack Nielsen in 1971. The restaurant originally opened in Vermillion, SD. and then moved to Centerville in 1973. Eventually, JoDean's has come to its present Yankton location at 2809 Broadway Avenue in 2002. The JoDean's brand name was a compilation of the married owner's names. The first two letters of John's first name and the first two letters of Thelma Dean's middle name. The couple's son; Jack Nielsen, has been the acting owner since their passing.
In addition to Jack, Cindy Welch has been a constant presence at the restaurant for the past thirty-nine years. After meeting Cindy, one would never believe the time though. She is vibrant and energetic as ever. She started at the Centerville location while still in high school as a cook, because "Back in those days I was too young, and you had to be twenty-one years old to be a server." Over the years Cindy learned many aspects of the business, and took on more and more responsibility. Eventually she became assistant manager, and more recently the lead supervisor for the past six years.
Not only has Cindy made a career out of her employment at JoDean's, she actually met the love of her life there too. Cindy has been married thirty-six years to her husband,
Jim. She met him at the old Yankton site in the 80's, when he worked for JoDean's as a cook. The two became friends and eventually started dating. The Welch's have three adult sons; Andy, Alex, and Adam. Andy and Alex followed their mother's footsteps and started working for Jack when they were in high school, they are well-liked, established members of the JoDean's crew. Jim still loves to cook, and Cindy says that, "My husband does most of the cooking at home." He and their sons enjoy growing vegetables in the family garden. Cindy is sometimes very busy canning them depending on the harvest.
Cindy credits her strong work ethic to her parents, Eugene and Jeanette Wieseler from St. Helena, SD. She hails from a large family, with five older brothers and six younger sisters, and is blessed to still have them all alive and well. Her parents owned and worked side by side, at the Mission Hill meat locker until 1985.
They often had their children with them at the business. A room in the back was used for them to play or nap in as needed. The Wieseler clan is extensive, and Cindy is sure she's related to practically everyone in Cedar County to some extent.
In the early years in Vermillion, the founding JoDean's restaurant was the smallest. Cindy remembers, "When I first started, the food was ordered completely off a menu, and served out of the kitchen." The plentiful food buffet didn't start until 1983. Over the years the restaurant has grown to accommodate large parties and events. During the holidays, the required staff can be as large as thirty to forty people working a single shift. Cindy states that, "It takes a lot of us when it's busy." She recalls that events such as a local military deployment can be times when families gather together and JoDean's is particularly busy. "There is always something going on, sometimes things are pre-planned and sometimes things are spontaneous." The staff are always ready and waiting with a smile. Cindy shares that there was a time when all six of her sisters were temporarily working at JoDean's at one time or another to help out. Cindy's nieces have also been employed at JoDean's previously.
When asked what's kept Cindy at JoDean's for so long she is quick to respond, "It's the people, the customers. I've worked with some wonderful, incredible staff members."
She's truly enjoyed getting to know many of the regular customers that have been eating at JoDean's for years. These relationships are what makes working at the restaurant so rewarding.
Besides being the manager, Cindy literally has "got her hands" in all aspects of the job. She regularly helps prepare the food, assists at the register, sets schedules, solves dilemmas and does the payroll. She literally jumps in and helps wherever it's needed. She's come in at the drop of a hat when the steakhouse has been in need of extra hands, and knows it takes only about ten minutes to get from her front door to work. "If the boss calls and says he needs my help, I'm ready." She also gives kudos to their staff members that "Cindy usually opens in the early morning hours and works six days a week. When asked after all these years, if she's gotten sick of the food, she's quick to answer, "I love the food here. I eat here every day during my shift. When I take a break I might have some salad, the other day they had catfish on the buffet and it was great."
Jack is constantly changing the menu and offering new specials, but "there are always the mainstays: seafood, steak, and chicken." There is a wide variety of choices on his fifty foot long buffet, but customers can order off the menu too. The four dollar, to go lunch special has gone over really well. Jack implemented it a year and a half ago. It features a monthly schedule of meals that people can get and order in advance. Cindy also recommends trying Jack's steak, if you haven't had it. The 32 ounce sirloin is easily enough for two people to share. She reminisces about how when she first started, "they always featured a 32 ounce T-bone, that was the talk of the town! So many people would brag, 'I ate the whole thing!' The seafood buffet that's offered for Friday and Saturday dinners is always a constant draw too.
Cindy shares that people have driven long distances, and planned their travel routes with JoDean's as a specific meal pit stop. Cindy recalls a families that annually would make a stop from Arizona and Canada, when going through Yankton to visit family. When asked if the restaurant has ever run out of chicken, Cindy gives a confident "No.", and says throughout JoDean's existence, "Jack has always known what the restaurant needs. He's had so much experience from working with his parents, and in general over the years. He's always very prepared."
Cindy has no plans for retirement in the near future.
JoDean's has been a huge part of her life, and many of the friendships she's made with co-workers and customers have felt almost akin to family. As dedicated as Cindy is to her job, after a hectic day, she likes to spend time off the clock with her family. During her precious vacation time, she prefers to get away on family vacations. Cindy has recently enjoyed a full week off this past September, in a lovely remote cabin in Minnesota. When asked what's up there to see, Cindy happily responds, "Nothing!" She is pleased that her reservation is already made for next year. While the guys go out and about or fishing, Cindy prefers to stay back and relax on her own, or maybe work on her crocheting. She learned how to sew at around the age of seven from her mother, and knows this craft is "in her blood."
When her sons were little, there was a time when she sewed a lot of their clothes.