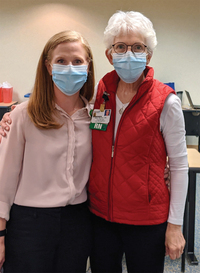 A local mother and daughter are pulling together during the COVID-19 pandemic — at home and at work — literally fighting COVID-19 together.
Liz Healy and her mother, Ellen Becker, both work at Yankton's Avera Sacred Heart Hospital (ASHH), but in different capacities. Ellen, a nurse for 33 years who retired four years ago, takes shifts on a casual basis. Liz is the director of Quality and Infection Prevention and has been working intently for nearly a year, helping the staff at the hospital prevent the spread of the novel coronavirus.
Now that the vaccines are available, this mother-daughter team is working together on ASHH's vaccination clinics, while giving shots in arms and visiting with the many familiar community members who have gone through.
Before Covid
Liz, who also has a Registered Nurse (RN) background, moved back to Yankton and joined the staff at ASHH in 2012, she said.
When Ellen heard that her daughter was seeking work at the same hospital, she said she decided not to mention it to others and to let Liz's abilities speak for themselves.
"It was three months later that the woman who hired Liz came to me and said, 'I didn't know Liz was your daughter,'" Ellen said. "I said, 'She is!' That was just how I wanted it."
Since then, Liz and Ellen have had many opportunities to work side by side at the hospital.
"I started as a float nurse," Liz said. "My mom was working in Case Management, she was full time at that time, and we would work together."
Liz's mother also started up Case Management during her time at ASHH, she said.
By 2013, Liz was beginning to spend some of her time in Quality and Infection Control, working her way in and taking on more hours there as the years progressed, she said, eventually receiving the directorship.
The Pandemic Begins
When the pandemic hit, Ellen was there to help with her three grandchildren: Amos (5), Cecilia (4) and Joseph (2).
"Back in March, when this all started, I was working crazy hours," Liz said. "I have three little kids, and my husband, who is wonderful, covered a lot of it at the beginning of the pandemic."
Liz is married to Yankton County Commissioner Joseph Healy, who is a farmer, and who at a certain point, had to head out to plant crops, she said.
"It ended up that I would call my mom and she would say, 'Yes, I'll be there. Yes, I'll help you,'" Liz said.
During this time, Ellen was also picking up shifts at the hospital. It was the worst of the pandemic locally, and she said she could see how the job and the hours were affecting the full-time medical workers.
"I knew by working in Acute Care all those years that they weren't going to be able to take on the vaccinations, too." Ellen said. "They would if they had to, but, the hospital would probably look for people who could come in and help them."
That was one place Ellen said she wanted to be when the time came.
"If I could contribute anything to help ease the pressure from those nurses in Acute Care, and in the nursing homes that have been working double shifts — triple shifts — and who've had so much heartache, because people dying of COVID, this is the least I can do," Becker told the Press & Dakotan in a recent interview.
Ellen and Liz discussed the possibilities of vaccines becoming available, and Ellen wanted her daughter to know that she would be available when that time came
"I said, 'If you need help giving vaccines, give me a call,' Ellen said, "Liz said, 'Well, I'll let you know.'"
Liz said she knew that her mother would offer to stick shots in arms when the time came, she said.
"I definitely wasn't surprised that she offered to help," Liz said. "She realized just from working and through me how busy the hospital was, and that a lot of these nurses that worked in ICU and on the COVID unit needed a break."
Several retired and semi-retired nurses have returned to help ASHH administer the vaccine and have taken on that role with ease, she said.
"It just adds an extra little something that my mom is there because she does help so much with our kids already," Liz said.
A small group of people organized the vaccine effort at ASHH and then worked with the Human Services Department to gather volunteers. The volunteers were given orientation and training dependent on their role in the vaccination process, she said.
"You have to understand that in all of this vaccine planning it wasn't like we had six months," she said. "It was like two weeks we had and it was like, 'You're getting this, this is what you have to do and go do it.'"
When it was time to call in volunteers, Liz said she had no idea how many would come or what would happen.
"It was a full auditorium, full of Avera employees," she said. "I got really tearyeyed and I had to stop myself. I said, 'I'm sorry, I'm just getting really emotional.'
It really felt like the Avera family pulled together and everyone wanted to help."
The crowd included retired nurses as well as staff from departments that don't usually do patient care, including finance and legal, Liz said.
"And then to have my mom there just really made me proud," she said. "It made me proud to be part of a family that is so willing to help, proud to be part of a facility, an employer and a community that so badly wants to take care of its own."
Vaccination Begins
When the day finally came and the vaccine was ready to go, it was an adjustment, she said.
"It was like, 'No, you can't pick up that shift! Joe's going to be gone and you've got to help me with this!'" Liz said. "So it's been a little bit of juggling act, that's for sure."
For that reason, Ellen has avoided taking on all-day vaccine clinics, she said.
"I look to see if they have a noon-6 p.m. shift because I can pick up Cecilia at preschool, get her to the babysitter, do the vaccine clinic and know that Liz's dad can pick up Amos from preschool and can walk him across the street," Ellen said. "We get a lot of shifts covered and it's working out and it helps that Liz's dad is here, too. It's kind of a family affair."
Having her mother at the clinics has made the vaccination experience a deeply personal one, Liz said.
"I have my family and my community there," she said. "But it's nice to have a mom there to give a little bit of unbiased feedback, 'This is what we could do to make it better.' Because that's really what we're looking for: 'How do we serve our community in the safest, but also most efficient way?'"
Interestingly, more than one mother-daughter pair has come through to be vaccinated together, they said.
"It's great, because there's come camaraderie there," Ellen said. "They come and support one another through it."
Smooth Sailing
During the vaccine clinics, Ellen said she enjoys watching her daughter in action.
"It's pretty amazing to watch. I kind of stand back and she's in charge," Ellen said. "I don't want to be like, 'That's my daughter!' But, I'm really proud. She's got strength and stamina, but she needs to rest; she needs time."
Also, it's important to keep a professional relationship and any kind of personal chit-chat to a minimum, Ellen said.
"But, you do have to kind of joke around sometimes it kind of lightens the load somedays," she said. "She's fired me three times already!"
Liz added that she's never actually "fired" her mom.
"I made a couple mistakes on the sheet. They hunted me down and took it to Liz and she said, 'Oh, that's my mom!' and she goes, 'You're fired!' I think they kind of got a kick out of that, and that's fine by me, I know I'll never leave."
Liz said that working the clinics together reminds her of how she worked with her mother as a float nurse.
"I could get an IV in when a lot of other people couldn't, and I like to think of myself as a pretty good 'stick,' she said. "If I couldn't get the IV in, my mom was the first person I called, because she was a really, really good 'stick.'
In that job, Liz found it best to lean only on those she knew and trusted.
"Thankfully, for me, that's my mom," she said.
"I am a better stick," Ellen added.